Issue No.8 : Love + Style = Wedding!
Kazia is always looking for more models - if you want a chance to be featured in the Kaz-Shion magazine then contact us!.
---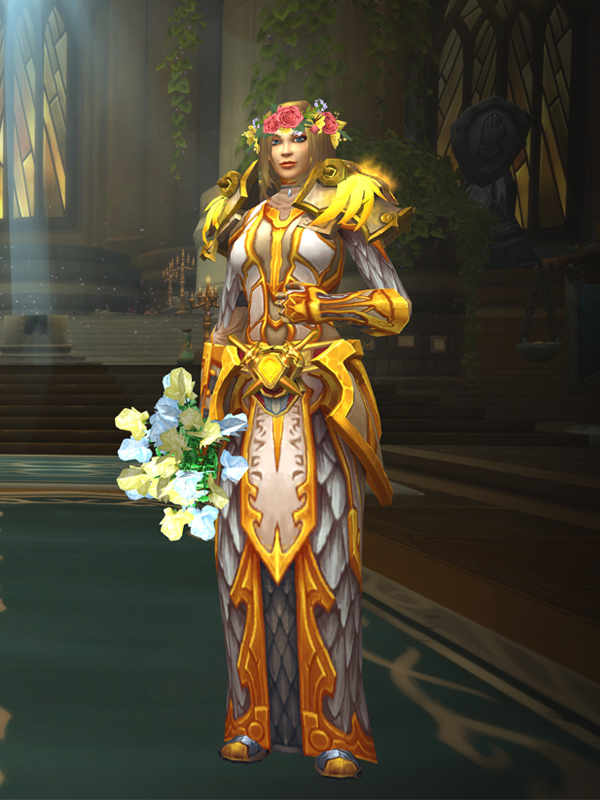 Photo:Kazia Hayworth
Model: Juniper Stites
Detective Chief Inspector Juniper Stites, is our first bride. The lordaerian paladin shows us with pride the style of her homeland where the light has a lot of importance in the union of two persons that love each other. The plated robes she wears are anointed and blessed with hopes of the Light loyally keeping the lovers safe in it's eternal embrace for as long as their love remains loyal and eternal itself in marriage.
Juniper explains that it's a tradition in her family to wear such lovely flower crowns in their weddings featuring specific flowers depending on their own middle names! In Juniper's case it's the marigold, a flower that grows wild in the grasses of Lordaeron where she hails from, signifying pride which was typical of her people. As for the bouquet she chooses to incorporate colours of a silver-blue and springtime yellow in her bouquet to acknowledge that her oath-sworn duties to the Silver Hand and the Light remain forever in her hands. It reminds her of her childhood, when early into the social season the gala's and faires would begin where mounted cavalry jousts were common at the spring time weddings. I hope Juniper my dear, that I soon get to see you in this lovely attire walking to a one lucky man that deserves you!

---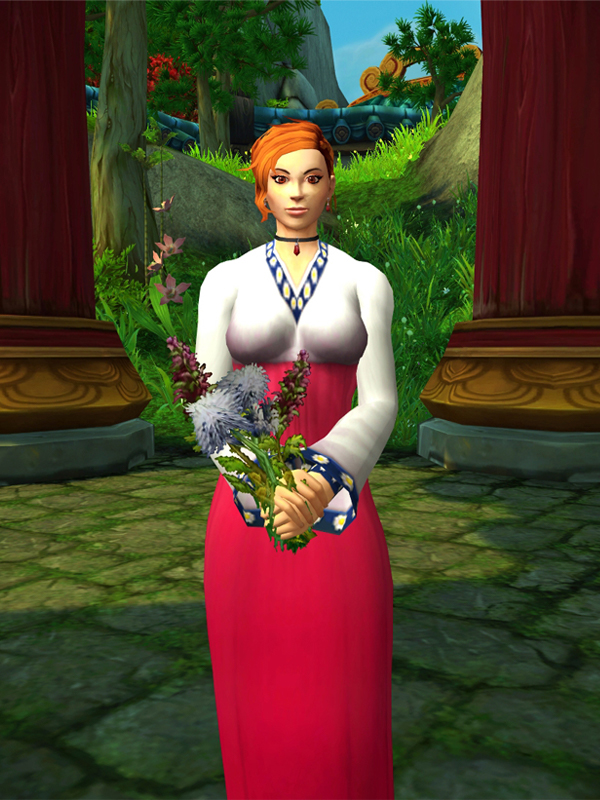 Photo:Cassindra Bentley
Model: Cassie Leigh
Who wouldn't love getting married in the lovely Jade Forest? Surrounded by those blossoming cherry trees, the pink leaves rain around you while you pronounce those meaningful words: "I do." If this is your dream, maybe Cassie Leigh here inspires you to wear a traditional silken dress like the one she's wearing. The details over the neck and wrists are embroidered with small azure and jade gems that outstand and give the upper part more color. From the waist and downwards, the skirt is crafted with imperial silk, an exclusive and delicate material that the master tailors from Pandaria have been crafting for many generations now.
As for Cassie, she chose this style since she lived in Tian monastery for a long while, eventually appreciating their traditions and costumes.

---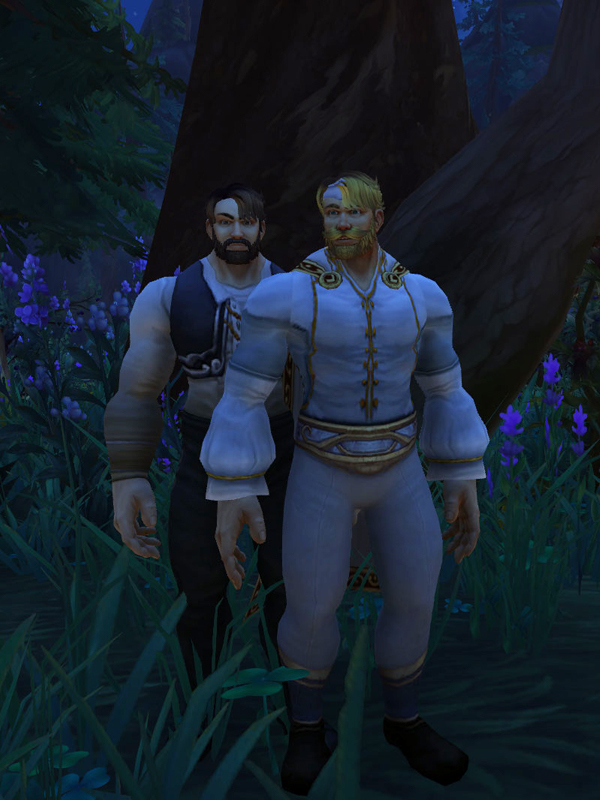 Photo:Kazia Hayworth
Model: Leonndal and Morty
This picture was taken during Leonndal's and Morty's wedding, a lovely evening where they shared their love and their union with their closest friends at Norwington State.
I personally enjoyed how Leo chose to wear that white and golden suit which strikes a perfect balance between bridal tradition and contemporary design. Morty on the other hand went with a more informal look, a white shirt and a vest over it matching the suit pants perfectly. Who said weddings are only meant to have white dresses and tuxedos? If someone did, they are wrong. These two look dashing!
---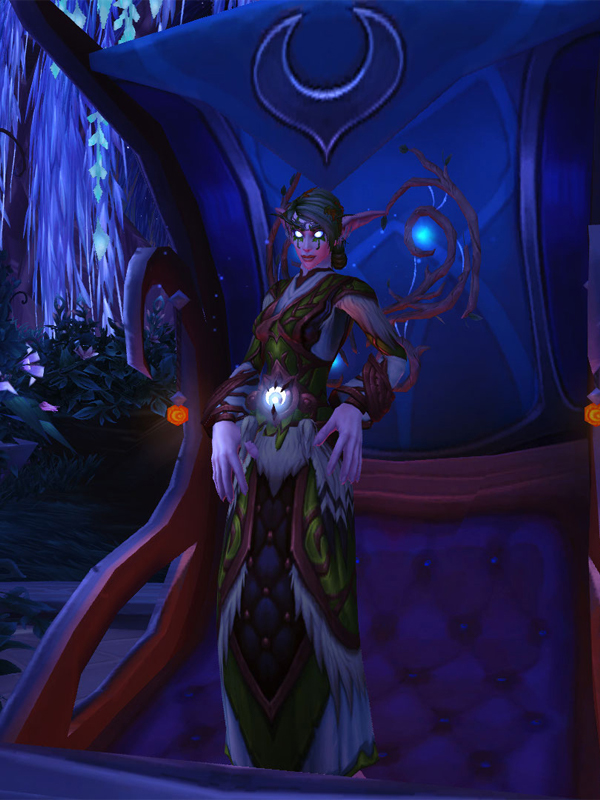 Photo:Kazia Hayworth
Model: Shylaenia Leafwalker
Shylaenia Leafwalker, our beautiful elven bride, poses in the traditional elven carriage on which brides are taken to the altar or tree they are getting married at. There were many details regarding the dress and the accessories that I was curious about and Shyl of course kindly explained all the details of her culture.
The dress is mostly green since it symbolizes nature, but it has some white feathers doesn't it? Well those are feathers from the hippogryphs, sentient beings highly intelligent and far more to the elves than just mounts, they are companions.
The branches on the back are some kind of family heirloom that passes over generations, this one belonging to Shyl's mother. Every time one from the family gets married, there's a blue shiny trinket added to the beautiful patterned branches.
Another detail worth of note is that the leaves she wears on her hair, are placed on by her closest friends to wish her the best in her new life. To end this, I must point out how fabulous and unique her bracelets are, handcrafted by herself with bark.

---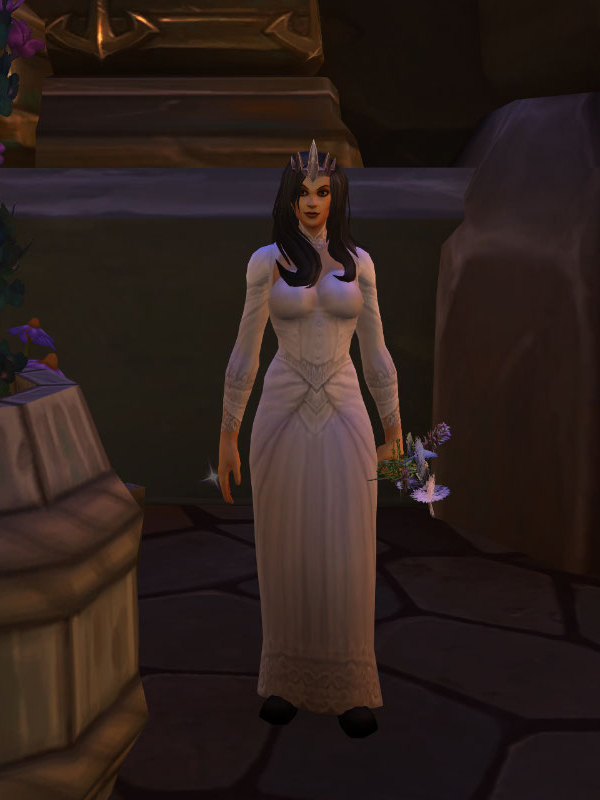 Photo:Kazia Hayworth
Model: Valentra Ravenwood
Months ago I organized a wedding for some friends. I couldn't have been happier with how everything went, and neither could Valentra or her new husband. Obviously I asked the bride to pose for Kaz-shion and show us her choice for such an important day in her life. Valentra went for a traditional more princess-like style, adding the tiara with diamonds. The dress has long sleeves and a breathtaking open back perfectly complement the fit to flare silhouette. Diamanté, crystal, and pearl encrusted embroidery adorn the fit. Just stunning!

---