Issue No.10 : Personal Fashion Choices
Kazia is always looking for more models - if you want a chance to be featured in the Kaz-Shion magazine then contact us!.
---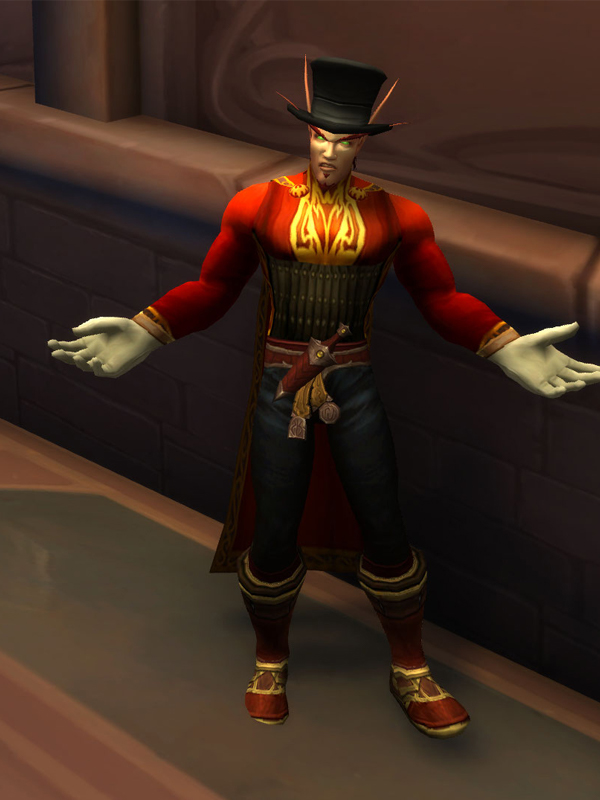 Photo:Kazia Hayworth
Model: ALAERO SUMMERFLARE
The last of Dalaran's great parties surprised me with tons of fashionable people. Within the crowd I found my eccentric friend Alaero and took the chance to ask about his outfit.

Kazia: "Why did you pick this outfit Alaero? Tell me a bit about the role of fashion in your life."

Alaero: I picked it because I feel it adds a sense of theatrical... Something or other, yes and well, I'm rather fond of red which, I know, is a touch typical for a Sin'dorei.
I'm very fond of the hat too! It makes me feel a touch sharper? I'm not certain...and the gloves, I feel they have that almost tacky magician feel- Oh! Uh, I've been told I dress well.

Mhm, I agree he dresses projecting his personality and thinking about what fashion makes him feel. There's many ways of expressing yourself!

---
Photo:Kazia Hayworth
Model: MIRIEL SPARKVALE
This lovely lady is a true artist. Her lovely dress caught my eye across the room and as the curious bean I am...Well you know what happened next!

Kazia: "What a lovely dress, tell me a bit about it."

Miriel: Very well, this dress was crafted by myself. Conjured to be exact, it is completely made out of magic. I like to sketch out an idea and then make it come to life.

Kazia: "Oh really? What inspired you, Miriel?"

Miriel: I take the inspiration for my designs mostly from the culture of our people. The inspiration for the fabrics I gather at different tailor shops. I used arcane, though the jewellery I crafted out of gold and emeralds.

Kazia: Why chose this dress for this occasion?

Miriel: because it'd be sure to be the most exquisite gown amongst all.

In my opinion she was right, a dress with different textures and an aura of its own in which she looked just stunning!

---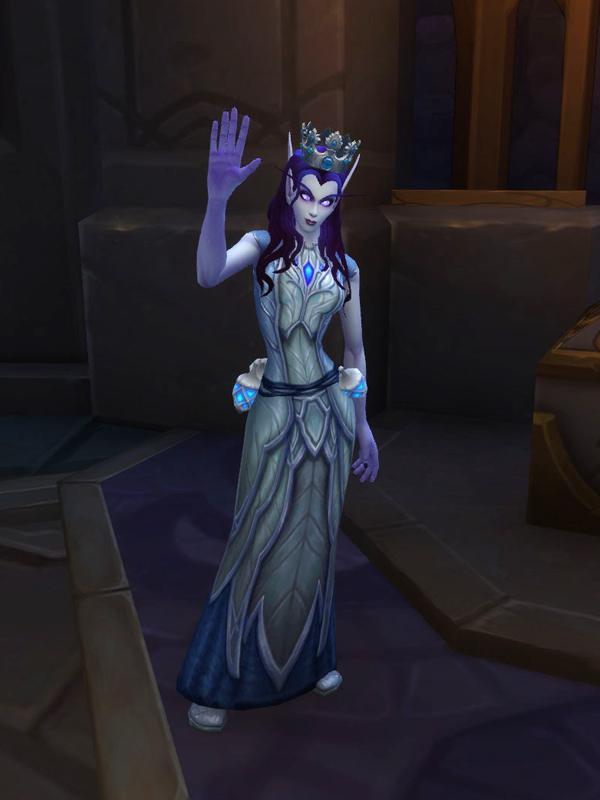 Photo:Kazia Hayworth
Model: LAURENN COLDSHADE
One of my oldest friends decided that crowns aren't only for royalty and I couldn't agree more! Laurenn lightened up the room with her royal attire making that lovely jewelry piece the main focus of her ball look.

Kazia: "Where's this stunning dress from? Anything special about it?"
Laurenn: "I got it here, in Dalaran, from one of the local tailors. The silks... are a mixture of different ones and I am not too sure about each of them. All I know is that at least part came from the High Home.

Kazia: "High home has high quality thalassian refined silks are known to be one of the best. Why this dress from this ball?"

Laurenn Coldshade: "Well... From all the stuff in my wardrobe, I thought that fits my complexion best. As well as the crown-- ah! The crown! So, the crown. It's been a long-lasting project that took months to fully put together. The Arcanite meant to empower it, the gemstones... all carefully selected. For the sake of fashion as well as functionality.

Dearest readers I'll admit I was scared to ask about the arcanite part so I just didn't. Could it be a cute jewelry piece that can destroy the world? I secret heirloom with powers to give bald people hair? Rub the crown and get three wishes? A mystery unsolved for NOW.

---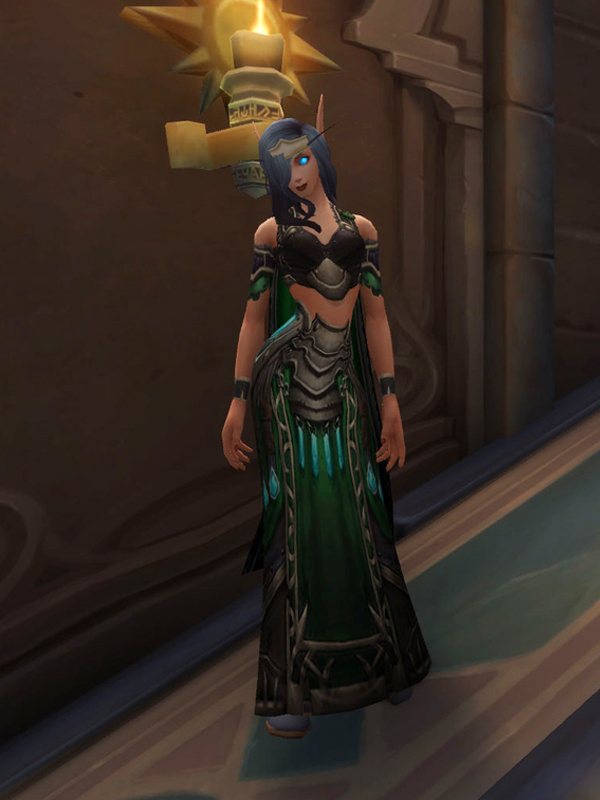 Photo:Kazia Hayworth
Model: LADY FAELENN SILVERHAWK
Bright and dark green colors, a bejeweled tiara and a silken cape dressed this lady for the ball. Elegantly and graciously she allowed me to ask about her gown.

Kazia: "Would you speak to me about tonight's look Faelenn?"

Faelenn: "I had this made from fine Dalaran bought silk and put together by my own tailor. I chose green to represent the verdant green hills and forests that I have always called home and to show everyone that even the most outdoorsy of rangers know how to dress well and move gracefully even in the festivities of the city.

And so Lady Faelenn Silverhawk proved the point, there's a moment for each outfit and a time to shine ranger or not. Perfect choice for a ball I'd say.

---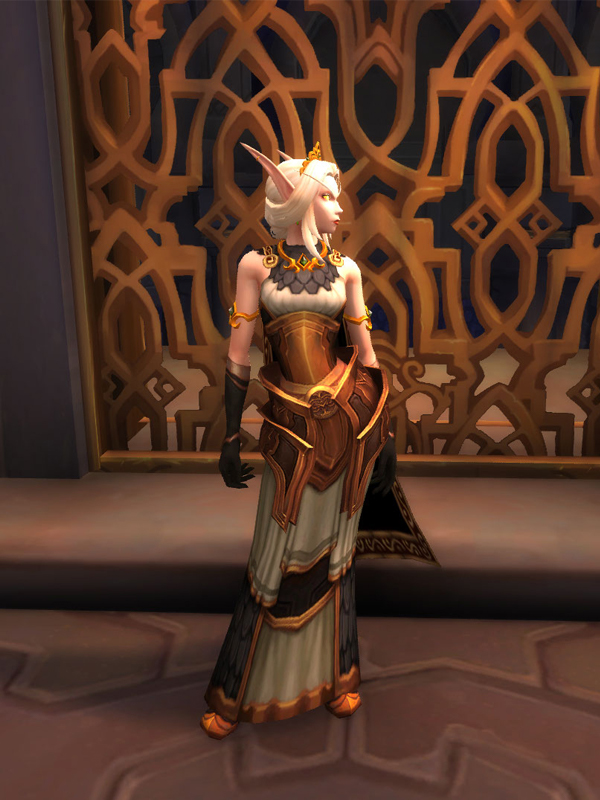 Photo:Kazia Hayworth
Model: LADY TIALIS ROSEHEART
Lady Tialis's outfit speaks for itself, I barely have words to describe this one...To me it's harmonious, elegant, royal, outstanding, original, unique? I seem to have more than I thought at first. I must admit it's one of my favorite outfits ever seen a ten in my books for this elven lady.

Kazia: "I need to know how you came up with this outfit. Tell me about it!"

Tialis: This gown was specially created for me by Starlight Emporium. The plating itself is made of steel and plated with gold, whilst the black and creams are made up of a soft velvet. It is intended to show that beauty, power and practicality can be combined to make an outfit one can dance and fight in. In the right light, it reflects the glory of the Sun - which shines ever eternally over Quel'Thalas.
Kazia: "Woah, a dress with lots of meaning I see. What about the jewelry? I've only seen such masterpieces done by a gnome, Gnomeo Lightspring, but this isn't his style. Where are they from?"

Tialis: Ah, yes. House Roseheart has always had a heavy investment in the jewellery industry. These are but one of many sets my House has helped design. One should always be considerate of accessories.

Surely this lady doesn't need much to shine on her own, but that goddess-like outfit couldn't look as royal stunning on anyone else!

---