Issue No.12 : The most terri-chic issue!
Kazia is always looking for more models - if you want a chance to be featured in the Kaz-Shion magazine then contact us!.
---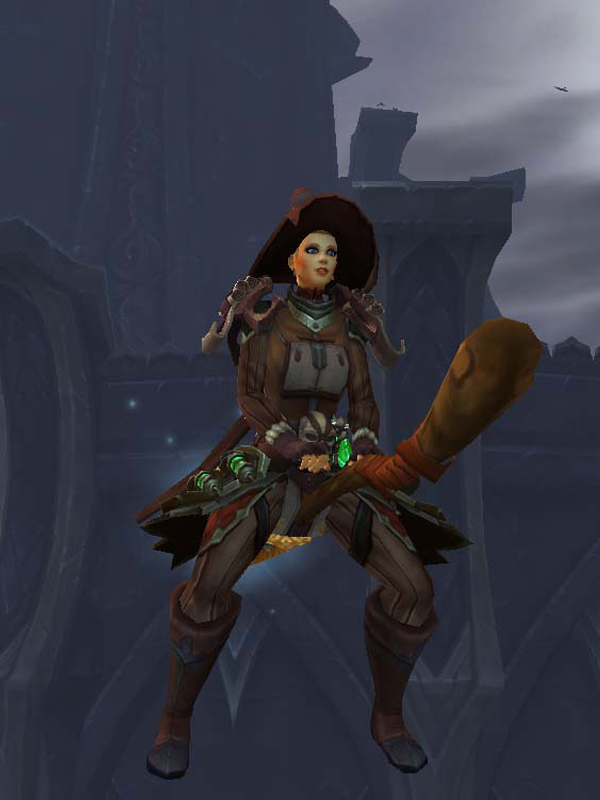 Photo:Kazia Hayworth
Model: Sara Leoron
Sara Leoron,brings us another version of the most classic Hallow's End costume, a witch! Using her magical skills, we got this spectacular shot of her levitating broom thankfully without any accidents...Ay.
This witch crafted her costume herself, and she's shared the recipe for it with us!
Sara: "To create the look you'll be needing lots of brown and red tull; a brown hat, pants, boots, shoulderpads and long shirt that you won't mind cutting and spoiling!; heels, black nail polish, makeup and some black feathers.
So we want to shape the pants and shirt to our liking, letting the edges feel cranky and undone to then sew some pieces of brown tull onto them. Gluing some tull of whatever color you want onto the hat, boots and shoulderpads will make them feel part of the witchy set. With the feathers, we can carefully add them on the hat, shaping a bird on it, as if we had a cute crow on us! Finally, glitter might help give the look a more fashionable approach, adding it with glue to our pants and shirt to simulate that magical vibe that we really need!"
And done, you are ready to go, a low cost and easy to craft costume, that will make you the King or Queen of Witches for a night. Don't forget to carry around a broom, just in case you need to escape the witch hunters!!

---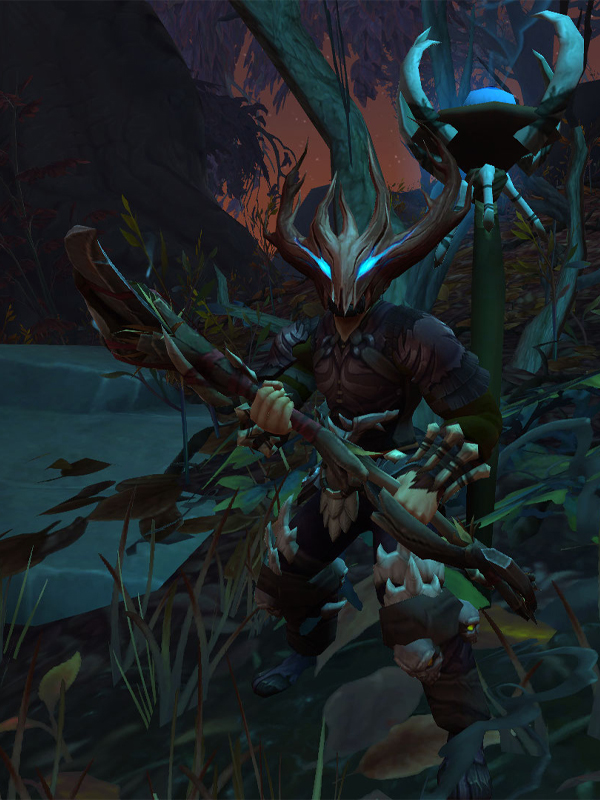 Photo:Kazia Hayworth
Model: Scott Morrow
More homemade amazing costumes for you guys. Scott Morrow created this Drust Construct costume to scare the hell out of us. I know guys, it's a pretty cool idea, one that he kindly shared with us so that you, my readers, may craft your own! So here's how to craft this epic Drust like costume.
Scott Morrow: "I made it using' a leather base underneath and finding' bones and dark wood to cover it and make it look like a proper Drust Construct. The mask I took three pieces of wood and just meshed them together with adhesives. I employed help from my friends to get a gnomish device to replicate the roar of the Drust creature and an alchemical reaction to cause a small explosion when I hit the scythe against the floor. The scythe I made out of a strong wood with some older wood added to it so it looked like it was coming apart. Complete with red leather straps and a silver scythe head."
---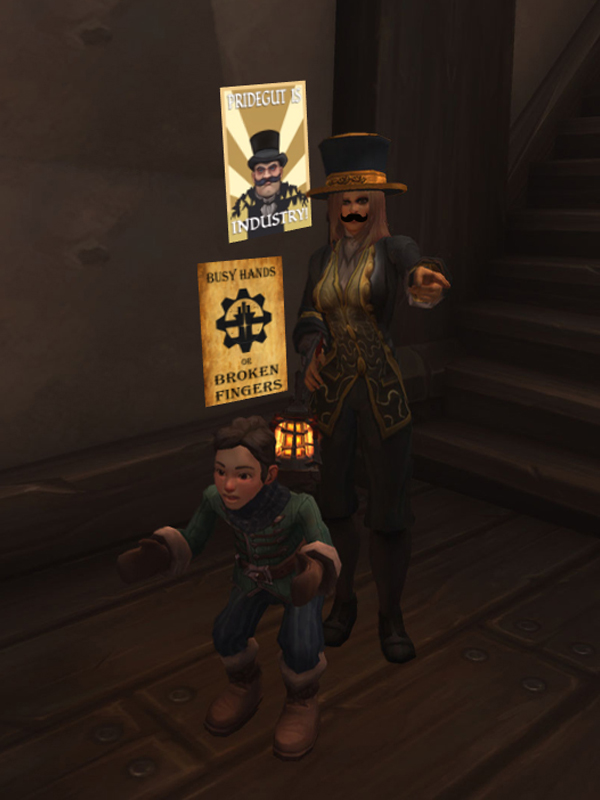 Photo:Kazia Hayworth
Model: Bellaquinn Cotton
Bellaquinn Cotton, my gilnean rose, took on the offer of dressing up as the terror of any gilnean that lives in Boralus...Lord Pridegag. The man that wants to banish all Gilneans, the person who funded Captain Boyston's idea of getting wolfsbane to attack our Gilnean friends.
Not only this, but Lord Pridegag also kidnaps children from the streets to force them into hard labour as did Ashvane, perhaps they are even related? Kids of Kul tiras, please during these nights of Hallow's End, remain at home or near a trusted adult at all times, for Lord Pridegag is always looking for new victims to drag into his sack.
As for the costume, we created it from an old suit, just attaching fake golden thread to the sleeves, adding some stains of coal to it since the poor children throw their filthy hands upon the fatso begging for mercy. As you can see in the picture, you'll need several pouches and fill them with stones, to symbolize all the money he has thanks to him evading taxes.
To finish off the look, you need a cheap looking top hat as big as this man's ego.

---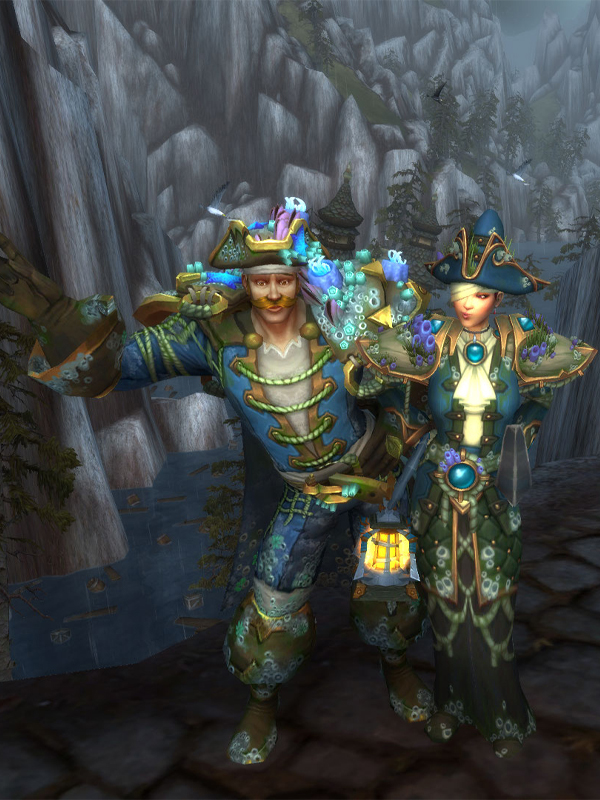 Photo:Kazia Hayworth
Model: Peter and Brienne Langedijk
Contemporary luxury, a jeweled Hallow's End costume crafted by Brienne Langdijk herself. She must've been picking stones and shells for a while but it really paid off! Look at these two drowned captains, personally one of my favorites during this year's Hallow's End. No worries guys, Brienne is going to share her recipe to craft this too!
Brie: I got lucky when I entered this second hand shop in Dampwick, they were selling this awesome retro dress and leather coat that I was wearing, it seemed like the perfect basics to start off the costume. With Peter's costume, I had to be a bit more creative, I borrowed one of our crew mates clothes as they were already worn out from the sea, I cut open the front of the shirt and tied them together with thin ropes. I also bleached a bit from the pants to make sure it's a more different coloration. Afterwards I went to the beach with my son, to collect clams and the like, I mean if a body is under the sea for a long time, nature will probably claim them. Next thing I did was building the shoulderpads out of foam, cutting it into the right position before using a lot of glue to fixate the different decorations on top of it. I also used the foam to form some of the clams and the like, making it look like a reef on top of the shoulders. I did the same with old hats of Peter, creating a little foam reef on top of them and painted them in different colours. To finish the costume, I used some ropes on Peter's pants and my skirt and glued them on.

---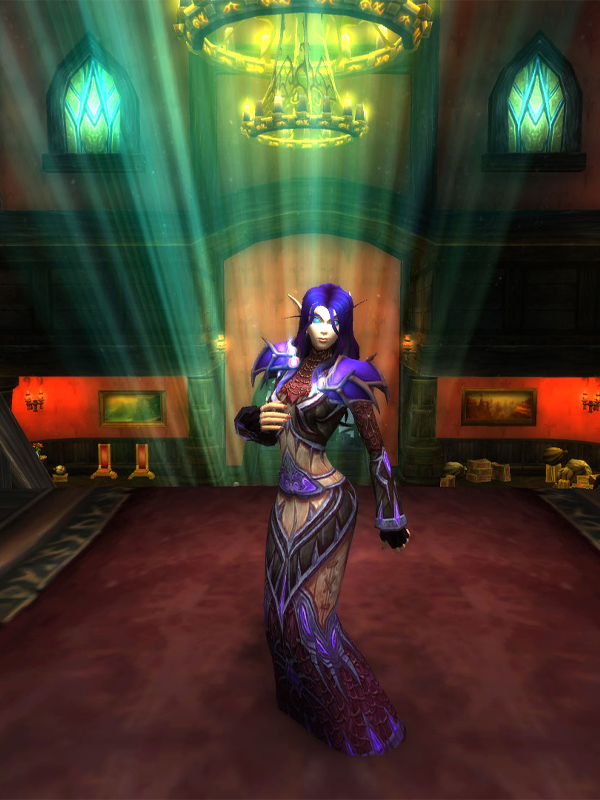 Photo:Kazia Hayworth
Model: Kialandi
Kialandi, the Spider Widow, the woman that has thrown a great Hallow's End part just recently. The owner of the Hummingbird Emporium put together some of the pieces she sells to look this good for her party that was a total blast! Kialandi, will have this costume reproduced for you with a pre-order, the costume is on the Hummingbird's catalogue! Visit their store in Stormwind (Mage District) or Boralus (Upton Borough). Here's the list of items:

Clothes:
Dress: Custom made, Calling it Spider's embrace- 3 golds 10 silvers
Shoulderpads: Whispering Twilight- 55 silvers
Gloves: Silky purple grabbers - 35 silvers
Earrings: Sapphire studs - 4golds 30 silvers
Shoes: Swirling Light sandals 75 silvers
Details : Lace covering the outfit as decoration 60 silvers
Make-up : Dark blue mascara and eyeliner - 4 silvers 10 coppers
Blue and purple glitter for face 4 silvers
Perfume : Darkshire Desire perfume 15 silvers

---