Issue No.2 : Meep meep! Fashion coming through!
In this issue of Passion for Kaz-shion we sent Kazia out into Azeroth to find some vic.. I mean models. Of course, when you release a fashion magnet like Kazia, pictures where taken, people modelled and here is the result.
---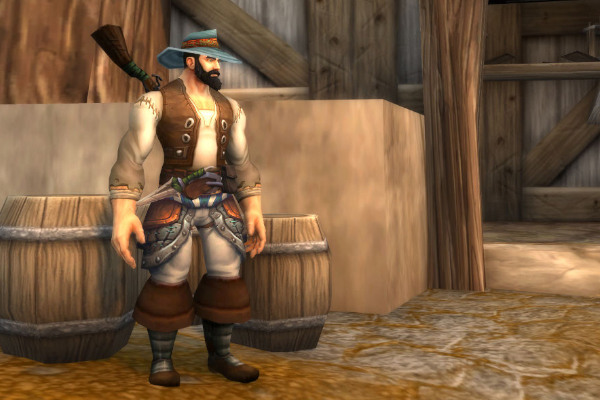 Photo:Kazia
Model: Rey Hayworth
Rey Hayworth posing for Kaz-Shion! All the clothing articles belong to Ranchy Haunchy Outfits, just a perfect look for a fashionable yet practical boar hunt.
Clothes:
Hat: Blue dawn hat- 8 silvers
Shirt: Brown and white shirt- 5 silvers
Belt: Leather sheath belt- 15 silvers
Pants: Reinforced pants with leather thighs- 20 silvers
Boots: Leather Jack boots, brown (available in green and beige) - 12 silvers

---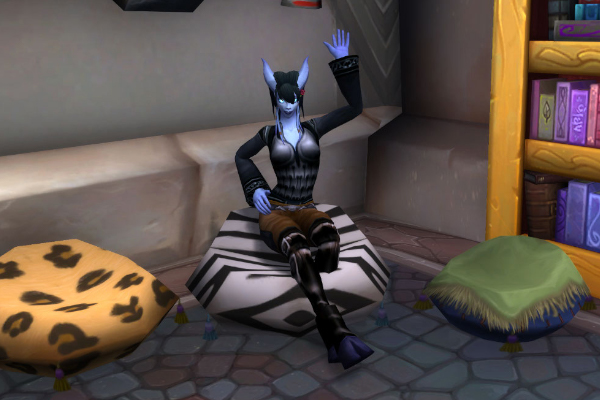 Photo:Kazia
Model: Khari
The always fashionable Khari, posing at Dalaran's beauty center. The clothing and jewelry can be found at her store T-K Studios (main shop in Dalaran). A must-visit for our fashionable audience, they provide affordable fashion range to a more luxurious range of high quality clothing.
Clothes:
Vest: Black Scale-Patterned Vest- 20 silvers
Shirt: Elegant black shirt- 10 silvers
Belt: Silver corded belt- 20 silvers
Pants: Chic Beige Leggings- 10silvers
Boots: Jet-Black Leather Boots- 25 silvers
Earrings: Golden ear loops, size M- 30 silvers.
---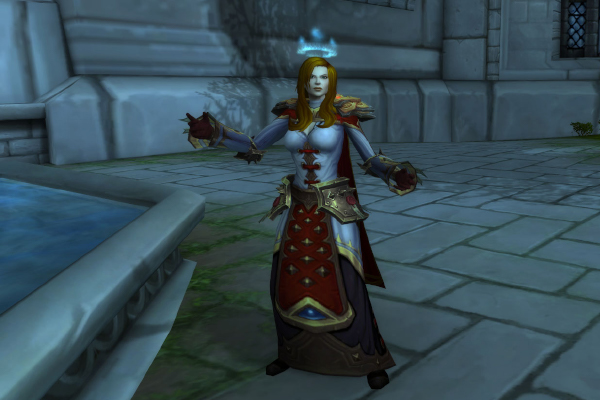 Photo:Kazia
Model: Nelly Doran
The star of Stormwind, Nelly Doran enlightens us with this wonderful look! The armoured dress and shoulderpads belong to Arathorian Styles. The gloves and boots belong to the Wannabe Princess collection from Silken Silks store. Jewelry from Rose Gold Collection. from Luis Pinton. This look makes it clear, you can be safe and look wonderfully in a battlefield!
Clothes:
Tiara: Golden tiara with vine engravings- 2 golds
Robes: Plated red and white robes- 95 silvers
Cloak: Silken red cloak, with golden embroideries- 90 silvers.
Shoulderpads: Gold crimson plated shoulder pads-95 silvers
Gloves: Red velvet gloves- 30 silvers.
Boots: Black leather boots, with golden thread- 50 silvers
Bracelets: golden dream bracelet (gold with 1kt diamonds)- 3 golds.
---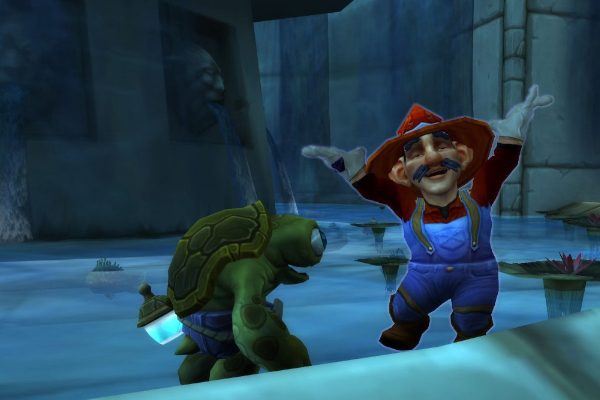 Photo:Kazia
Model: Gnomeo Lightspring
Gnomeo Lightspring shows us his exotic pet, Jousy, in a wonderful outfit by Wugi and Mario. The acclaimed designers surprise us once more with the unique futuristic style. Ring by Mulgari.
Clothes:
Hat: Reverso Hat- 69 silvers and 99 coppers.
Overalls: Mario's special overalls- 1gold
Shirt: red silk shirt- 95 silvers
Gloves: white velvet gloves- 90 silvers
Boots: Brown kickers- 70 silvers
Ring: dark hope by Mulgari- 4golds
---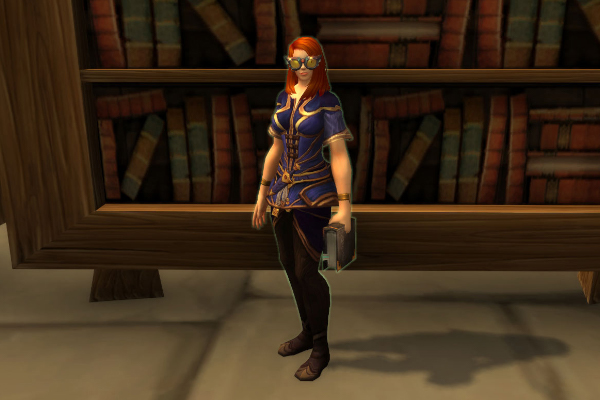 Photo:Kazia
Model: Emily Winterburgh
Party collections this time brings us wonderful, delightful and party-ful outfit. Emily Winterburgh wears it with sass for her night outs in the city. Glasses and rings are from Shonnel, shoes are from Lunbutton, the rest all can be found at the Party Collections store, in Trade district.
Clothes:
Glasses: Shonnel blue special-5 golds
Vest: Dance to the blues, vest- 1gold
Pants: Dance to the blues, pants-90 silvers
Belt: Blue sheath belt- 80 silvers
Shoes: Chocolate steps- 2 golds.
---