Issue No.5 : Hallow's End Special: Costumes and Boohs!
Kazia is always looking for more models - if you want a chance to be featured in the Kaz-Shion magazine then contact us!.
---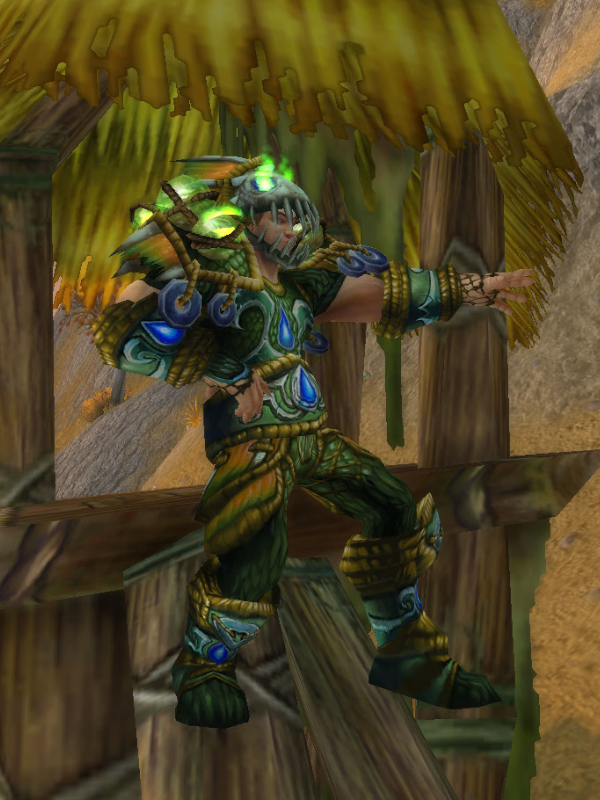 Photo:Kazia Hayworth
Model: Jack Grimsdale
Mgrll! I mean...Jacko the Murloc is here. Spooky? Only if you anger him, angry murlocs are a true threat, only fish will calm them down, or a bite to your rear! The whole costume can be found in "Party and co Store", and with quite an affordable price.
Clothes:
Helm: Murly's head- 50 silvers
Shoulders:Charmed Scale Pads- 20 silvers
Gauntlets: Scalegauntlets- 5 silvers
Vest: Green scale vest- 25 silvers
Belt: Green scale belt- 15 silvers
Pants: Green scale pants- 20 silvers
Boots: Scalesteps- 10 silvers

---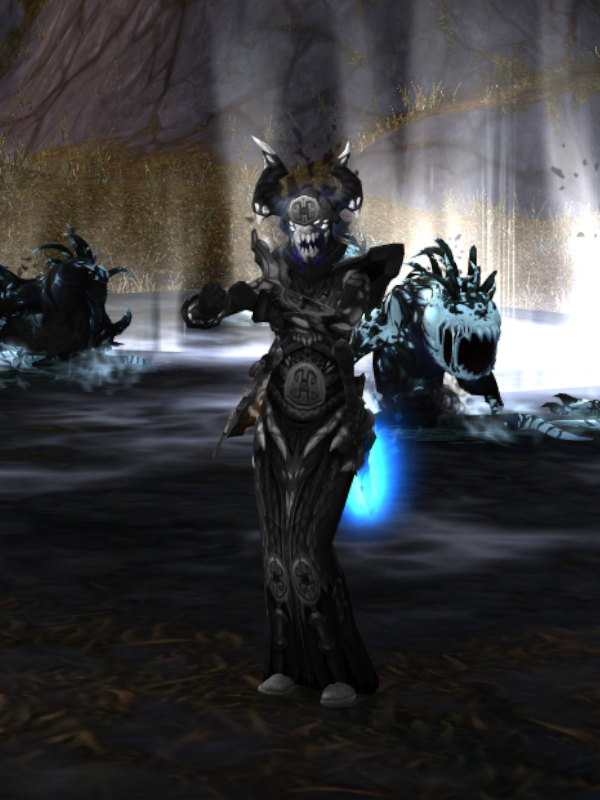 Photo:Kazia Hayworth
Model: Cassindra Bentley
My lovely new snapographer, debuts in Kaz-shion, wearing this splendid Sha of Anger costume. Thanks to the "Spook my boots", a terror themed shop, for lending us the costume for this issue. You'll get a hold of anything related to the most terrifying legends in this shop located in Duskwood; books, toys, clothes, you name it!

Clothes:
Mask: Sha mask, B&W version- 2 golds
Shoulders: Sha shoulderpads, B&W version- 1 gold
Robes: Sha robes, B&W version- 1 gold, 50 silvers
Bracelets: Iron Steel bracelets- 1 gold
Gloves: Black gloves- 60 silvers
Boots: Grey loafers- 80 silvers

---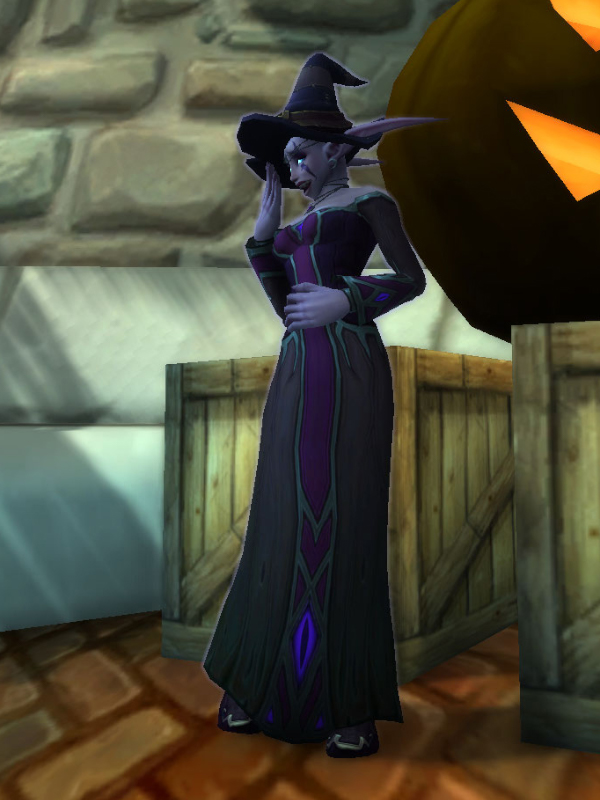 Photo:Kazia Hayworth
Model: Yllisandre Darkgrove
Oh no! A witch...Nothing overly spooky, the city is full with warlocks and other kinds of masters of these dark magics. Nevertheless, this is a classic that had to be in a Hallow's End article. Ylissande Darkgrove, looking scary and stunning at the same time, poses in a "Shonnel" dress. That dress is from the latest collection of the very known goblin brand, for any fashion freaks that are wondering. As for the complements, they come from "Accessories" the franchise that you all very well know by now, they have all kinds of accessories you could dream of.

Clothes:
Hat: Witch 'o booh- 90 silvers
Dress: Violet Sunset- 5 golds
Rings: Lavenders set- 1 gold
Earrings: Lavender broomrings- 80 silvers
Heels: Violet heels- 1 gold

---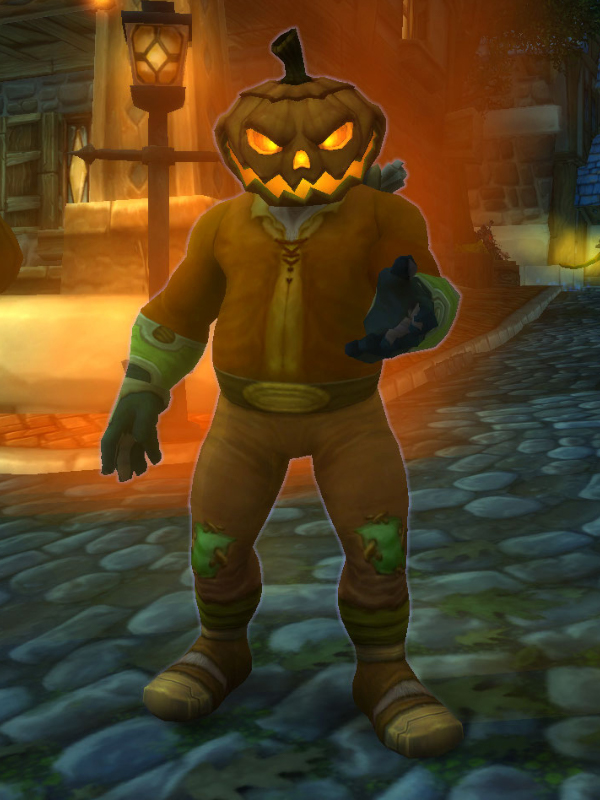 Photo:Kazia Hayworth
Model: Hardhy Lester
Dear Hardhy, me and the readers hope you stop being a pumpkin head soon. We appreciate you posing for us, but we need you back and with a functioning head.
Thank you so much for accepting posing here, you look terrific in that costume from "Spook my boots".

Clothes:
Mask: Total pumpkin- 60 silvers
Shirt: Orange cotton shirt- 40 silvers
Gloves: Green handshakes- 50 silvers
Belt: Brown leather belt- 10 silvers
Pants: Pumpkin pants- 40 silvers
Boots: Dampers- 1 gold

---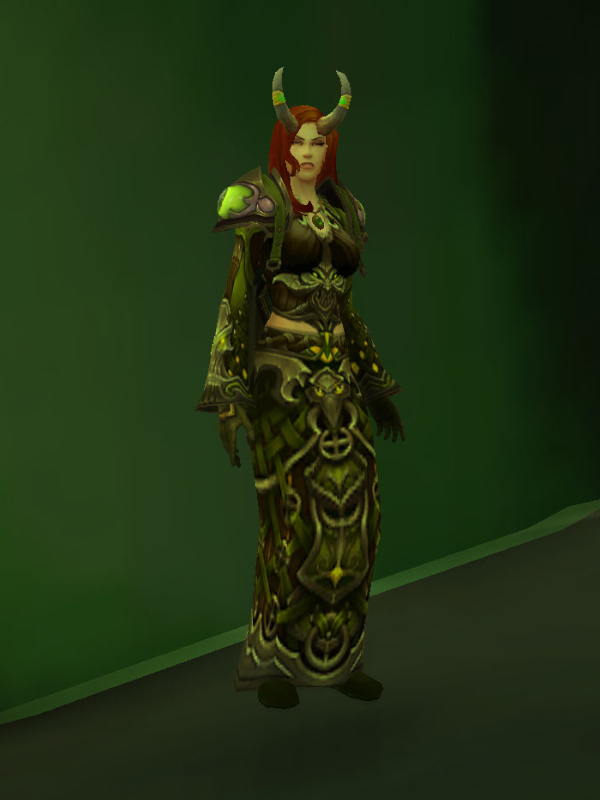 Photo:Kazia Hayworth
Model: Emily Winterbough
I'd say dear readers, that this is the most fitting costume for this model. Emily might be known around Stormwind for being a little rascal. I can only be glad I wasn't around to suffer this demon's mischief during Hallow's End. Once more, we got Emily into an art piece from the lovely "Ahoy there atelier!", which keeps collaborating with us from Boralus.

Clothes:
Headband: Demon horns- 1 gold
Dress: Felcloth imitation dress- 2 golds
Shoulderpads: Fel imitations shoulders- 1 gold 60 silvers
Necklace: Golden lock- 1 gold 30 silvers
Gloves: Green, gold emb. gloves- 80 silvers
Shoes: Fel step-ins- 1 gold 10 silvers

---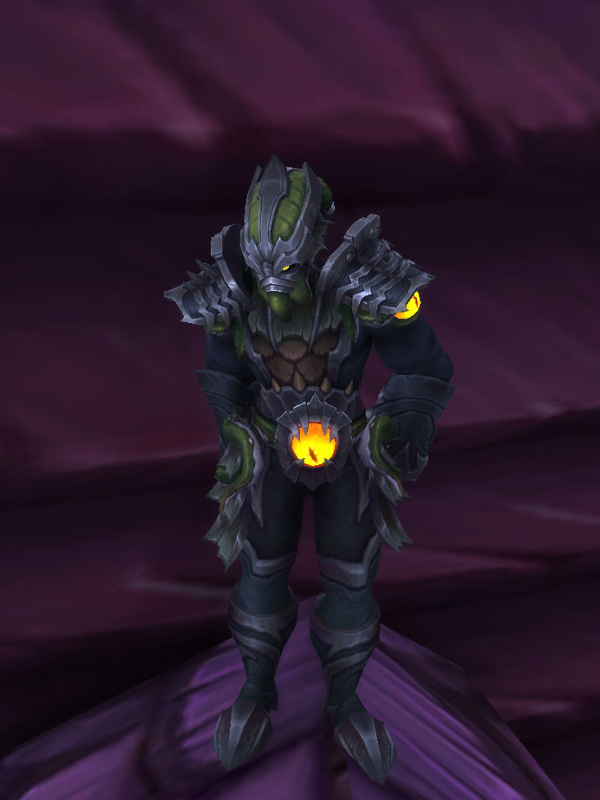 Photo:Kazia Hayworth
Model: Anonymous
Yuck, the slimy slime spawn of N'zoth! This person would prefer to remain anonymous, he's too shy to show his real face, so we'll have to be okay with that face. Are you guys okay? Cause I am not. Imagine that creature creeping up your bed, while you're asleep… Costume from "Spook my boots"!

Clothes:
Mask: Spawn head- 90 silvers
Vest: Spawn armour,p1- 1 gold 70 silvers
Belt: N'zoth belt- 50 silvers
Pants: Spawn armour, p2- 1 gold 40 silvers
Gloves: Spawn armour, p3- 60 silvers
Boots: Spawn armour, p4- 70 silvers

---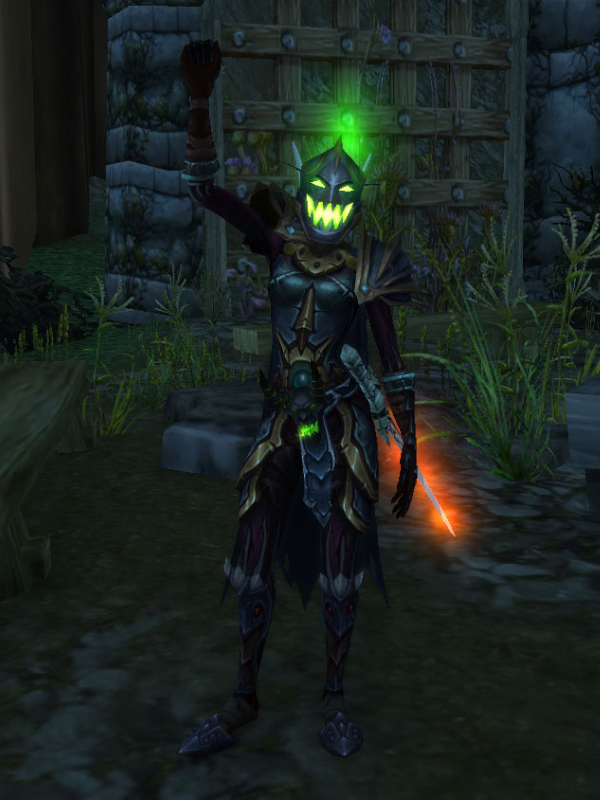 Photo:Kazia Hayworth
Model: Alaniel Darkfeathers
The Headless Horsewoman, variant of the always feared Headless Horseman that haunts us during these festivities. Not a cheap costume mind you, this one is a perfect replica, all of it is the armour replica exposed at the "Spook my boots" shop, I fear this is not on sale. The whole armour was purchased by the shop, for the exorbitant amount of twenty golds."This end... have I reached before. What new adventure lies in store? HAAAHAHAHA!"

---