Issue No.4 : Rock and Roll in Kaz-Shion
Kazia is always looking for more models - if you want a chance to be featured in the Kaz-Shion magazine then contact us!.
---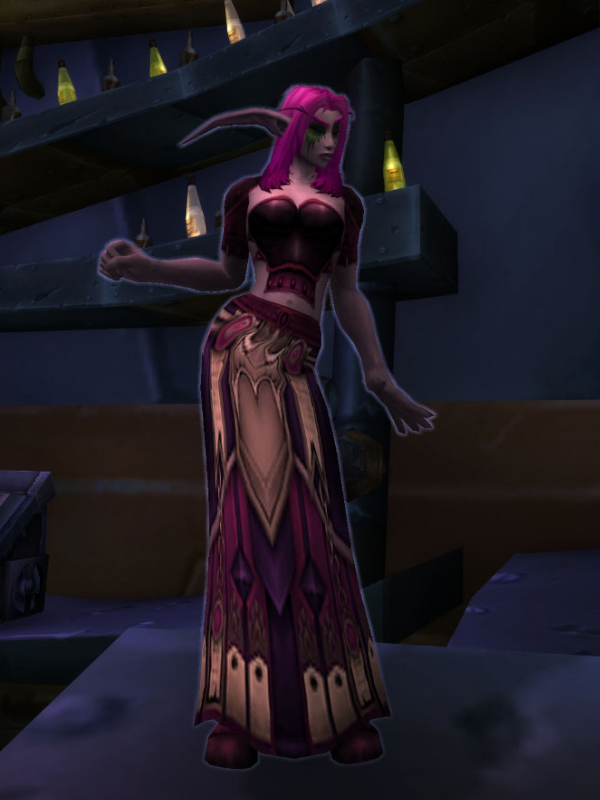 Photo:Kazia
Model: Rose Chalamet
To start off this new issue, let's first break some stereotypes. For that check out this kaldorei named, Rose, that of course had to honor her name with this pink outfit. Really the rock vibes are spot on even though she wears mostly pink stuff, no need to wear red and black to rock it. Rose orders these lovely pieces from the "Trader's Tailoring", the tailor you find next to the canals in Trader's district. Yet all of this is designed by herself...I'd say she did a great job at being original.
Clothes:
Vest: Violet corset- 79 silvers
Skirt: Long pink skirt with metallic details- 99 silvers
Boots: Violet boots- 65 silvers
Necklace: Pink-it chains- 1 gold
Earrings: Pink-it skulls- 90 silvers
---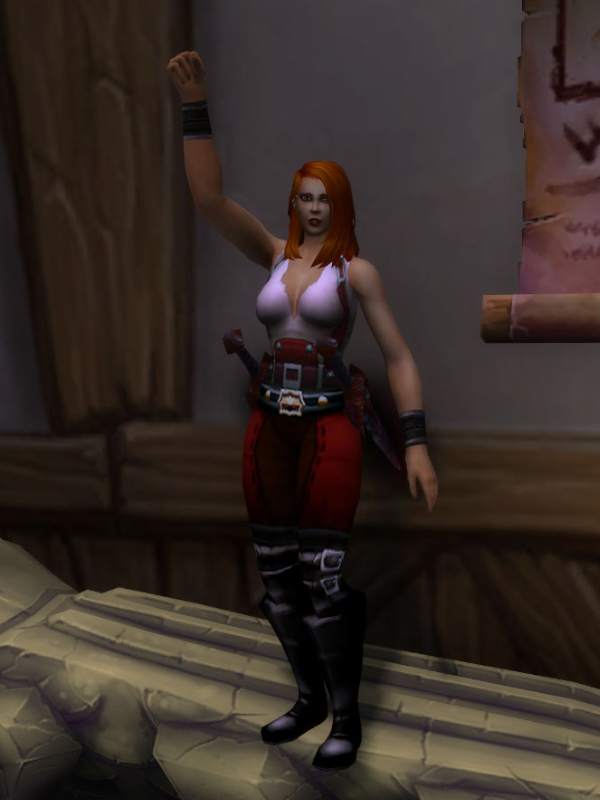 Photo:Kazia
Model: Danny
Rolling for us in this issue we got...Danny! She serves your drinks at the rhythm of rock at the Shady Lady. All her clothes can be found at "Back to Leather", a leather store as you guys might've guessed. Not all they sell is leather though, you can also find some mail pieces, but most importantly many different complements, like those lovely spiked accessories she's wearing.
Clothes:
Shirt: White deep shirt- 10 silvers
Choker: Spiked collar- 30 silvers
Suspenders: Red limits- 25 silvers
Belt: B.L belt- 12 silvers
Pants: Red walkers- 23 silvers
Boots: B.L over knees- 56 silvers
Bracers: Spiked bracers- 29 silvers
---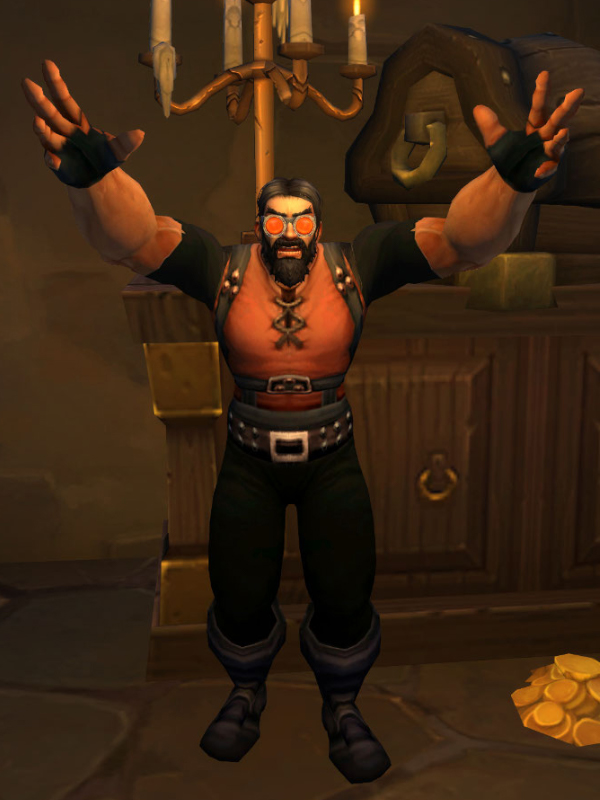 Photo:Kazia
Model: Heywood
I couldn't let out of this article the person that comes to my mind when someone mentions any rock band in Azeroth, Heywood. He can pull off any rock style, and here's the proof, from the classic black leather outfit, to the rockstar look that would swoon any woman! Might be what his partner loved at first sight? Maybe it was him singing "Highway to fel" which he sings awfully...Ehem! She's the tailorer that creates some of the pieces he wears. It's either Maire that provides the wonderful outfits, or some of the small shops you can find in the alleys of Trader's district, like "Havenswool". At this shop you'll be able to get most of the attire we display in these images.
Clothes:
Vest: Leather and cloth red-rockie- 1 gold
Gloves: Biker's gaunts- 70 silvers
Belt: Black beltation- 85silvers
Pants: Leather's roar- 1 gold 20 silvers
Boots: Stepinleathers- 1 gold
Shades: Rey banned shades, red model- 2 golds
---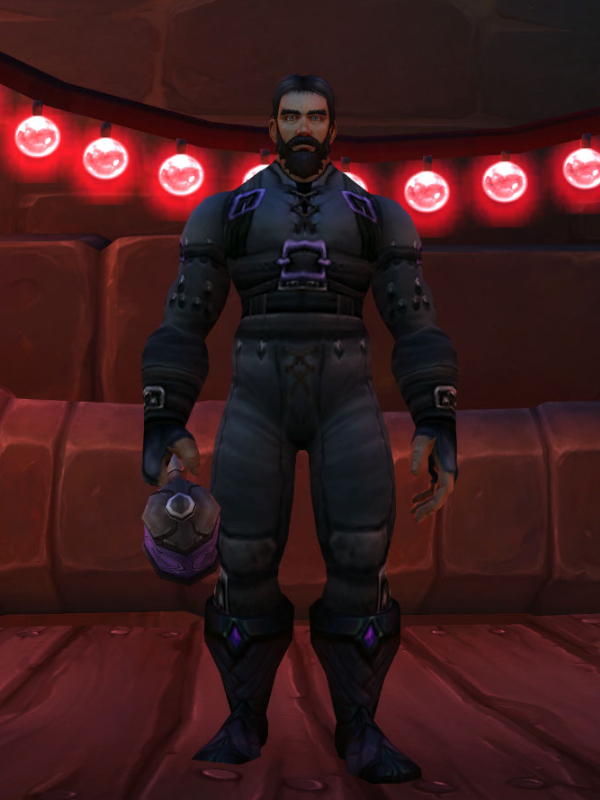 Photo:Kazia
Model: Heywood
Clothes:
Suspenders: Black leather suspenders- 60 silvers
Jacket: Biker's heart- 3 golds
Shirt: Black cotton shirt- 29 silvers
Gloves: Black punchers- 90 silvers
Pants: Greyish leather pants- 55 silvers
Boots: Black steps- 75 silvers
---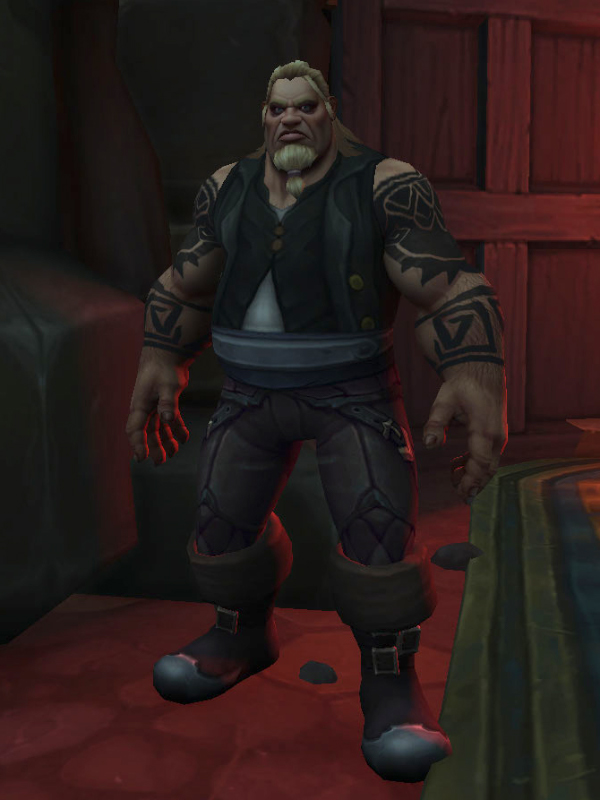 Photo:Kazia
Model: Barry Greyson
Barry isn't one to smile, unless he hears his favorite tunes from The Tauren Chieftains. I do not exaggerate when I say that he his entire house full with collectables from the band, not missing a single concert he can access since the band was formed around twenty years ago? I did ask but he rambled about every single tattoo he has related to the band for legit hours! Moving on to the fashion aspect of Barry, he buys everything from his favorite shop called "ETC style" based in Rachet, even though there are many people that resell models from the shop in several Alliance cities so don't worry guys. I did some research and discovered that "Havenswool" has some clothes from the ETC brand awaiting you!
Clothes:
Shirt: Cotton shirt- 9 silvers
Vest: Leather cutblack- 2 golds
Belt: Grey ropes- 1 silver
Pants: Chained leather pants model ET3- 90 silvers
Rings and earrings: Pure golden rings and earrings, with the band's logo.
Boots: Metal tipped boots- 1 gold
---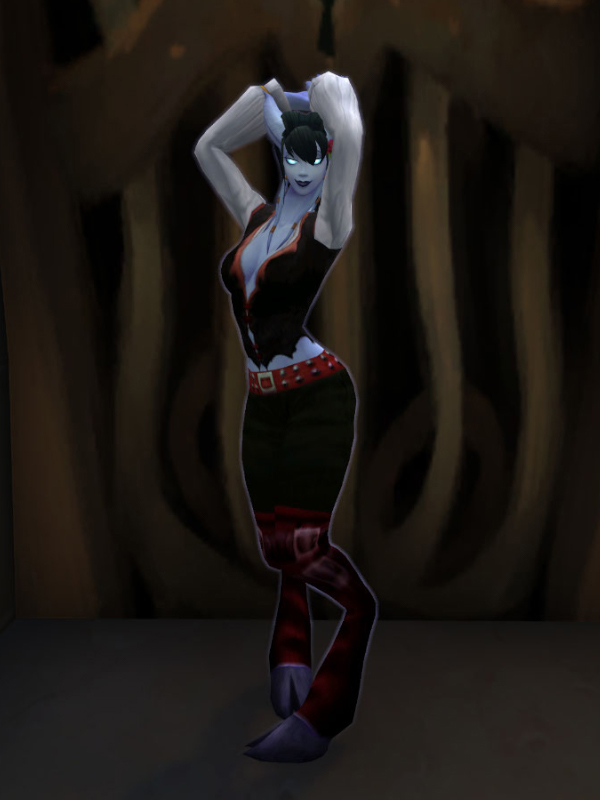 Photo:Kazia
Model: Khari
Khari, my fellow fashion victim, poses in her most rocky style. She's totally dressed from her shop "KT studios", which you can find in Dalaran. And guess who she's had as clients? Ding ding! Correct, The Tauren Chieftains which mind they are not all tauren. Her favorite is Sig nicius, the sin'dorei guitarist who plays a main role in her favorite song "Power for the Horde", he really is amazing. Mind clarifying that even though she likes the band and the song, Khari is pretty neutral and gets along just with everyone cause she's a sweetheart. Go meet her at Dalaran soon!
Clothes:
Vest: Velveted vest- 2 golds
Earrings: Red guitars- 1 gold
Belt: Buckle's buck- 60 silvers
Pants: Leather leggings- 50 silvers
Boots: Red overknees- 1 gold
Bracelets: Black leather set with golden charms- 1gold 10 silvers
---