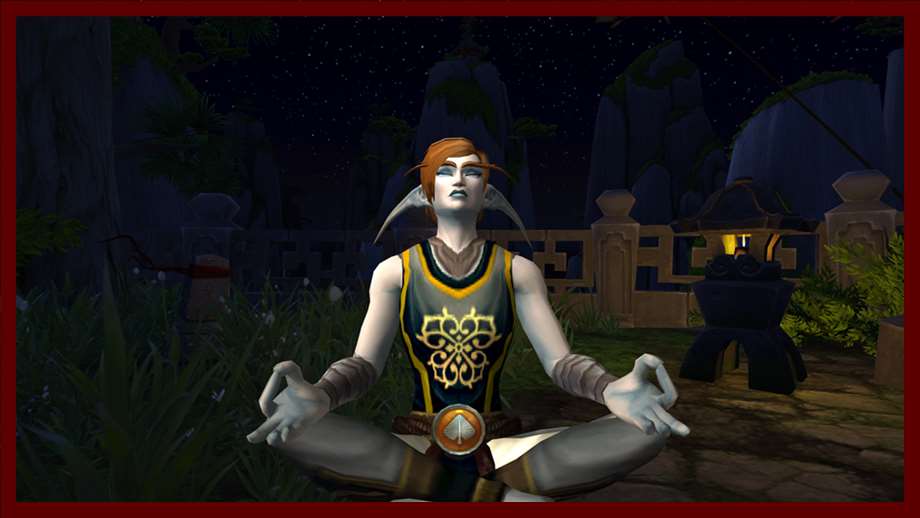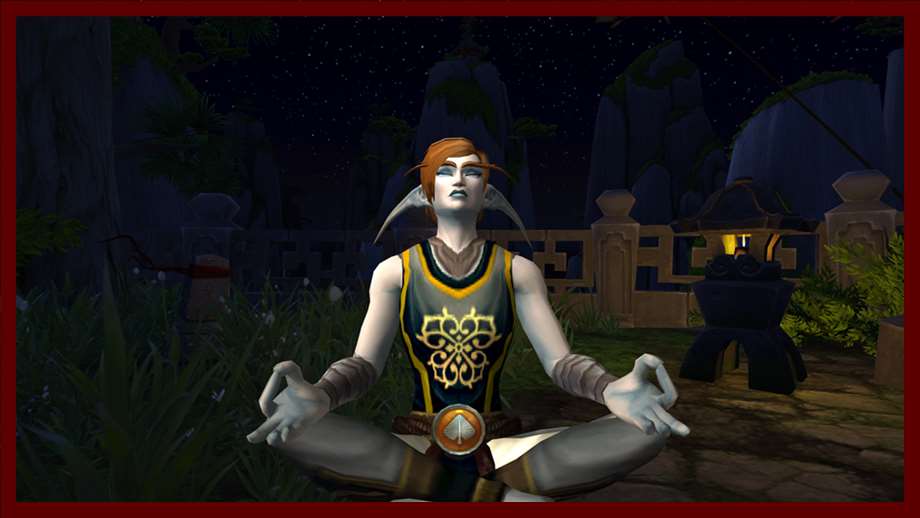 Tealshore's Drop-in Anma: A Night of Relaxation!
Loundre Tealshore is hosting their popular Drop-in Anma once more, this time in Pandaria. The new location comes with an expansion of offers, to make for a perfect night of wellness and pampering.
I
work multiple jobs, as do many other people nowadays: Rent in Stormwind is expensive, and in this post-war economy, many citizens are stressing themselves to make ends meet. Even outside Stormwind, with a world still recovering from recent turmoil, and missing their political leadership, personal tensions and worries are high. Thankfully, there are ways of relieving stress, and one of them is a good, professional massage. Loundre Tealshore of the Dustcloud Corporation offers those in their parlour in Pandaria's Sri-La Village, this Saturday. I went there ahead of time, to get an exclusive look for our readers, and to see for myself this wellness wonder. When I arrived, the first thing to note was Tealshore's friendliness, and professional conduct. I was offered a tour of the area, which I happily accepted, to see where things would be taking place on Saturday. First, I was led to a tranquil area on top of a cliff, with a wonderful view over the sea.

L. Tealshore: Well, first off: the meditation plateau, as I call it. This is the place where Keyran Mistscribe, a fellow colleague of Dustcloud Corporation, will host and lead classes of simple, short meditation for our guests on Saturday. The intent is to provide two different times for it: One at 8.30 pm and the other 10 pm. The class shall not take more than twenty minutes, so that the guests will have enough time to... settle down and find their inner peace for the rest of the evening. Cassie: I love the air here. It really is lovely. L. Tealshore: It is an incredible view here and the air is truly invigorating on this altitude. Cassie: So the goal of it is to help attendees find their inner peace. What kind of meditation is it? L. Tealshore: It is a simple form of it, where you sit down in a lotus position, close your eyes and focus on breathing. Frankly, however... I'm not sure if Mistscribe will add something else to the session. It is their activity and they own it. I simply inform you of it!

After making them demonstrate the Lotus position to me, and snatching a nice photo of it, which you all get to admire as the header of this article, Tealshore then led me further downhill, where the next point of interest was waiting for us: Food and drink can of course not be forgotten during a night of relaxation and wellness, and it was also taken great care of here:

L. Tealshore: Here... at this spot right here... this small courtyard is where I will hold the welcome and farewell speech. For all the guests before the event kick-starts. Cassie: Will there be any food offered here, too? L. Tealshore: That tavern over there is where the tea will be served by Deedi Dirgefuse and Galysea Shaderunner, two employees of Dustcloud Corporation and next to them is where Tinka Bartenson from The Amber Foundation will hand out their special pre-made picnic baskets for the guests with the help of Fylaenia Dustcloud. Cassie: Picnic baskets seem like a wonderful idea. L. Tealshore: Heh, I should think so. It is a wonderful menu and I'm pleased that she uses the local produce from this village.

The menu, which I was given a copy of to inspect in advance, looks absolutely lovely, and with my experience in the culinary industry, I can say with confidence that these picnic baskets should be positively received by just about anyone. As the tour continued, I was then shown the perfect place to settle down for a bit, and enjoy the food: The beach of Sri-La Village, with the relaxing sound of the waves in the background. I could spend an entire night there, and in fact, I've already made plans to do so with my best friend after now having seen this tranquil place in person. There is more, though, than just the beach, and the tour continued. The best part about a wellness getaway is to have something to take home, isn't it? There will be goods offered to make sure that the relaxation doesn't end at home, and can continue in your very own bathroom.

L. Tealshore: Let's continue to the trade stall area… Here it is! Cassie: Trade stalls, too? Huh. L. Tealshore: Now... for now, Leliti, one of my most regular business partners, has confirmed that she will be selling her wares during this lovely event. "Soap 'n' Glory" offers a wide array of bath scrubs, soaps, oils and the like, which fit well with the theme I am going for with this event. Cassie: Oooh, yes. I was a bit worried there for a moment, but that does absolutely make sense. L. Tealshore: I hope to find other traders that would be interested in selling supplies and wares that align with the purpose of the event... such as bathing suits, towels, bathrobes, sponges, flip flops... you know what I mean? It might not happen for this event, but it is definitely a future project.

It's a wonderful thing, getting to take parts of the wellness home, and there is great potential to expand upon the theme in the future. If you, dear readers, have any suggestions or wishes as to what could be offered on an event like this, send me a letter to the Lion's Roar office, and I'll make sure that Tealshore gets your feedback. For now, though, the tour was not over, and the highlight was yet to come: The Anma, the massage that this entire endeavour was built around. Obviously, to properly write about it, I had to sample it, and Tealshore was kind enough to give me the exact experience a drop-in customer would get, with a Jade Serpent massage. I will spare you with a detailed description of the massage, but as someone with formal training in these arts, I can tell you that the procedure was highly skilled, professional, and left me deeply relaxed: I will definitely be back regularly, and I can highly recommend it to anyone feeling stressed, or just looking for a nice evening of relaxation. With my tour completed, and my muscles relieved, I then took a summary of the event for you.

Cassie: The massages are not the only attractions you are offering: What else can visitors expect, in summary? L. Tealshore: They can expect a wholesome, peaceful experience in general. Let the scenery speak for itself and let it guide the guests to the other activities on offer to enhance that initial feeling or experience… meditation session, a cup of tea, a basket of lovely meals, a bag of soaps and oils purchased from Leliti to continue that relaxing feel at home... and then the beautiful ocean with its adequate temperature if you wish to take a swim... otherwise you can sit on the bank and just enjoy the company of your friends, family and other dear ones. Cassie: When do you open and close here on Saturday? L. Tealshore: We open at 8 pm and close somewhere between 11.30 pm to midnight. It depends on when I finish with my last customer. It's good to mention that we have a queue system that allows you as a guest to enjoy your time here more completely. When you sign up in the queue to receive an anma by me, then you will receive a buzzer that will vibrate and signal when it is your turn to receive the treatment. That way you will not stand in a physical queue all night. Cassie: So people can sign up, then they get told an approximate waiting time - and they can go enjoy a picnic basket at the beach, to then get buzzed in when it's their turn? L. Tealshore: Lylìth Dustcloud, the chief nurse of the medical bay within the Dustcloud Corporation, will be that very queue assistant-... I do tell how long such a session is... and then they can calculate an approximate time.

So, I'll hopefully see you all there on Saturday! I know I'll go, because an opportunity for a relaxing night at the beach like this is not something I am ever going to miss. There are also plans to expand upon this venture in the future, so if you think you can contribute anything to it, and help turn Sri-La Village into a proper holiday and wellness resort, be sure to send a mail! I know I'll do my part to help, in any way I can.