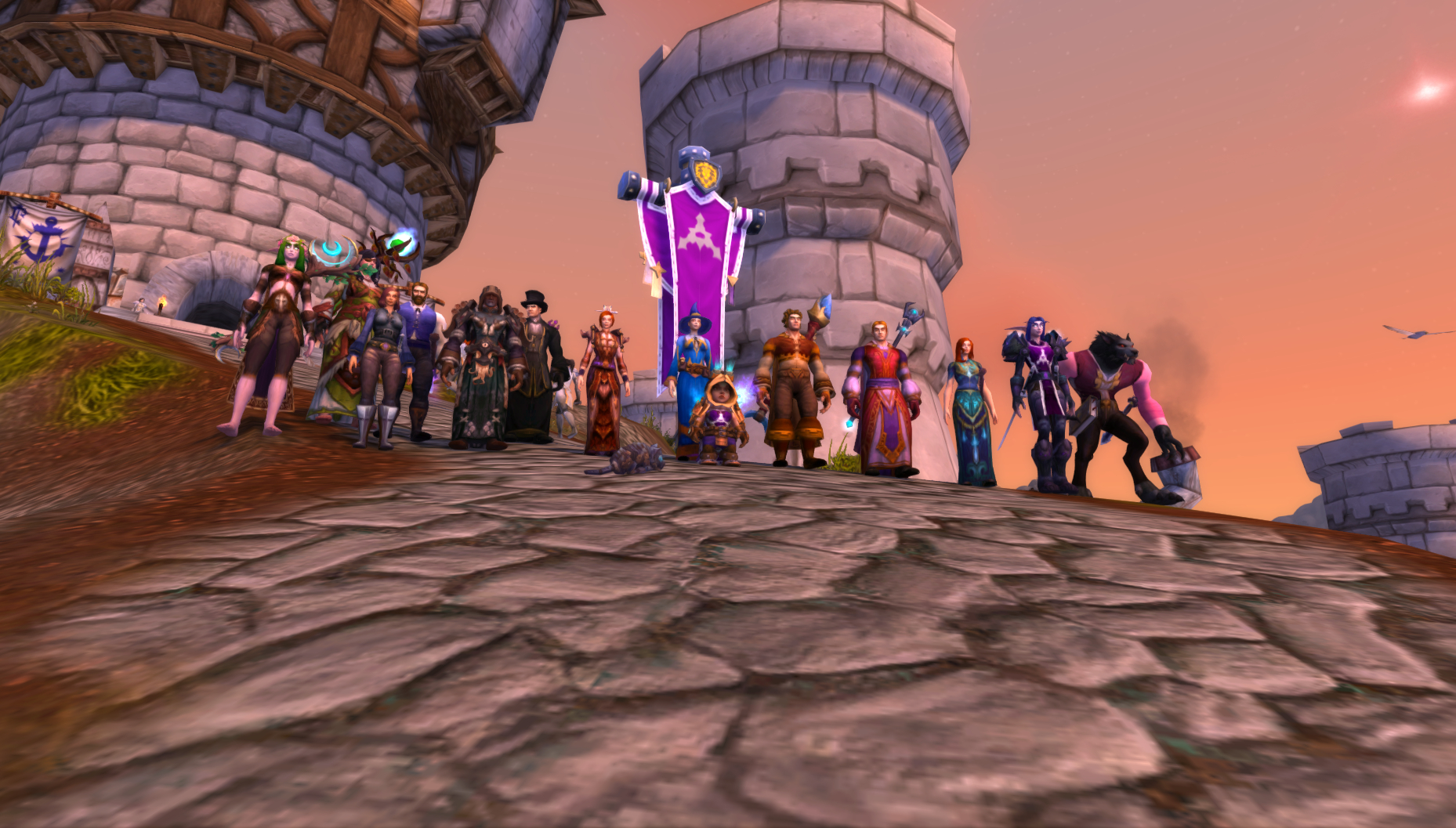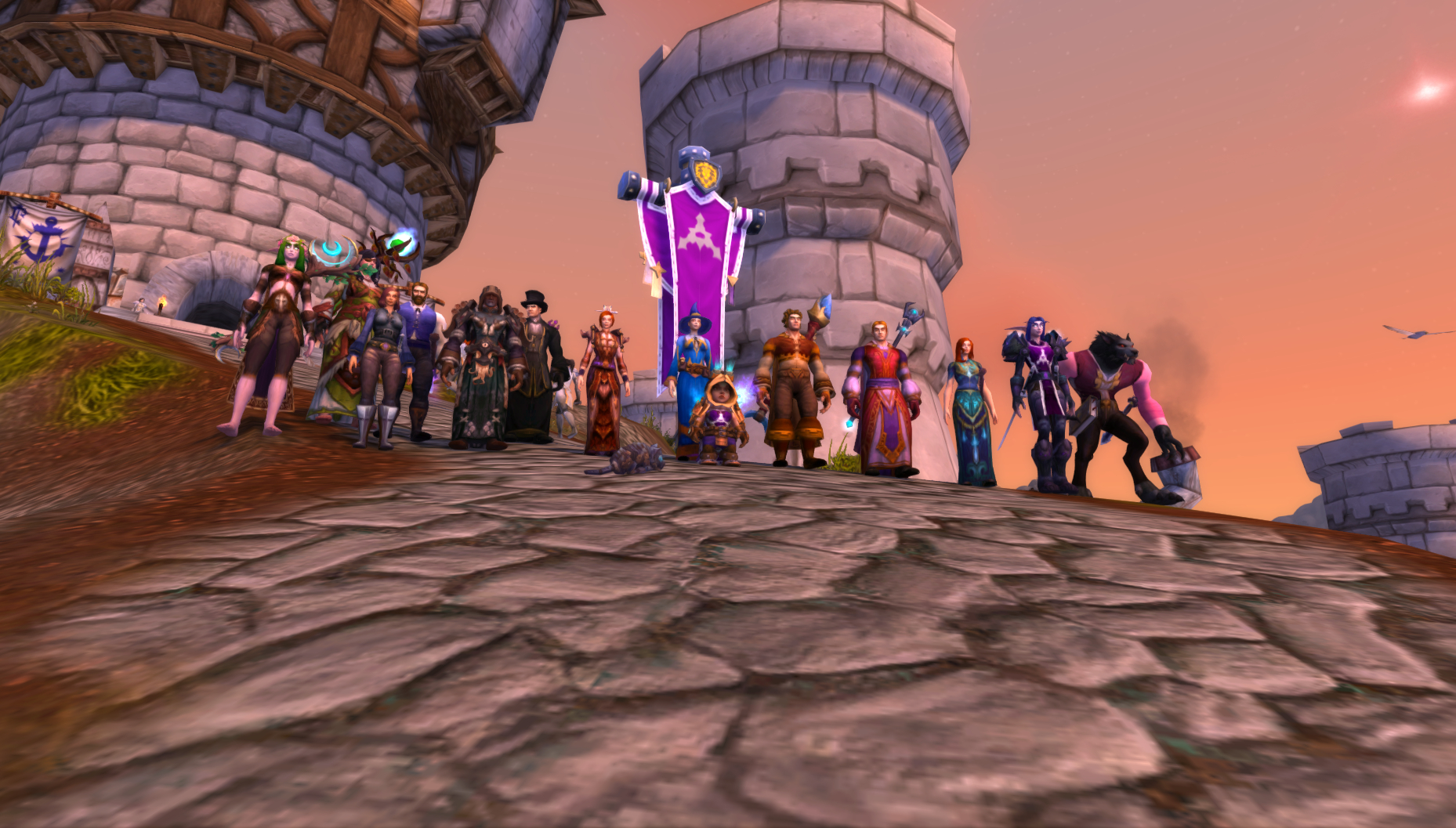 In the land of bubbles and magical theory
A sample taste for visitors who came to the Academy of Magical Arts' open day event!
T
hey are no Kirin Tor - though according to a student of theirs, that only makes the Academy of Magical Arts all the better. On the early sunday evening of August 30, our editor-in-chief and his assistant had the privilege of being the first guests to arrive at the Academy's open day event (they likely hadn't heard that a guest should always be fashionably late). They were greeted by student and tour guide Christar Caravello (pictured above fourth from the right), who directed them toward the central piece on the picturesque school grounds: a giant tower. As Spazzlefrock stayed behind to save his old joints the pain of climbing the tower's many stairs, I observed our assistant Wyra and tour guide Caravello making their ascent. "We mostly use the tower for studies," Caravello explained. "We keep our library [on] the bottom floor, allowing students to study books in between lessons. And the top floor is usually used for theories, history explanations. The likes."
In addition to a small demonstration (pictured above), Caravello happily shared information on what it is like as a student at the Academy. Comparing the school to the Kirin Tor (from which he transferred), he said the Academy is much more forgiving. "Here teachers are very patient," he said, "making sure everyone can keep up with the lesson. Giving extra time for them to catch up. There's no pressure to always perform great." Despite hailing from Stormwind, Caravello elected to live on campus (located deep in Elwynn Forest), where he along with the other students are separated by gender into different dormitories. According to Professor Marius Brightwood, they chose to split the students by gender rather than by house -- Fire, Arcane, and Ice -- to avoid promoting unhealthy competition in the classroom. Whether it be at the school's own tavern by name of "the Mana Tap", or through the Academy's extensive portal network, students are encouraged by the school to have rich social lives. "We do have special events on occasion," Caravello said, "such as the students held a beach party to relax for a day. On regular evenings, sometimes students just socialize with friends in Stormwind." Mages applying to teach must undergo a test of skill to prove that they're not just any old magician showing up on the Academy's doorstep, and should they be hired they are not to live on campus. Though they have contact with the Kirin Tor, Professor Brightwood stressed that the Academy is an independent school of "all legal magical arts", an assembly of like-minded people who seek to spread knowledge to anyone who'll listen. "Knowledge is power", he said; and the Academy's goal is to teach people how to use it wisely. The Academy's founder, Miss Rhiannon Parker, seemed absent from the open day event -- though that didn't stop Professor Brightwood from singing her praises. Professor Brightwood: Miss Parker is a truly inspiring woman, loyal to her own, willing to [...] sacrifice her own well-being for what she believes in. Wyra: You sound quite taken with her! Professor Brightwood: She has earned my respect, that is for sure. There seemed to be more to the relationship between the two, though nonetheless we'll have to wait and meet with Miss Parker some other time to confirm Professor Brightwood's assertion of her.
In conclusion?
For a four month old academic endeavour, the Academy of Magical Arts is gaining renown through its experienced and well-vetted staff, as well as its already sizable amount of students. And perhaps it should. If a magical school can poach students from the Kirin Tor themselves, they are, at least in my educated opinion, doing something right. To inquire about employment or admission, contact Professor Marius Brightwood -- or try your luck at reaching the elusive miss Rhiannon Parker, herself.