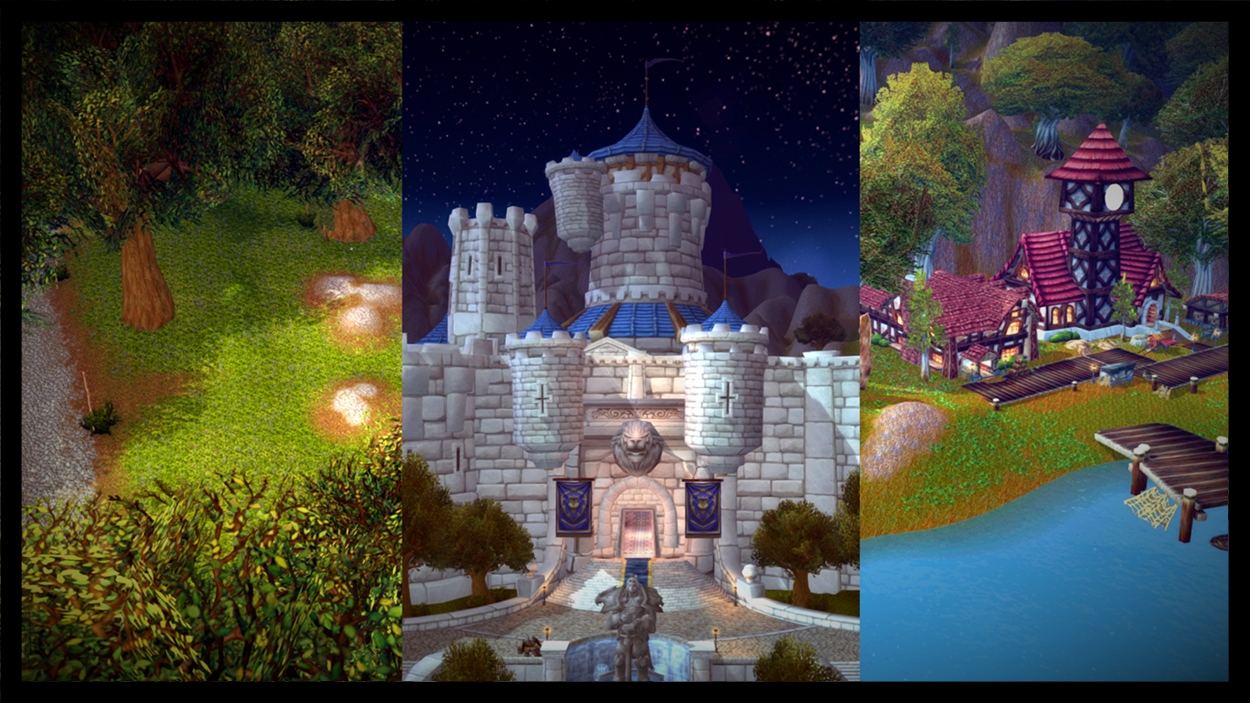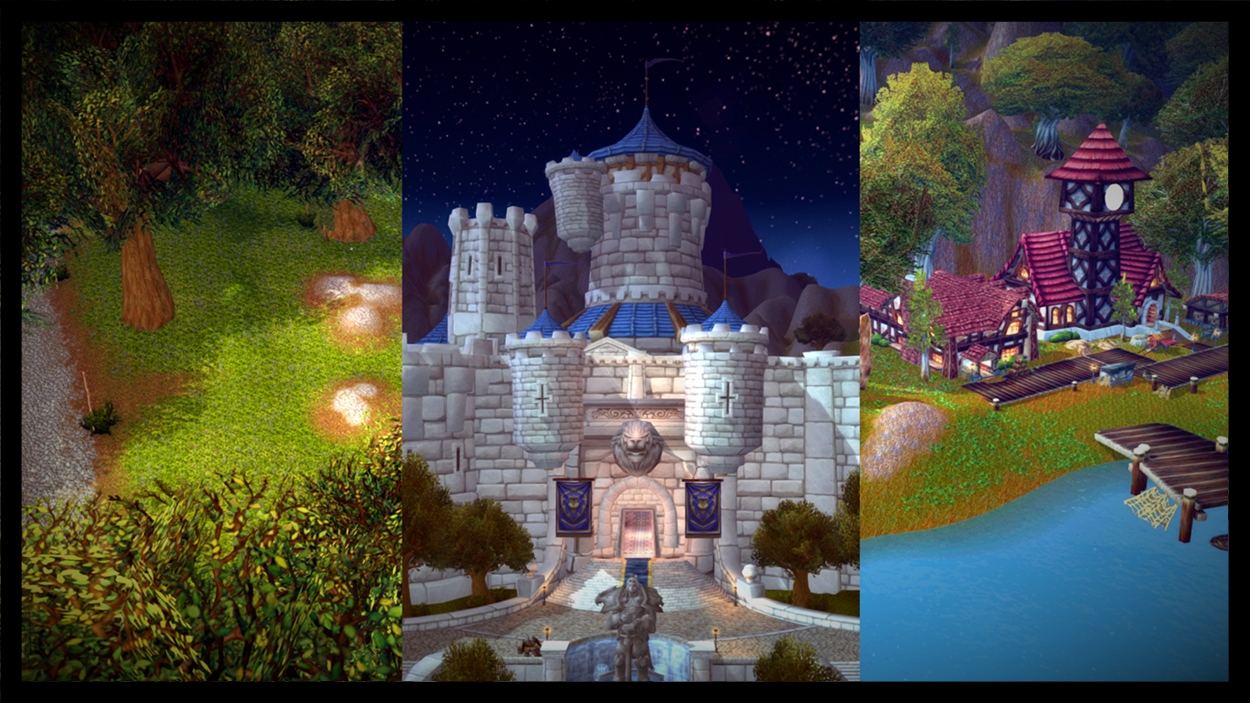 Life After Death: A Kingdom in Recovery
More than a year ago, the Scourge rampaged through the provinces of Stormwind, bringing death and destruction wherever it went. I went to investigate the long-term consequences of this incursion.
T
his article was actually meant to be finished a few months ago, for the anniversary of my Tales from the Front series, in which I covered the different ways of people banding together to fight off the undead aggressors. However, I am a busy woman, and Life, ironically, got in the way, which means that I only now got to write up the rest of this piece. The interviews and information are from the last quarter of the last year, so they might not be entirely accurate anymore, but they should still paint a somewhat accurate picture of the state of the Kingdom. To begin my research, I started reaching out to members of different groups of society, and to locals in several of the Kingdom's provinces. Not everyone was too eager to talk, and understandably so, but in the end, I found what I was looking for. Following the same path that I had taken for the Tales from the Front, my first stop was Redridge, where things had mostly calmed down, or at least that is how it seemed to me: I talked to a travelling herbalist who assured me that the vegetation had recovered quickly, but declined an interview. However, I also spoke to a local carpenter from Lakeshire, who chose to remain anonymous for the sake of this interview, which is why I've given him the alias of 'Richard', and replaced any mentions of his real name with that. Cassie: "So, Richard. To start off the interview, tell us a little about yourself." Richard: "Well, me name's Richard, but me friends call me Carp. No' because o' me eyes, mind, 's short for 'Carpenter'. 'Cause that's wha' I am. A carpenter." Cassie: "Makes sense, makes sense. And are you a native?" Richard:
"Oh, yes, ma'am, born an' raised. Tha' over there, tha's me house." Cassie:
"Real Lakeshire…ian? What's the demonym?" Richard:
"Oh, no, ain't no demons here, ma'am." Cassie:
"... Right! Let's talk about the actual topic, then. More than a year ago, the Undead attacked Lakeshire. Soldiers and adventurers alike fought to defend the city and her people. Do you remember where you were when it happened?" Richard:
"Oh, aye, I was in me basement, ma'am. Waitin' for things to blow over, I ain't no fighter, ma'am." Cassie:
"No, you're a carpenter! Your real battle began after the Scourge was beaten back, right? I assume they did quite some damage, and you've had your work cut out for you?" Richard:
"Yes, ma'am, 's the best thing happened in me life." Cassie:
"... An undead attack was the best thing in your life?" Richard:
"We carpenters are needed now! Me and me mates, we tripled our rates just after the attack. Damage was done, people needed us to rebuild." Cassie:
"So in a way… you profited off the misery of your fellow citizens?" Richard:
"Well, y' could put it that way, I guess. But 's just business. Supply and demand, y'know. Eeerh… This 's getting printed, righ'?" Cassie:
"Most likely, yea." Richard:
"Eeerh… I think I left me stove on, gotta go." Even though I asked some more people, no-one really had anything relevant to say to the topic, other than a few enraged comments about the rates of carpenters these days, so it seemed like my work in Redridge was done. All in all, it looks like flora and fauna have recovered wonderfully, but the economy is still reeling a little from the incursion. With that knowledge, I turned toward the next station, Duskwood. Sadly, there is not much to report here… Frankly, Duskwood remains Duskwood, and an undead incursion is not exactly something unheard of in those parts. So, let's skip straight to Elwynn, where I interviewed a Gilnean druidess about the state of the forest. Cassie:
"For the record, your name is…?" Vivi:
"It's… Well, it's Victoria Valerie Caladan. But I prefer to just go by Vivi." Cassie:
"Vivi it is then! Cute. And you're a druid living here in Elwynn, right? Are there many of you?" Vivi:
"Druids in Elwynn? There are a number of us, yes. It is a beautiful forest, and close enough to travel to the capital for supplies once in a while, so it's a popular spot for smaller groves." Cassie:
"You tend to the wildlife around your grove then?" Vivi:
"Yes. Personally, I only tend to a rather small area in the south, but I'm also in contact with a few other groves here in Elwynn. We each do our part." Cassie:
"Have there been any special challenges for you after the Scourge attack last year?" Vivi:
"Yes… Several, in fact. Directly after the Scourge was beaten back, most of us went for days without sleep as we tried to alleviate the damage done. Bears needed to be put back to hibernation, plants and animals cured from illnesses… or in some cases, culled. I focused mostly on small forest critters and game, but without the work of some of the other druids, we could have had another plague on our hands." Cassie:
"Oh, wow… That sounds rather serious. How is the situation now? Have you gotten things under control?" Vivi:
"Mostly, yes. In some places, the populations of deer or boar have suffered greatly, because large numbers had to be culled to prevent the spread of diseases. Here in my territory specifically, well, my grove is close to the river bordering Duskwood, and that has always brought some problems with it. Right now, the disease rate among the wildlife is still higher than before the attack, with some of the animals, like squirrels, becoming ill up to three times as frequent as before. But there is no threat from this anymore, and it's slowly normalising again." Cassie:
"So there are still effects on the local flora and fauna, even a year after the incursion?" Vivi:
"Yes. The most dangerous weapon that the Undead bring with them are not swords or claws, it has always been their influence on their surroundings. Just look at the Plaguelands to see the terrible consequences of that. Thankfully, we are more prepared to deal with these kinds of things now than the people of Lordaeron were back then." Cassie:
"True, and we also have druids now! That's gotta count for something. So, you're saying that things were difficult at first, but now they've calmed down here in Elwynn?" Vivi:
"Essentially… Yes. It did take a lot of effort, but we managed to regain control before things got out of hand." So next time you see an Elwynn druid, people, remember to thank them for their service. They do a lot of work, whether we can see it or not, and they seem to have had their hands full with helping the land recover from the attack. After seeing for myself how Vivi treated a sick hedgehog using medicinal herbs and a druidic touch, I then set out to the capital, and asked our Secretary of Internal Affairs for his input on the matter, Earl Michael van Rook. I'm usually not brave enough for politics, but this seemed like one of those rare occurrences where I had to step foot in the Keep, and I met with the Secretary in his office. Here is an excerpt of what he had to say on the matter, but be warned, politics ahead: Cassie:
"First of all: What's the crown's course of action to help the people in those regions affected, the population outside the city walls - many of which have lost a great deal of things, some their homes or livelihood? What is being done to help these citizens get back on their feet?" Earl van Rook:
"After the devastating attacks on the Kingdom the Office of Internal Affairs made a few concrete promises to remedy the current situation, but was also of mind that it should have preventative measures in place to react if and when it would happen again. To do this the Office of Internal Affairs launched the "Queen Tiffin Ellerian Memorial Foundation", a third party organisation that would be able to directly affect the lives of many of the citizens that had lost their home or livelihood during this outbreak without the need for direct spending from the Government. This body exists fully independently of the Court and is therefore able to use the funds that have been made available for the best of the people. One of the first actions taken was to intervene directly in the restoration of income for primary resources for the sustainment of the Kingdom's denizens in the form of the Pandaren Trade Deal. During, and just after, the Scourge invasion many farms had their fields preemptively or erroneously burned due to the panic the undead had caused. As this attack was at the tail end of the harvest season there were many farmers that saw a large portion of their livelihood go up in flames, rather literally. To counter this twenty tonnes of raw produce, and another twenty tonnes two months later, was bought in Pandaria by the Foundation and shipped directly to affected farmers and first line producers - such as millers, preserve producers, and breweries - to counter the losses of these raw products. Due to the quick action many farmers were able to replace their income at near to no loss and the first line producers who had come to a standstill were operational again before shortages became prominent and prices were disturbed significantly. On top of this, those who had their primary domicile destroyed, suffered losses, or were in other ways unable to sustain the income of a livelihood were contacted by postage flyers informing them that the Foundation was accepting applications from individuals and businesses alike to combat the losses that they had suffered through personal grants. It is these grants that covered fifty to a hundred percent of the losses - depending on the situation and size of the requested grant - that many of the citizens were able to take up their lives immediately." Cassie:
"You mentioned some form of preventative measures. Can you elaborate on those?" Earl van Rook:
"Well, I am afraid I can't say much except for that which is known to the Office of Internal Affairs, which is of course limited in its scope within the Kingdom. One of the main concerns we have should a further disaster of any kind prevail within this Kingdom is that the Kingdom's denizens and it's economy would be hard hit. It is our task, as Office of Internal Affairs, to prevent a decline in standard of life and economic strength both within the Kingdom and the trade we have with the different partners across Azeroth. It is the strength of our economy, of our military, and of the people of this Kingdom that truly make it as great as it is. We intend to, if the case does arise, do anything to allow for a continued stability in the livelihood of the people and the economy, which is why the Foundation has been founded. The Foundation can - upon classification as an emergency by the Court - act autonomously to combat the initial ramifications of said emergency." Personally, I think it's good to hear that there are measures being put in place to ensure our security and continuing stability, and this Queen Tiffin Ellerian Memorial Foundation sounds like a good thing for the Kingdom. Can never have too many of those Foundations! All in all, it looks like the Kingdom's on the road of recovery, and everyone's doing their part, whether that is making trade deals, tending to the local wildlife, writing an article to let people know about the state of the provinces, or exploiting your fellow citizens by charging outrageous rates to repair their damaged abodes. Redridge, Elwynn, Stormwind - in times like these, the people of the Kingdom band together to overcome any hardships, and I am happy to bring you all this update. Luckily the Scourge felt Westfall had been through enough and it went untouched by the ravaging.