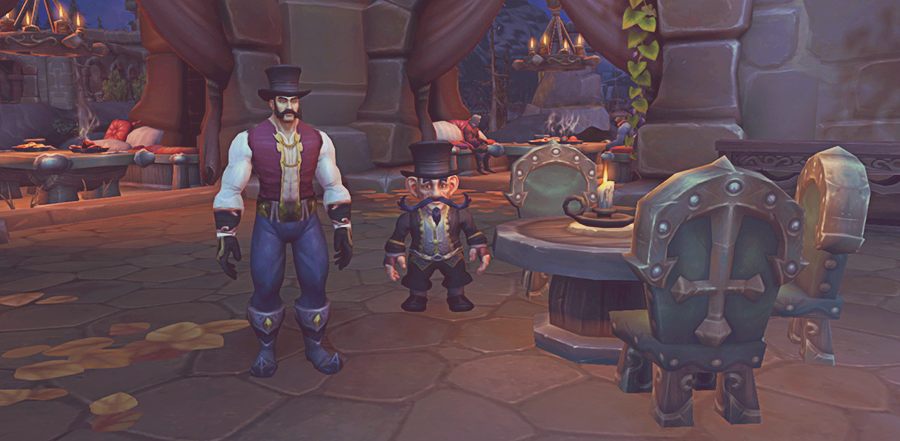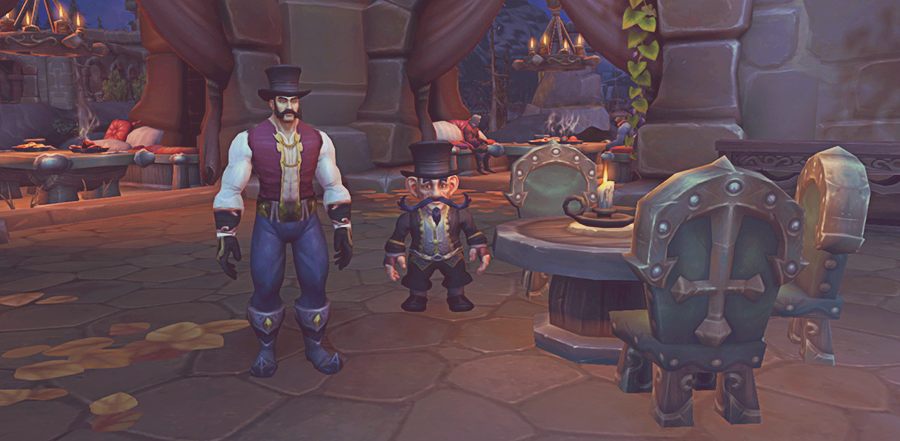 The Gentlemen's club, the man behind the myth.
Some have heard of a mysterious Lord who has been arranging events for the citizens of Stormwind the last few months. There was the Gentleman's Night with poker and whiskey, and now the upcoming hunting trip with the crude name 'That fucking deer'. But who is the guy behind these unique and expensive nights of fun and entertainment?
I
'm sitting here in Boralus in a cosy little corner with Lord Morhgan Ashthorpe-Waltone Wynneton, yes its a mouthful, and luckily the guy is not more posh than he is fine with being called Morhgan. Thank the Light, this could have been a long interview otherwise. On the table in front of us is a glass of cooled Admiral Blanc, not to cold, but just perfect. A plate of various small Kul Tiran seafood dishes is lined up, should we need a little snacking. The following article is paid for by the Gentlemen's Club Spazzlefrock Forstcog: Evening. I'm glad you have some time to meet with me tonight. Maybe you can tell the readers a little bit about yourself? Lord Wynneton: My name is Lord Morhgan Ashthorpe-Waltone Wynneton, I am the youngest son of Baron Ashthorpe-Waltone Wynneton, but alas that is much of a pointless title for me. Plenty of brothers ahead of me in the line for any kind of influence, and despite being a Baron then my father has never been a rich man. Even for us nobles the wars have been costly. Spazzlefrock Forstcog: I am sorry to hear that, what is it you do then Lord Wynneton? Lord Wynneton: I like to call myself an entertainer. Not personally per-see but I arrange things. Events you could call them. Give people a little bit of fun and something to look forward to in what can otherwise be a bleak life. Spazzlefrock Forstcog: And you do this alone? Lord Wynneton: No no, Light no, I have a small staff around me, primarily my secretary and aide - but each event often also require me hiring additional staff, chefs, waiters, bards, whatever the event requires to build the right atmosphere. I have a good working relationship with The Bard League for instance and often hire them to provide music at my events.
Booze, poker and atmosphere
Spazzlefrock Forstcog: What sort of events are we talking about? what is the target audience as they say? Lord Wynneton: It varies. The Gentlemen's Club was originally made with the intent of catering to.. well, gentlemen. Not surprising with that name I suppose. And the last event - which was our first - did exactly that. A night on a ship, whiskey tasting, poker, music, and gentlemen just having a good time. Spazzlefrock Forstcog: So it was just for gentleMEN? Lord Wynneton: Yes. It was very exclusive, it was also fairly pricey for a ticket, but that is not the case for all events. And before anyone gets upset then we do have a Lady's only night in the works as well. We are not just for one gender at all. Spazzlefrock Forstcog: And what sort of Gentleman club are we talking about? Any exotic dancers? Lord Wynneton: No there is no stripping or poledancing or anything of the sort going on - it is refering to the other kind of gentlemen, no filth. Spazzlefrock Forstcog: So whiskey and poker? sounds like you can get that at any shady bar in Stormwind, what made this special? Lord Wynneton: The atmosphere, the people participating, the location, and not to mention the high risk poker with several gold coins in the pot and of course the amazing whiskey we got to taste. Spazzlefrock Forstcog: It sounds like a success? Lord Wynneton: Oh very much so. I don't believe anyone left that night with a feeling of disappointment, in fact it went so well I quite expect to do another, although, perhaps it will be rum, or wine next time, who knows.
Behold, the future
Spazzlefrock Forstcog: And you have an upcoming event as well I understand? Lord Wynneton: Yes. This one is a bit more aimed at the average man and woman. Less niche you could say. It is a hunting trip. Hunting, fishing, camp-fire building, stories, booze and, well, poker. Spazzlefrock Forstcog: Booze and poker? again? Lord Wynneton: A lot of people like gambling and booze. But it is not the main focus, the main focus is the friendly competition between the participants, who gets the biggest fish, the most marvellous animal, who can make a fitting camp-fire to grill the results of the fishing and hunting, and not the least - who has the best camp-fire story. Spazzlefrock Forstcog: And when is this hunting trip? Lord Wynneton: This Friday. It is called "That fucking deer" and tickets are sold in the Golden Keg. Thursday night is the last chance to get one. Spazzlefrock Forstcog: How much are these tickets? Lord Wynneton: 30 silver. Spazzlefrock Forstcog: And after Friday? more events in the future? Lord Wynneton: Oh. Yes. Absolutely. We have a few ideas we are working on. A murder mystery. Another poker night, and a few other things that I can't reveal just yet. The next event will be the murder mystery. Spazzlefrock Forstcog: And when will this be? Lord Wynneton: The date is not final yet, but most likely another Friday night in about a month. Spazzlefrock Forstcog: So cosy hunting trip on Friday with friendly competitions, tickets for sale in the Keg up to and including Thursday, and then a murder mystery in a month? Lord Wynneton: Yes. Exactly. We are working on a membership deal with a newsletter and discounts. But it is not quite there yet. Spazzlefrock Forstcog: Alright, I am sure people will be hearing more about all this. For now I thank you for your time Lord Wynneton, and I hope the hunting trip goes well. Lord Wynneton: My pleasure. So head on over to the Golden Keg in the Dwarven district (who by the way sell this very newspaper) and get your ticket for 'That fucking deer' before it is to late!