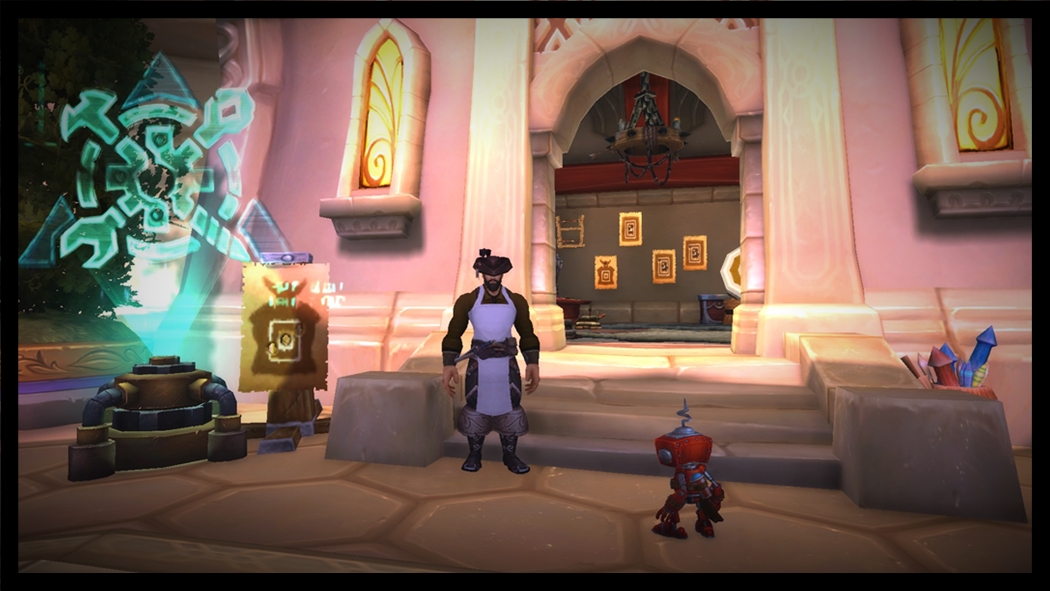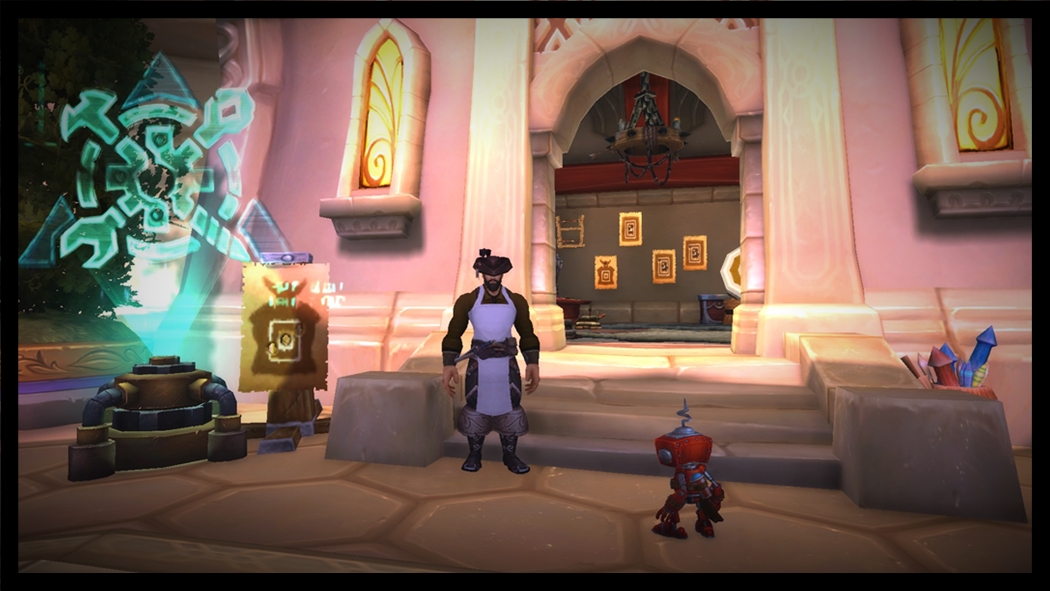 We have everything for adventurers!
A new shop has opened in Dalaran with goods for every adventurer!
R
ecently many shops have open in Dalaran, one of these new shops is the Fallowstag which has been open for two months, a place where hunters and adventurers can find anything they need, or even if you are not an adventurer but need a new flask, a grooming travelling kit or a robot to take care of small tasks, you can find it there. They also publish some articles about survival and weapon maintenance, very interesting read even if you are not planning an adventure. I had the chance to speak with Modian Goldenfield, store manager of the shop, creator of their food wagon and Board Member of the Miller's Bookclub Company. They have decided to open in Dalaran to try to reach a bigger community and number of people, and so I started to ask about the different parts of the business. G. Ravenshade: So for what I understand there are three parts of this business, the shop, the food wagon and the Miller's Bookclub, why this division? Modian Goldenfield: Ya see the Miller´s Bookclub, is the larger company of the three. The shop and the foodwagon acts as small businesses under the company. If that makes sense. G. Ravenshade: In that case, let's start on that. What is the Miller's Bookclub, how does one join and what are the benefits of doing so? Modian Goldenfield: Argh, ya see, the Miller´s Bookclub are the creation of Mister Miller. A secretive man, but we seek to live up to his standards, of good service, well-made wares, and fair prices. As about joining, I´d say we pride ourselves on being rather selective to ensure that our craft keep being top notch, but we´re always willing to hear any curious soul about their wishes. As to the benefits? Proper pay, the offer of working with rare and interesting materials and the liberty of shop security. G. Ravenshade: So, why did you start the Fallowstag and the food wagon that goes with it? Modian Goldenfield: The food wagon, was actually a thing I created due to loss of other food vendors, as the Yumplings and the Pizza clipping gnome... So just wanted something to return on that front. As to the shop? Well, adventuring gear is... Not getting as much love as one might think, so the place is simply a chance for people to get properly equip for the strange world. G. Ravenshade: I have checked your catalogue, you offer different kits however a question maybe clients have, do you also sell pieces apart? Imagine I need a bedroll, but I have no need for all the other items in that kit, for example. Modian Goldenfield: We're flexible, we might be able to help ya out if there´s a specific item ya want or if there´s something ya need but aren't on the catalogue. We pride ourselves on the matter of being able to help folk in need. G. Ravenshade: So, in that same line I assume work that isn't exactly offered such as maintenance, sharpening or fixing bows can also be talked and maybe agreed? Modian Goldenfield: We´d properly put that under our Repair part of the special services, so of course. We can fix most anything, except relationships, we don't have enough glue to fix the scattered pieces of one of those. I have done some research into this, and it does seem they do adapt to the client and are open to changes and special requests. A person I know asked for a flask with a personalised design on the leather and they indeed provided a very satisfying result. G. Ravenshade: (Chuckling) Ah, good to know, even if I think a shop like that will be very popular... You have mentioned your philosophy a couple of times, but if you have to define the whole philosophy of your work, how would you do it? Modian Goldenfield: Fair prices for fair work. Some might find our prices a bit high, but we note that it comes with a guarantee that all our wares are high quality and sturdy for use. G. Ravenshade: I've also seen you offer robots, even ones with personalised task, any particular request so far that you might share? Or any common one? Modian Goldenfield: (Chuckles a bit) We did have a group of people wanting to prank an individual by having a massive dragon robot made, that were to be animated and annoy an former employer, luckily they choose not to order it. G. Ravenshade: That sounds expensive... and about that, how is the store doing so far? Modian Goldenfield: I think it´s going well, the interest from the communities are supportive, so I can only say that due to peoples interest and the hard work of the people involved with the shop, are why we are doing as well as we are. G. Ravenshade: I have read some of your publications on survival as well, I find them very interesting and useful, as a huntress myself. Will you publish more? Are you open to people's submissions? Modian Goldenfield: We´ll make more, but we do it as we´ve been inspired, never out of the blue, because we value our texts to be passionate and not just workflow issued pages of flavourless text.... As to submissions? I mean... I'd not mind to see others offers or ideas, but I won't promise anything. G. Ravenshade: And final question, do you open any other day apart from the Trade Night? Modian Goldenfield: Officially we only open on the trade nights, but if anyone should see an item on the catalogue, they are free to contact us, so have it delivered to them or at the rare change we got time outside of the trade night, we might be open to give a private tour for a sale or a request. If all that was not enough work, they are also sponsoring the next Dalaran Mechanical Race, hosted the 29th of January. For those interested in participating there are only a few slots still open, and first price is your own bike made by the Fallowstag. You can find more information in posters around the city about what is required to participate.