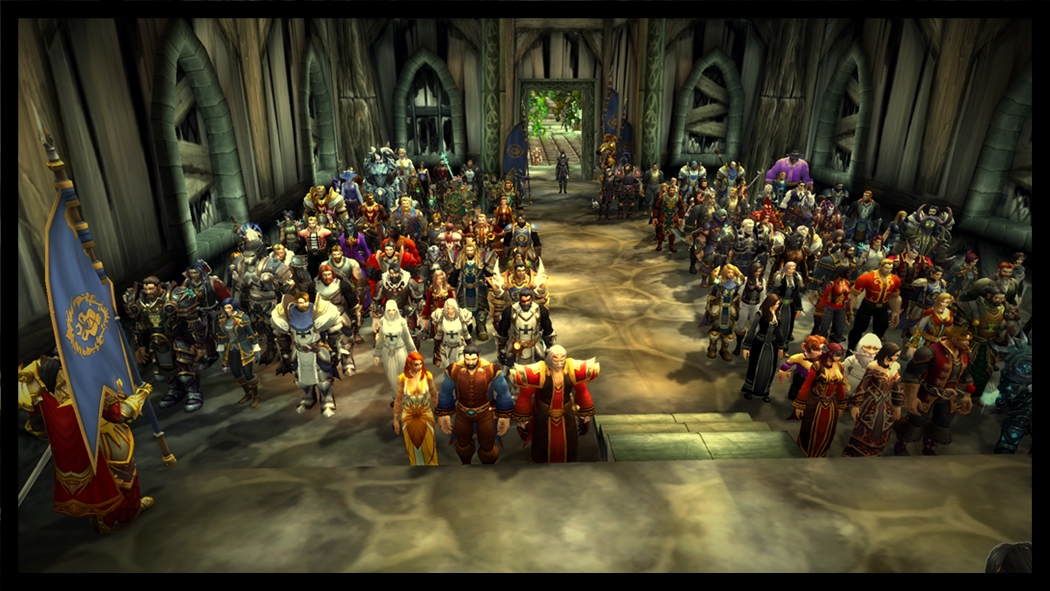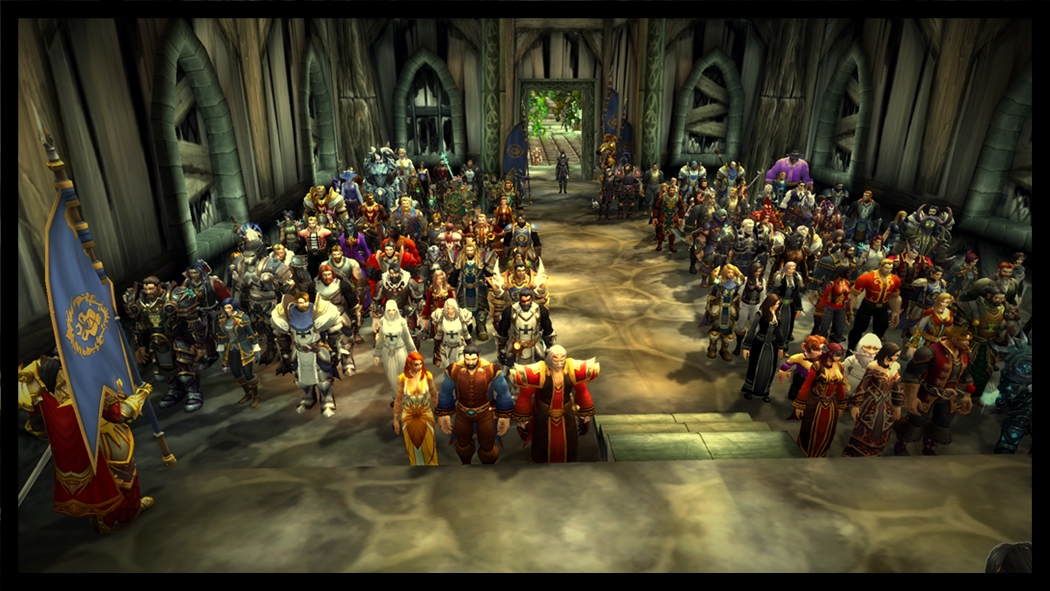 In memory of Duke Julién Penthievre II
OOC NOTE
T
he 23rd of September Azeroth lost a great person, Duke Julién N. L. Penthievre II passed away at the age of 93. This loss affected many citizens, from nobles to soldiers, as he was known by many for his kindness, intelligence and being there to help those he cared about. He'll be missed by many and for those things might not be the same without him, we wish to dedicate this piece to his memory, under the petition of his granddaughter, Lady Brienne Langedijk and with the permission of his father, Lord Eomund Nightstar of Darkshire, so they might always remember him. The weekly Royal Court meeting, held on Monday 27th, paid respects to him ending with two minutes of silence in which everyone knelt, except for a guard that had broken leg at the moment. On Tuesday 28th his family, friends and close ones said goodbye to him at Stormgarde in a ceremony held by Seneschal Andrew Cadwell:

Seneschal Andrew Cadwell: Friends, allies, and family. We gather here, under the Holy Light and within the ancient city of Stromgarde, to remember a leader, a friend, a brother, a comrade and a stalwart man, Duke Julién N. L. Penthievre. A well-known and well-liked man, through the kingdoms and the Grand Alliance, our utmost respects will be paid unto him and his eternal spirit. As requested by the family, eulogies will now be paid to our fallen Brother. I ask you all to maintain respectful silence, in prayer and reflection, as these words are spoken.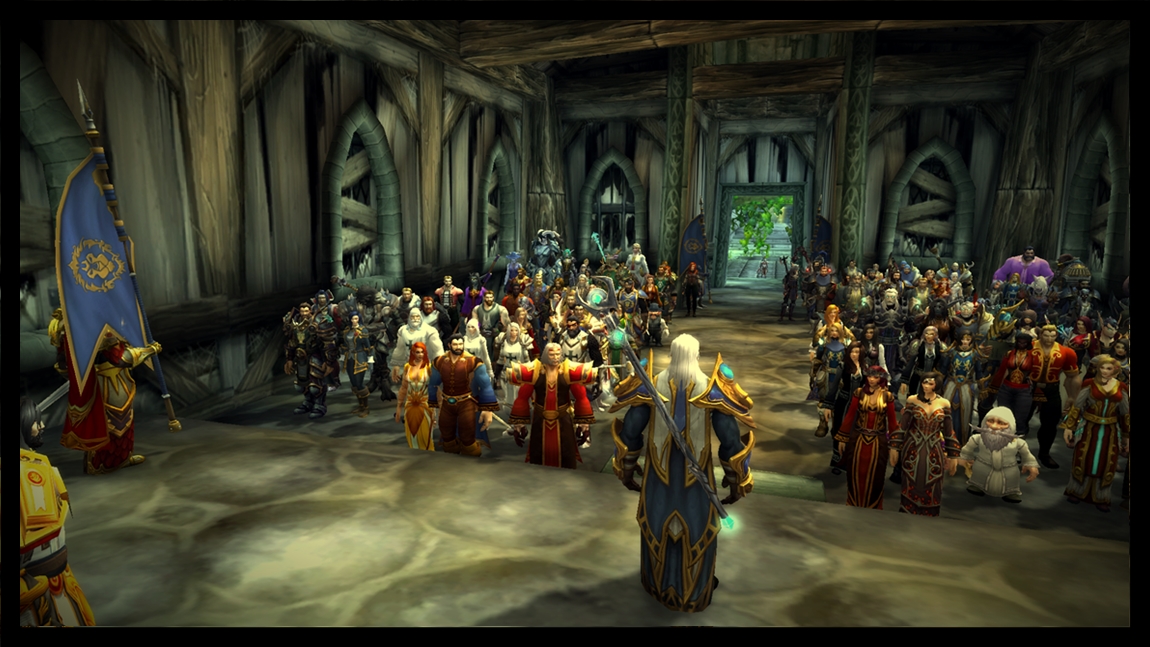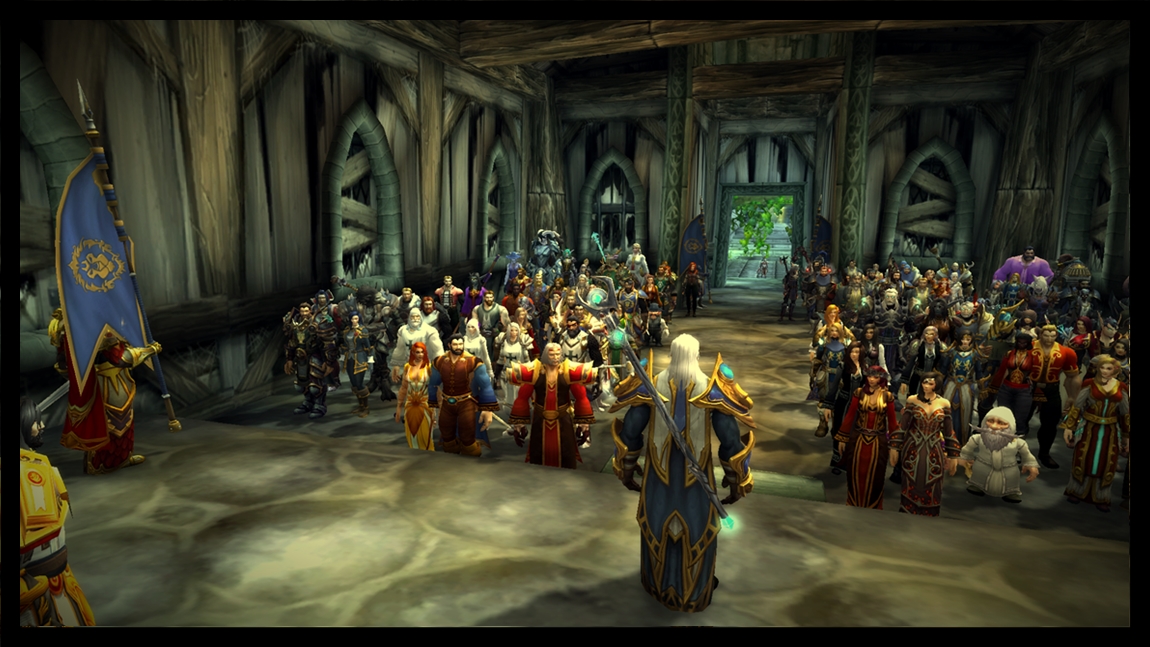 Duchess Brienne Langedijk, of House Penthievre: First of all, I'd like to thank you all for being with us today. We have been gathered here today to celebrate the life of an extraordinary man, Julién Penthievre wasn't only my grandfather, he was a son, a father, a brother, and a friend. Today I would like to share some words about the man who has had a big impact on my life. To say that I am lucky to be his granddaughter is an understatement. It is a blessing that I am truly grateful for and will be for the rest of my life. It is a challenge to speak up today, to put a few words in so many things that I would like to say about him. Some would say my grandfather was a typical noble, he would tell you how to properly address him or would be indignant about nicknames that my friends gave me, but as soon as you got his trust you were a friend to him, and he would support you with everything he could. I remember his first time visiting a brawl with me, how he told me afterwards that it was the first time he yelled to get a free drink and how excited he thought it was. Despite his age, he even wanted to learn how to sail. He wanted to learn about me and my life, he wanted to spend his time with me and that is what I am truly grateful for. We took him on a kraken hunt and despite him knowing nothing about sailing, he did a pretty good job and didn't go overboard He liked to tell me about his life, about his friendship with Count Didonus Essington, about Issy his godchild that he was holding dear to his heart, about all the people who he met in his life and the adventures he had, but also about the risks he had to take, about the losses he had in his life. He shared his knowledge about life itself with me, to prepare me for my own future, to help me be a better person and I am so proud to be his seastar. Grandpa, I know you're here with us today and you will always be with us. I will tell Jhoakim and my unborn child stories about their great grandfather and what a precious treasure he was to our life. I love you and I hope I will make you proud.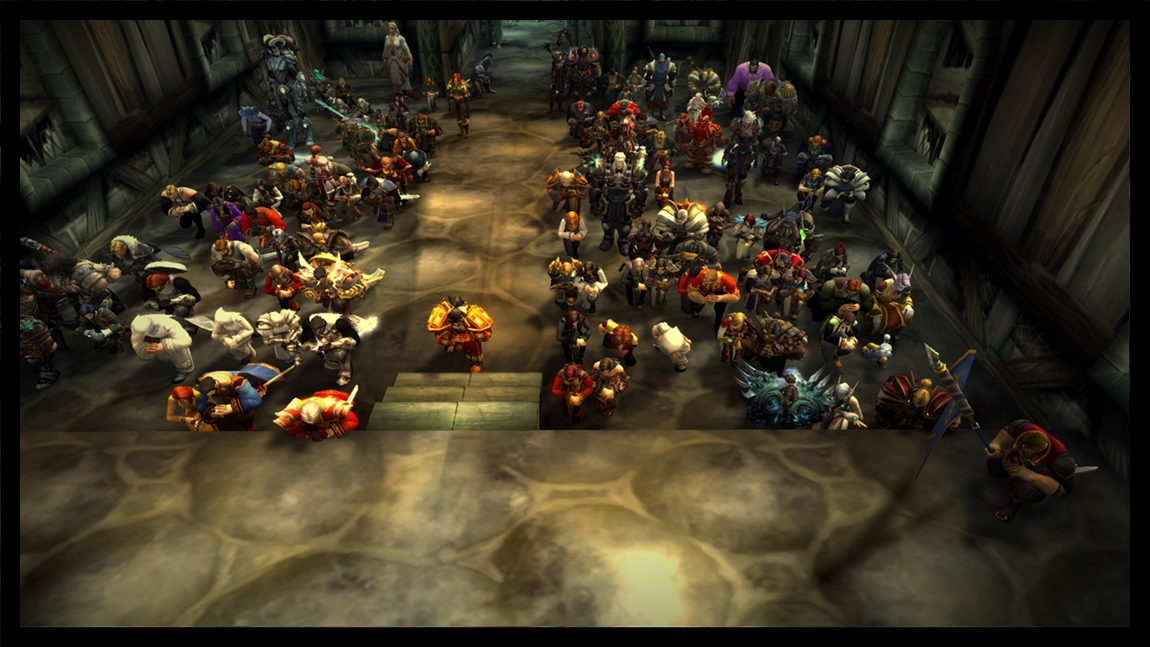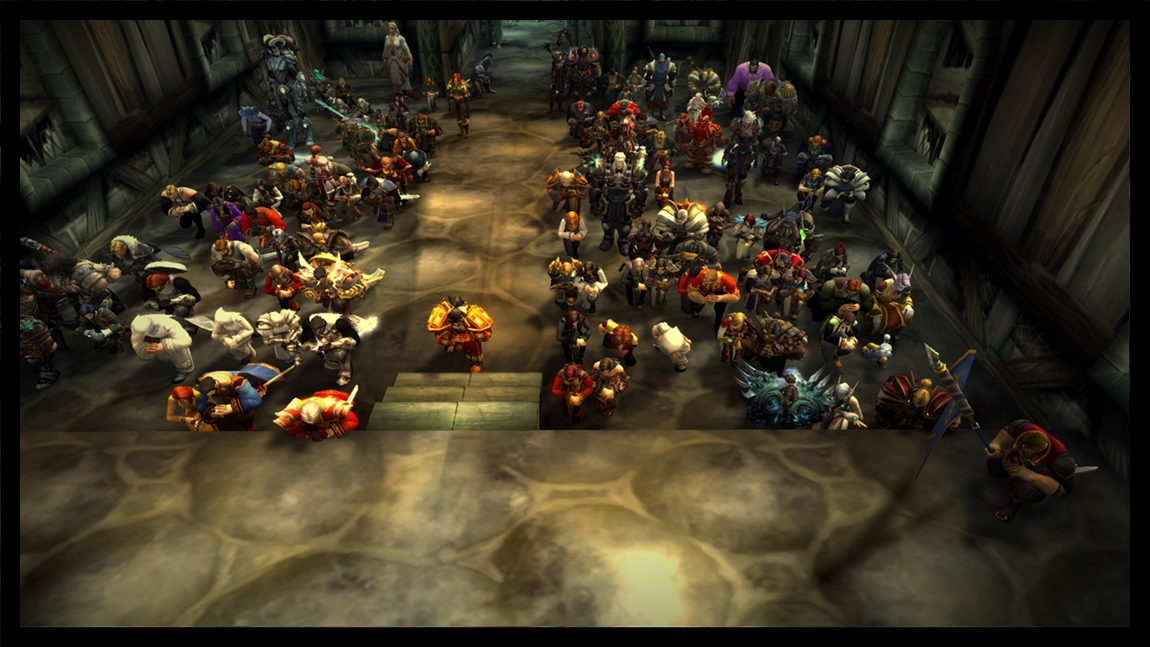 Araelon Penthievre, Squire of the Cathedral Order: I want to start with something I found in the library this morning, almost as if it was meant to be found for today. "An honest man here lies at rest, The friend of man, the friend of truth; The friend of age, and guide of youth: Few hearts like his, with virtue warm'd, Few heads with knowledge so inform'd: If there's another world, he lives in bliss; If there is none, he made the best of this." A title does not define a man, but it's their words and actions and how they use that influence they have been gifted that leaves behind a legacy for others to remember and aspire too. To some my father was simply known as your grace. To others he was Julién Penthievre and at times you couldn't help but want to call him an insufferable git, usually when he was right about something, and you didn't want to admit it. But first and foremost, he always had the best intentions at hand whether family, friend or just a bystander in the street. My first meeting was in Boralus, helping with a food kitchen and medical centre for some of the neediest citizens. He was kind, pragmatic, and most of all caring with a sense of humour which brought smiles to those around him. As some of you may know I was adopted into the family only recently. I lost my father to war, and it was the Duke who kindly offered me a place with his. He was a man who like many of us here have experienced personal loss, but he never let that burden show and if you needed to talk to him, he was always there, particularly for his family. His family always came first and was always on hand to offer an ear or advice or in my personal case have long extensive conversations about horses or about the castle he was so excited to see nearing completion. I wish time had given us longer to spend together, but in the few months I got to spend with him I consider myself honoured to have met him and he will be missed. May he be at peace now with the Light and with those whom he held dear.
Sir Salazar Rashidi: There so much to be spoken of the man of the day… But for me he was a guidance and a mentor I never asked for, but he picked me. He taught me everything I ever known in life and how to keep my heart open and he did such an impact on me that I will miss him, it is thanks to him I now stand here as Knight. He will forever be my mentor and I will miss him, and I will keep his ways alive, this I swear.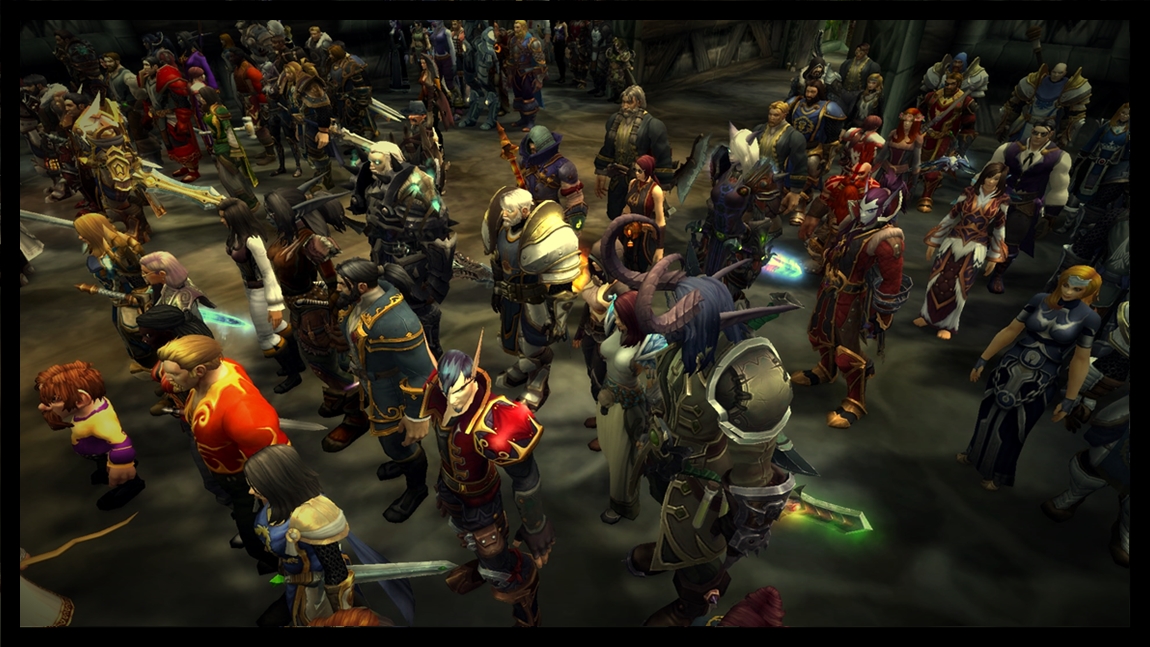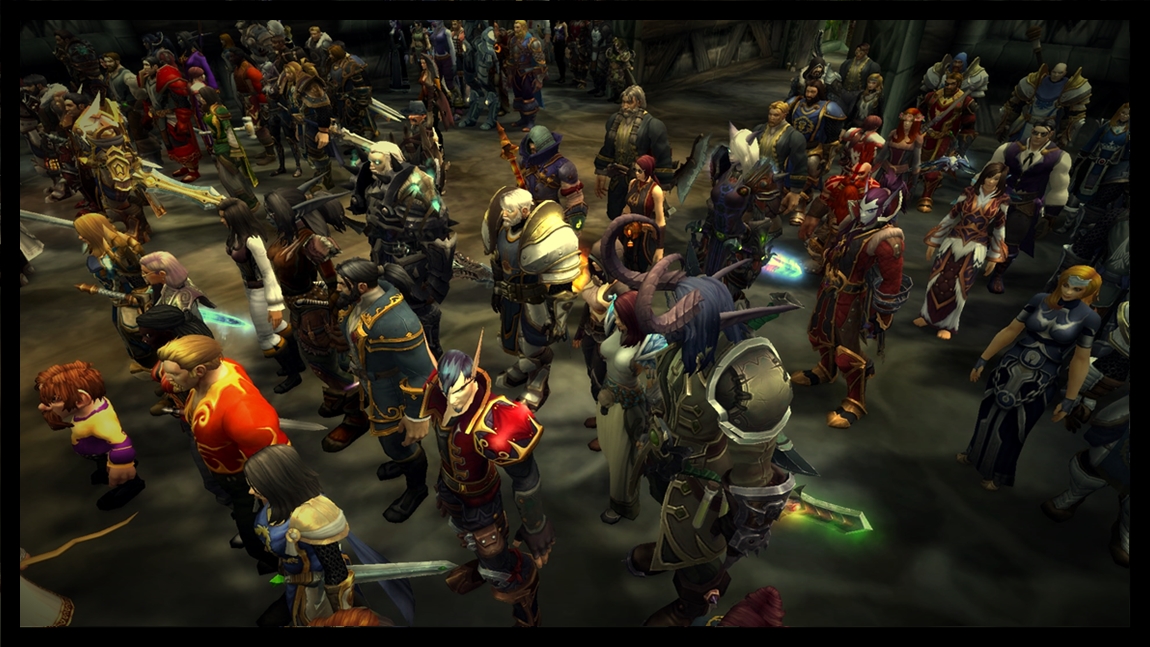 Earl Lord-Doctor Mussé Morland Slock: Illustrious family, trusted friends, and esteemed associates of His Grace. Julién, Duke of Penthievre, Lord of Lightheart, Regent of Nightstar, an aristocrat of the old order... godfather of our grandchildren, friend to Sleetland... and to us. The Duke Julién was an old fashioned aristocrat, whose right to dignity and power came through blood, ancient tradition and prestigious marriage, who did not see these graces as an allowance, owned by him and to be spent freely, but as the heritage of a dynasty whose motto is "by blood, we conquer". A dynasty which graces, and gifts were not his to spend, but to maintain, nourish, and improve for his successors, to build a strong dynasty, so that they, by blood, can conquer. Being a Duke, and a member of the highest ranks of the aristocracy is not an easy life, despite appearances. For that is how it appeared with the Duke, easy. He could command the respect of equals, the admiration of subordinates, and his lavish gifts inspired awe among those outside the house, but most impressive was his way of steering the youth, including our first born to better paths. The ease with which he did this is one reason why the Duke was asked, and accepted, the role of godfather for our grandchildren. But we also understand that his successor, Duchess Brie, hath a bright future filled with the love and joy of many children. Through blood, he will conquer more glory and win more honour yet. Dear Julién... blood is all, and by blood we conquer.
Lady Isabella Slock: First of all, I would like to thank you all again for attending this evening. Lord Julién Penthievre; My rock, My guide, My protector. He was a great deal many things to me. I wish that we had more time upon this earth. I feel blessed that I could have known him over the space of this last year. Since my father had named him godfather of myself and Thomas. We were told many tales of the adventures and battles he had been part of alongside my family. To have the opportunity to meet the man himself was beyond anything that I could have ever hoped for. I have learned so much from him in our time together and I know that there was so much more that he wished to teach me… Yet the example he has left me, From his attitude to life to his dealings at court-.. I am determined to follow in his footsteps. To strive for a better tomorrow. Even when the odds were against me, he remained there. A pillar of strength, the light in my darkness. Someone I could -always- rely on. We had so many plans… He was so excited to see the business that Brie and I had created thrive. I recall the many nights we would sit and talk about mundane things, he'd listen to all my worries and wipe away my tears. I'll miss the way he could turn any issue around with but few words. I'd like to share a verse with you all, that should offer some comfort to his friends and to his family.
"Do not stand at my grave and weep, I am not there. I do not sleep. I am a thousand winds that blow. I am the diamond glints on snow. I am the sunlight on ripened grain. I am the gentle autumn's rain. When you awaken in the morning's hush, I am the swift uplifting rush. Of quiet birds in circled flight. I am the soft stars that shine at night. Do not stand at my grave and cry; I am not there. I did not die."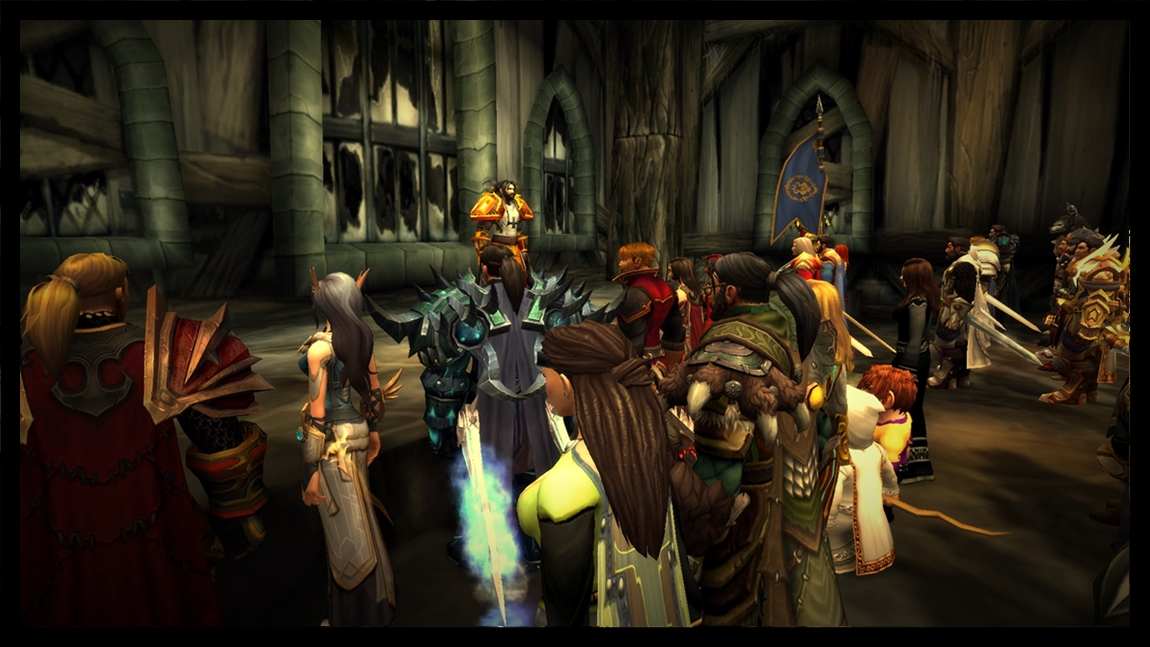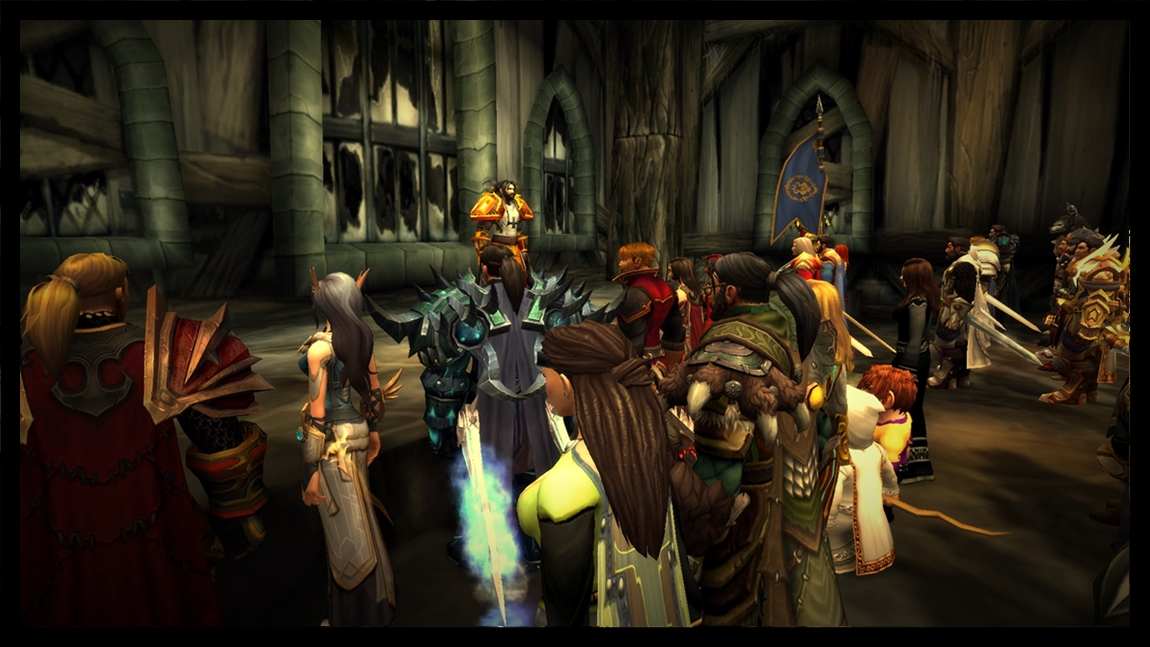 Sir Thomas Slock: I am usually not a man of few words, but I find none that can describe the grief I so feel, I recall seeing you for the last time at the fundraiser, I ended up bidding against you on a horse... And lost, how angry I was, yet now I would buy you a thousand- just to see you again for a moment. Fare thee well, my friend....

High Priestess Aria Lightheart, the mother of Duke Julién: Duke Julién 'Erenthir' Penthievre. My beloved son, strong head of the two-sided coin. Twin to Myrelda Lightheart, stubborn as a mule… Wise as an owl… Many years ago, I and Eomund saw you crawl about. Then run. HA! Walking only came after you crashed into a wall or fell from some hight, you did not cry my son. You laughed it off like it was nothing and just did it again. We thought you the ways of the word and the sword. As which we often found to be used against us when you were small. Cause for every sentence or command you always had to have the last word. We saw you grow up becoming a strong fine man… Stubborn... Oh yes, you were… But a soft side there was for sure. I remember when you and your sister were running about always trying to outdo one another a lovely rivalry healthy but fierce, you two always fell into discussions like water and fire. Only time you two could agree on something it was when it came onto cute boys. And even then, fights broke out on whom could get him first. You two picked fights with one another that sometimes ended up with silence for months on end. And out of nowhere to just end with the danger twins back together. Or as we always said. No matter what. No matter how rough... You always remained with your family. I miss you my dear… My son. My all. For that is family...To us. Forever in mind and heart..."By Blood We Conquer.".

Lord Eomund Nightstar of Darkshire, Knight of the Ebon Blade and Father of Julién: My Boy. I remember him a wee little boy wantin' to learn from me the art of swordplay. He wus adamant as I said to train first his spirit then his fightin' skills... a kind and carin' soul which I loved and... even now... in my... way I do... I spent lot of time with him but alas... the rise of the Undead in Northrend started... then I left for Northrend with Lord Jorendo and his Chapter... Despite of wot happened to me… I never let my boy alone... I watched his life from afar and when time permitted we reunited... it was... painful… one of my greatest sufferin' is to be parted with yer own son... And now... once again... we part... but know this… in this very room… shows how many of ya' cared and love my boy. It is even for my still heart... warmin' to see many to honour him… He will watch ya' all and me... Qui vivit in luce sæculorum in domo regni cælorum I than' ya' all.

But not just his family spoke, some of his friends and allies also had some last words for him.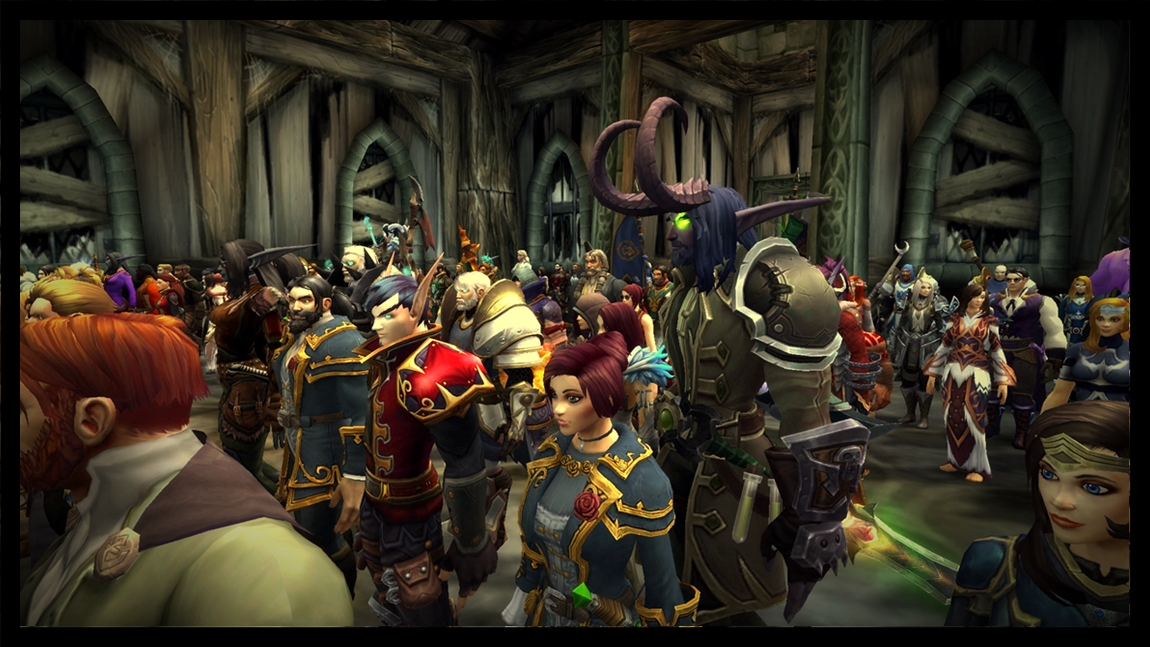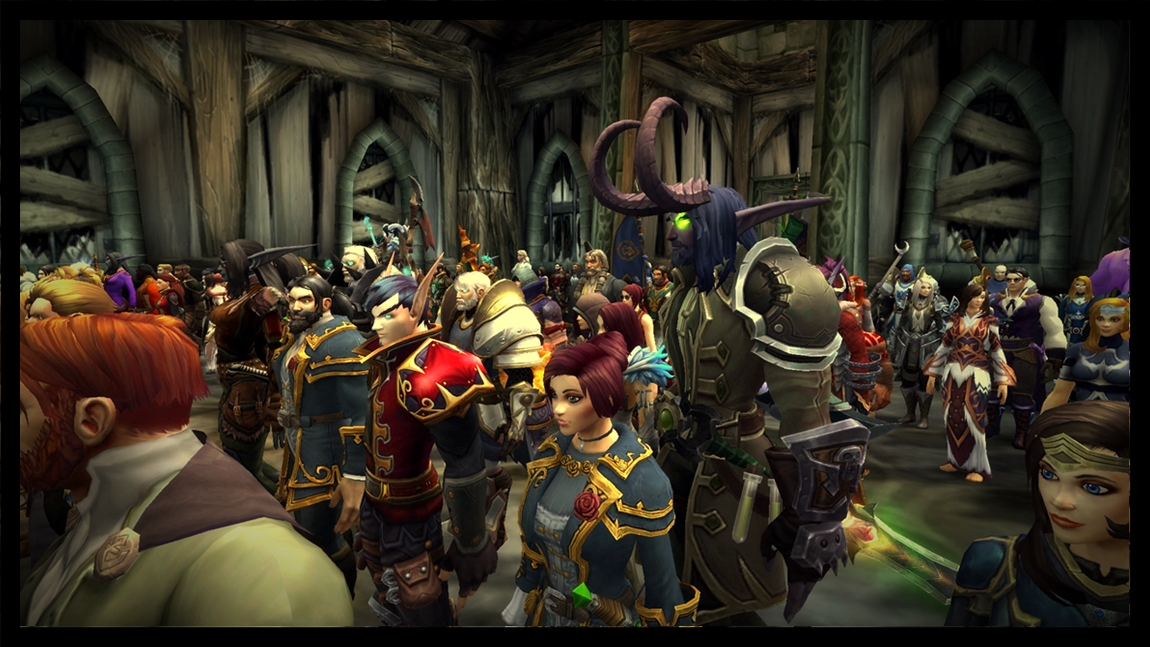 Ella Sparklecog: I haven't done this before, and I haven't known Duke Julién as much as some of you here. He could... be complicated sometimes. Everyone is really but I think what matters is that he was there. He was there, and he had time for you, regardless of if you were a friend or, not a friend, or politically significant or a nobody, or as it turns out some gnome kid underfoot. Like, he didn't assume what and who you could be, took you at face value instead, and that is rarer than people realize. Stormwind won't be the same without him... and I guess at Boralus and here at Stromgarde too. Thank you… and goodbye.
Lord Ethan Forrester of Stromgarde, Lord of Northgard: I'm no' very accustomed to do these speeches, I had one ready and written on a paper but I'd rather to say it from the heart. I met the Duke Penthievre very long time ago back in these lands... Arathor... Home both to me and Julién. 'E knew my father and my family really well as 'e was sortin' a lot of political matters with my family. Ya' all may know me as Ethan Forrester, but 'e was one of the only ones who knew my true name... Aerin... Aerin Forrester... After many years I used to serve in these lands in the army I moved into Stormwind to escape my people, to escape my family... But there I met once again... Duke Julién N.L. Penthievre. After bein' the last one of my family I became a Lord from heritage... I never wanted it, I hated it. I hated the burden of it, and I never really liked nobility. I was afraid to be honest... I was afraid I'd become like my father... But there was someone who showed me tha' I was wrong... Duke Julién N.L. Penthievre. Tha' was the man who proved me wrong. I suppose we can all agree 'e was a stubborn one. But 'e was the one who showed me tha' the titles and power is no' wot matters. It's about wot ya' -do- with all of tha' power. About who ya' truly are as a person. I learnt a lot from 'im and I always looked up to 'im. Till this very day 'e was my idol and even now when 'e is no' 'ere in person, I still look up to 'im because the truth is... I wish I could be just like 'im... There was no better nobleman I've ever met who would be able to be at least half as good at Julién was. I hope Julién is now restin' and enjoyin' 'is afterlife. 'E for sure deserves it. And to everyone who struggles with the mind. I just want to say tha' yer no' alone and tha' am always 'ere to listen or help ya'. All hail Duke Julién N.L. Penthievre. Than' ya'.
Sir Troy Ragnor, Knight-Lieutenant of the Seventh Legion: I have never been much for speeches either, some among you know that, but I will always speak from my heart, and so I shall do about our dear ally, friend, comrade, and loved one, Duke Julién N.L. Penthrieve. I met the man many a years ago, at the height of the Iron Horde invasion of Azeroth as I aided his sisters family, still a man lost in this kingdom, one without much experience when it came to the politics, the tension, the... strive, that tore across our lands, but Julién, he proved to be a much needed pillar of inspiration, of courage, of knowledge, and never was far from his nieces side after her mother, his own sister, passed away. For many years to come, he remained a man I came to call a friend, a nobleman I came to respect through and through who had his heart for the people, for the community, who gave it his all to make this shattered world a better place, and in my opinion, he managed to do so a little, and it's that sentiment I will cherish for many more years to come. may he find rest among members of his family, wherever it may be, for he has surely earned it in my eyes. Thank you, Duke Penthievre, for everything.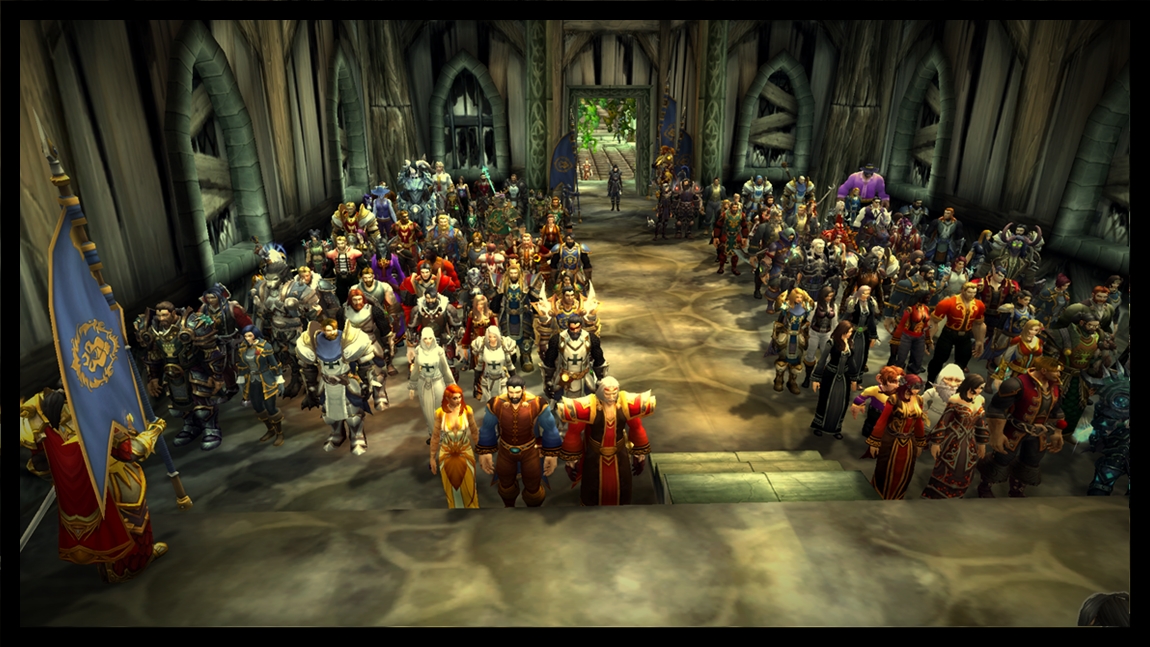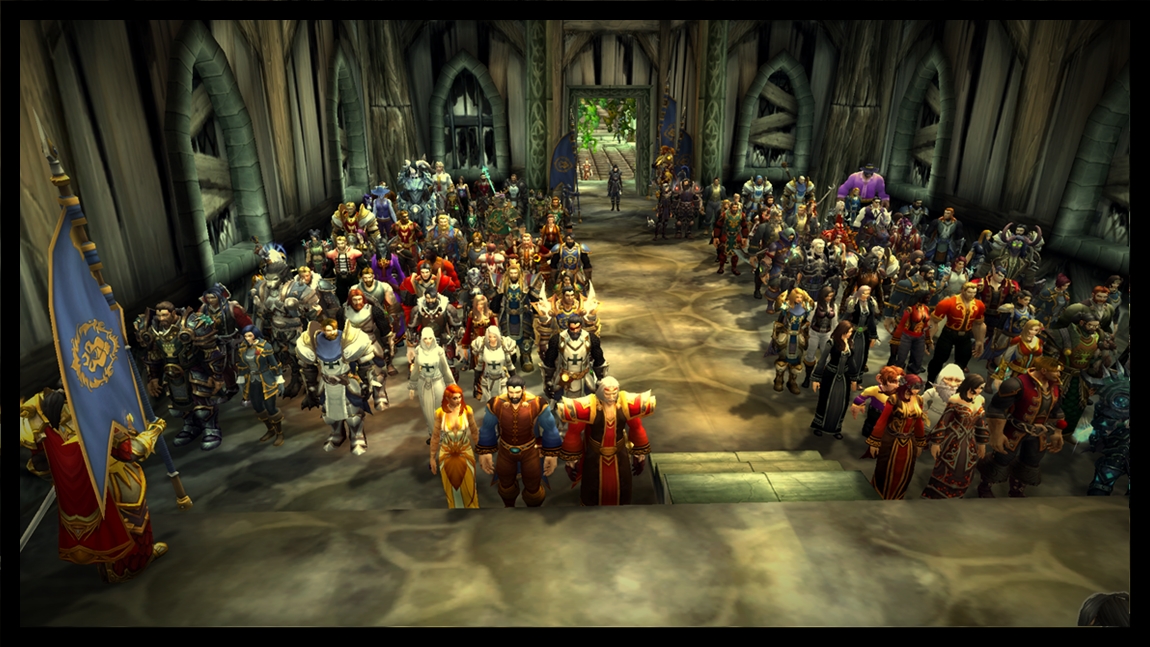 Sir Raelyn Dawnwalker: I'll be honest: I didn't know Duke Penthievre as well as I should have done. Only now, after his death, do I realise how much of a mistake that was. My mother used to tell me that a person's value was set not by their wealth, or status or piety or anything. It was set by the mark they had left on both the world at large and the people they knew. Julién's mark, as I can see by the masses gathered here today, won't be disappearing anytime soon. What else can I say that hasn't already been said or will be said? He was a brother of homeland, cause and faith all. And he will be missed. Dearly. Elor bindel felallan morin'aminor... Elu'meniel mal alann, brother... Light guide you one last time...
Newgate Giovanni: Good evening, I dare say barely any of you know who I am, and that is perfectly well, for I do not know any of you, nor do I know the Duke as well as most of you do, but I know of Lady Isabella Slock, and I know of the actions this man carried upon all of you in this troubling time. To hear such a man, carry such deeds across all of us, and end a lifetime with such a wide audience... One would say this man was a miracle to us all. I would dare say he'd be shocked to see just how many people he touched with his generosity. I stand before you, a stranger, overhearing the words of those who knew him. And as a stranger, I would believe this man, This Duke, to be seek as no mere nobility, but a beacon to all of us in these troubling times. Thank you for letting me have this moment of speech...
Fritolf Barbarossa: I am fairly certain none here know me, and while the times I saw Duke Penthievre were few and far apart, he leaves a memory in the minds of all of us. One that will not be forgotten... I only wish to add to this beautiful ceremony, a quote of an old sorcerer friend of mine: "End? No, this is not the end. Death is but another path, one that we all must take. The grey rain-curtain of this world rolls back, and all turns to silver glass. And then you see it. White shores, and beyond, a far green country, under a swift sunrise." In the Light - We are one.
Brother Atticus Lantenac, of the Cathedral Order: That is a great tribute to him, to his family, relatives, friends, whose love he so depended on and whose love he returned in full measure. As it is written in the words of a hymn I heard in my church last Sunday, "Grant that I may realize that the trifling of life creates differences, but that in the higher things we are all one." In the twilight of his life, he knew that lesson well. It is, I feel, certainly a fate he would want us all to keep. May the day of judging Julién on anything less than his entire life and career come to a close.
High Chancellor, Count Didonus L.M. Essington: My sincere apologies for showcasing about every opposite trait of the good Duke Julién Penthievre. A man I personally remember most for his continued commitment to service. As much as most people remember me for my tardiness, the good Duke was always early. This trait I would say was symbolic of his commitment to service. Service to his family, and his home here in Stromgarde and in his last years, to Stormwind. – When you get to the venerable age of our generation, we often forget that the more recent years have scarcely covered most of your life. A fact even more true for the Duke. He spent the majority of his life in a world we scarcely recognise. Yet, even with his age, he often managed to adept to the changing tides. I dare say, he did so more easily than myself, though like the proper man of age he had become, it did not happen without the obligatory rumble and complaint. It is in light of his ability to adapt, that I am left with a final promise he made me, which, taking into account the timing, appears all the more striking. For the past months he shared his efforts to remodel and refurbish his estates in the South. Which he fondly announced, he would open with grand festivities in the last weekend of the ninth month... I rest assured that it was the only promise he ever made to me, that he didn't keep. I am sure he would have enjoyed being at the center of attention one more time and I rest assured that he is honoured in such a fashion today. That leaves me to say; goodbye old friend, enjoy your well earned rest. The troubles of this world are no longer yours to bear.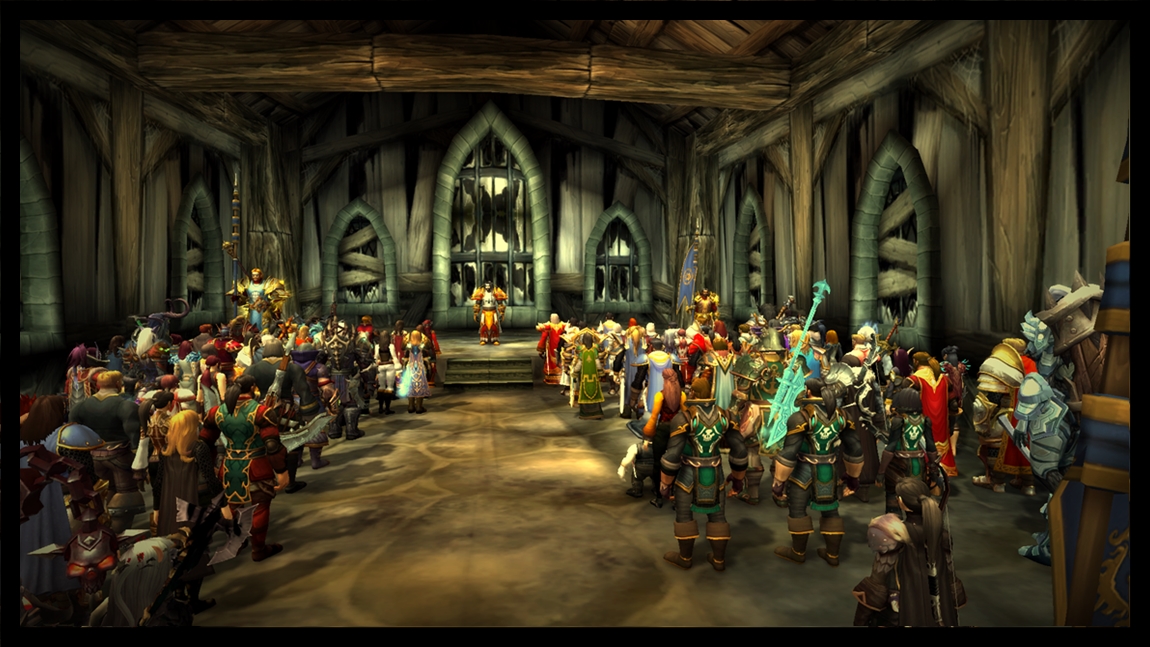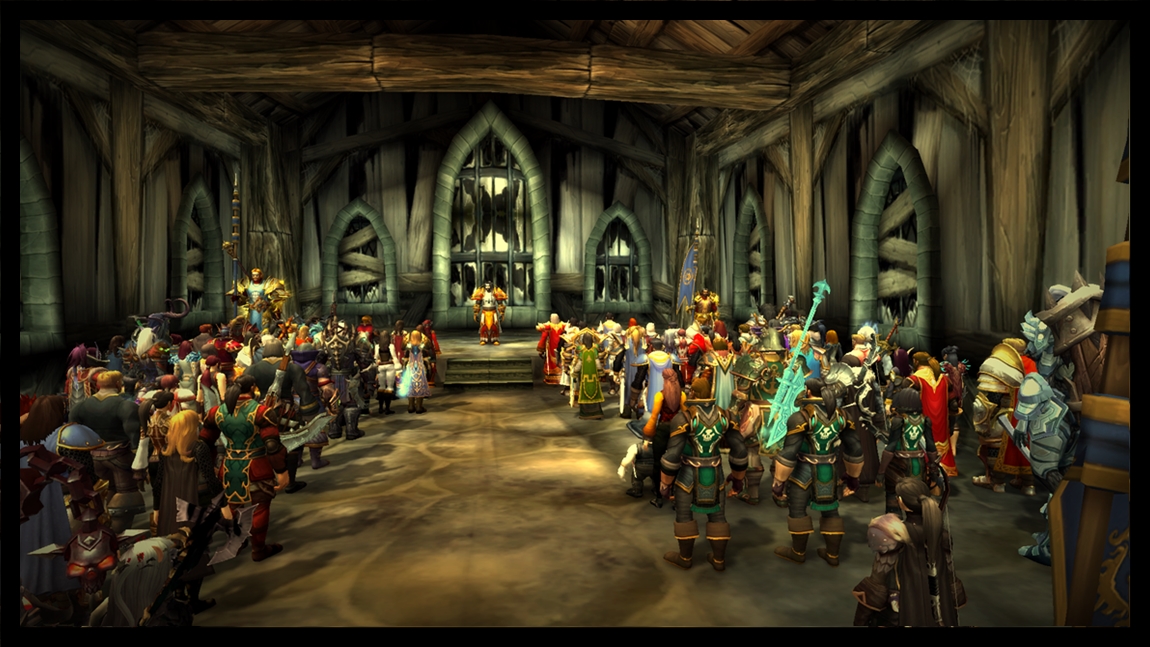 Seneschal Andrew Cadwell Before I commence the Last Rites, I wish to say something of the man myself. Though I knew him for a relatively short time, the impact he has had on my own life, and the life of a dear friend of mine who sadly could not attend today, is not to be questioned. He offered me counselling and advice in times where it was sorely needed, and I will miss his presence, not only in Stormwind, but in my life. I am reminded of my father's passing words in this. Do not mourn for what is lost, but love and bask in what is present, and keep your eyes to the future, bright and wonderful, which I have provided to you. Duke Julién provided a bright future to many, almost countless people, and I for one, thank him for it. I ask you all here, in the presence of our fallen Brother, and in the Light, to take a knee in silent prayer and reflection for a minute, for our fallen brother.

After the ceremony friends and family gathered at the Blue Recluse, where some of his favourite tunes were played. Rest in peace, Duke Julién, you'll be missed
OOC NOTE