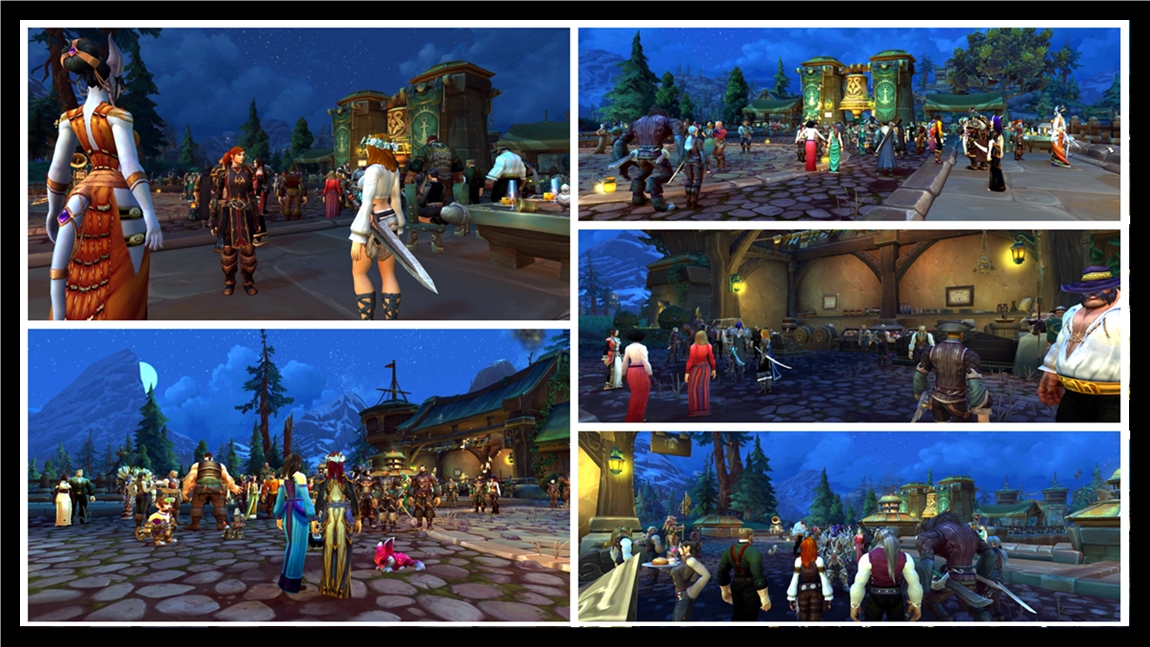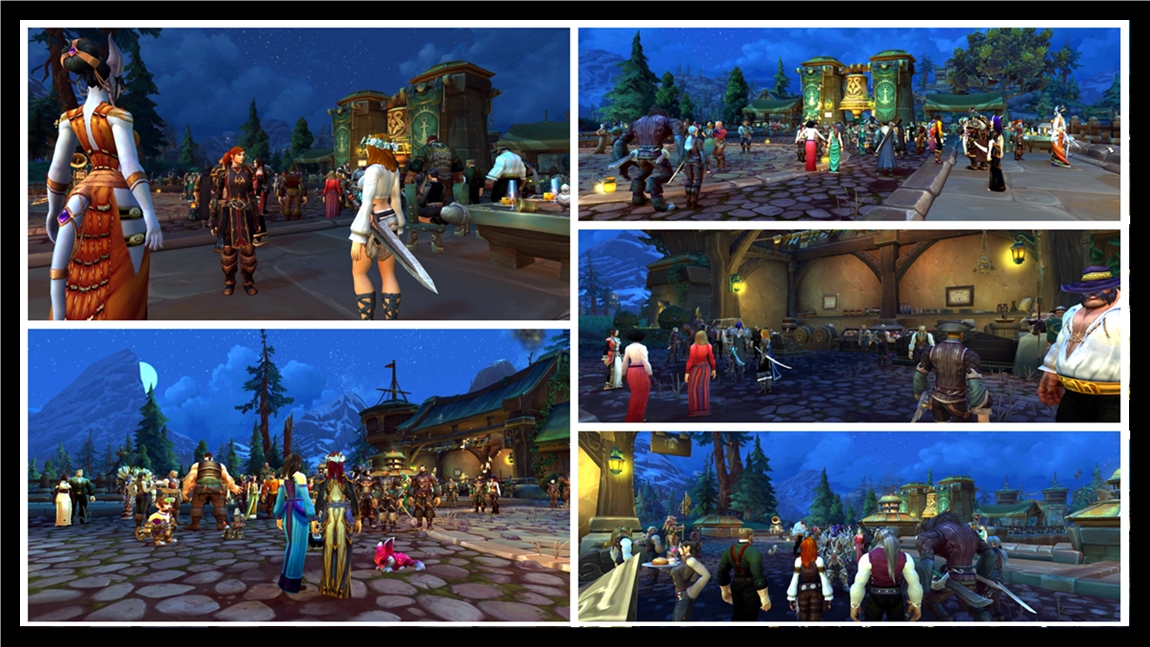 Charity event a huge success
The guests had fun and more than 300 gold was raised!
EDITORS NOTE: This article is a bit late. There is a reason for this. The family name "Slock" is surrounded with a lot of controversy and has been named in connection with multiple crimes over the years. As one of the hosts for this event carries that very name, we wanted to look into Lady Isabella Slock and her past actions before we inadvertently took part in whitewashing the family. Our sources, official and otherwise was however not able to come up with any substantial claims of wrong doings in regard to the Lady Slock. This, and with a promise that the financial records of the charity will be audited by a neutral accountant made me decide to go ahead and print the article. Do with that what you will.
This past Saturday Lady Brienne Langedijk and Lady Isabella Slock hosted a charity event at Norwington Estate, with the goal of raising money for their new Foundation as well as other charity associations in Boralus. After the previous chaos and disappointment in the last gala (which turned out to be a trap) it was very comforting to see so many people, not only from Boralus, but from Stormwind and Dalaran as well, united for a good cause. The event started with a speech by Lady Langedijk. Lady Brienne Langedijk: Hey everyone,I am Lady Brienne Langedijk of house Penthievre most of you will know me already as Brie or cheesegirl. I only found out recently, that one part of my family descends from House Penthievre, with this knowledge I grew closer to my friend Isabella Slock who from now on took me under her wings and teach me the ways of being a noble. After spending a lot of time in Boralus, we thought to ourselves how we can help those people who lost a lot of their things, who fought bravely next to the soldiers of the great Alliance and we came up with the idea of the Daelin' Rose Foundation. With Autumn around the corner and the colder seasons coming with it, we wanted to do something quick to collect some coin and other things to help the people survive through the harsh next month. We gathered the help of local businesses such as the Fair Trades, The drunk Gauntlet, the Hangman's Noose and even some businesses from Stormwind like the Shady Lady and in just a short amount of time, we could already present this festivities for the public. It's not only for the wealthier people but also for the common folk to celebrate and have a good time. Isabella and me both hope that this isn't the last time we're coming together to celebrate and wish you all a wonderful time tonight and always remember even one copper can change the life of someone.
Horsies!
Few minutes after, the first activity of the night took place. A horse auction with magnificent specimens, starting out with a beautiful white horse which sold for 2 gold. Despite the auctions starting out low then the bids quickly turned more interesting. The next one, a highland mustang with beautiful colouring of black and white, a great specimen of a warhorse, only reached 93 silvers, The next horse, an Elwynn Draught Horse, sturdy of build and bred to work, just 5 years old, quickly went from 60 silver to 1 gold and 30 silver, a bid by Lord van Rook, who kept raising his bid against another gentleman. Sadly, in the end none of them got it, as one last bid of a latecomer took it for 5 gold. But that was a child's game compared to what happened with the next horse. With a very fitting name, Prince, was a beautiful animal with pure white hair. Lady van Rook started immediately with 5 gold, followed by Thomas Slock bidding 6 gold. From here chaos started, bids started to fly, 11 gold said Lord van Rook, 15 gold Thomas Slock, 16 gold from Sir Darius Agrovane… It was hard to follow, but Duke Penthievre II quickly stopped it raising the bid up to 40 gold. Only a woman was able to bid against and in the end, she won the horse at the price of 55 gold.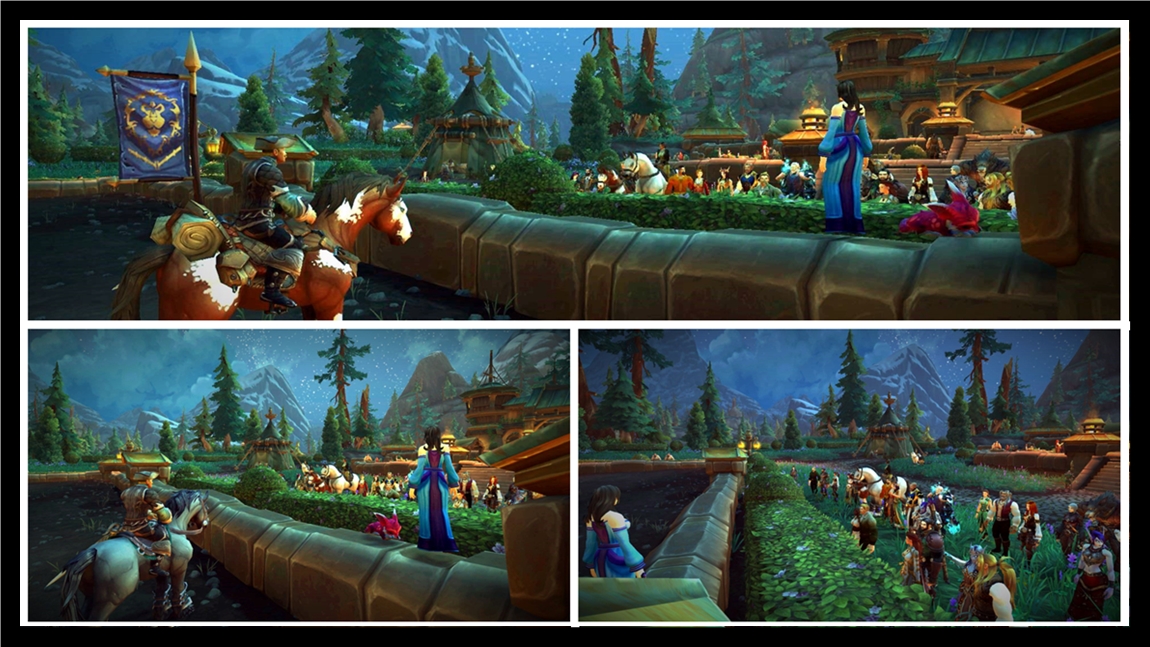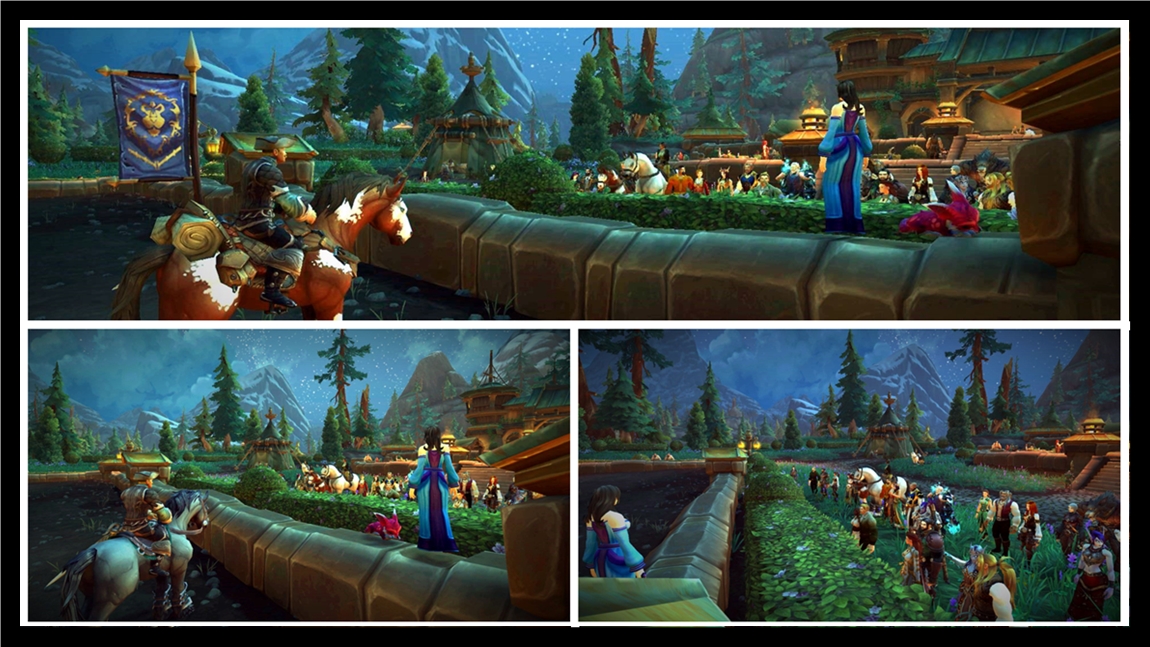 The final horse-auction, started low, as some people commented that the previous betting wars were not very inclusive for a charity event, starting at 10 silver people tried to raise their bids in small amounts, just as Lord van Rook reached 60 silver a Kul Tiran man raised to 1 gold and 50 silver, followed by 2 gold of Sir Agrovane, after a small bidding war the Kul Tiran went over the limit and took the horse for 6 gold. Of course, some comments were heard of how that broke the inclusive spirit and how a limit that could be broken was not a very good limit, but nothing more.
Fashion!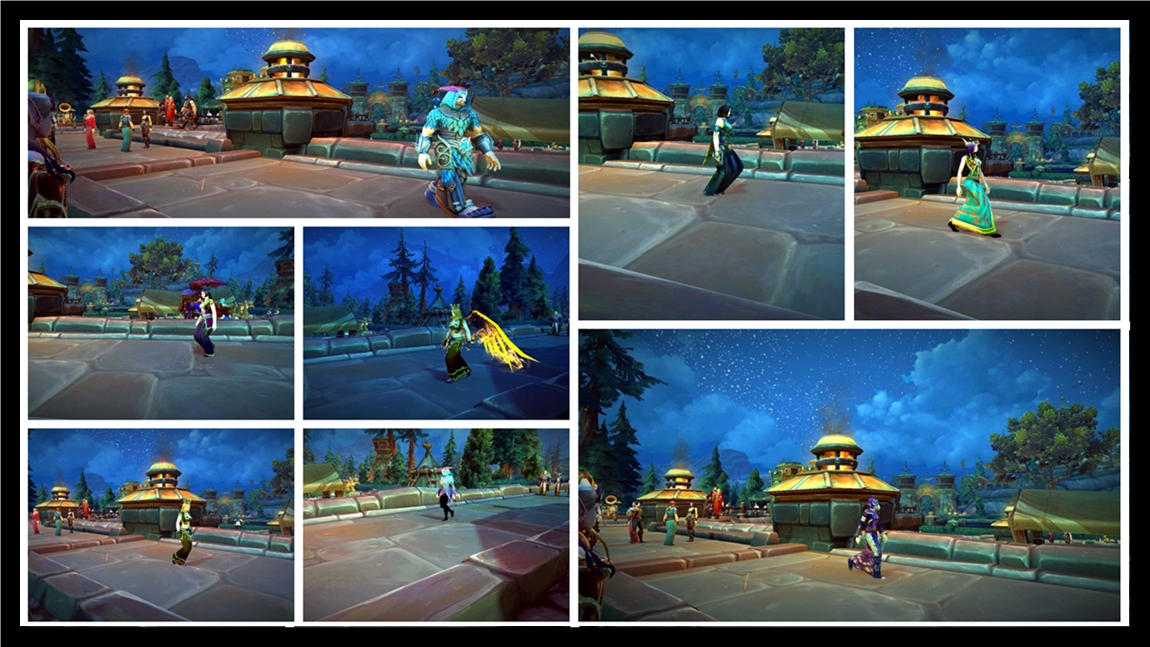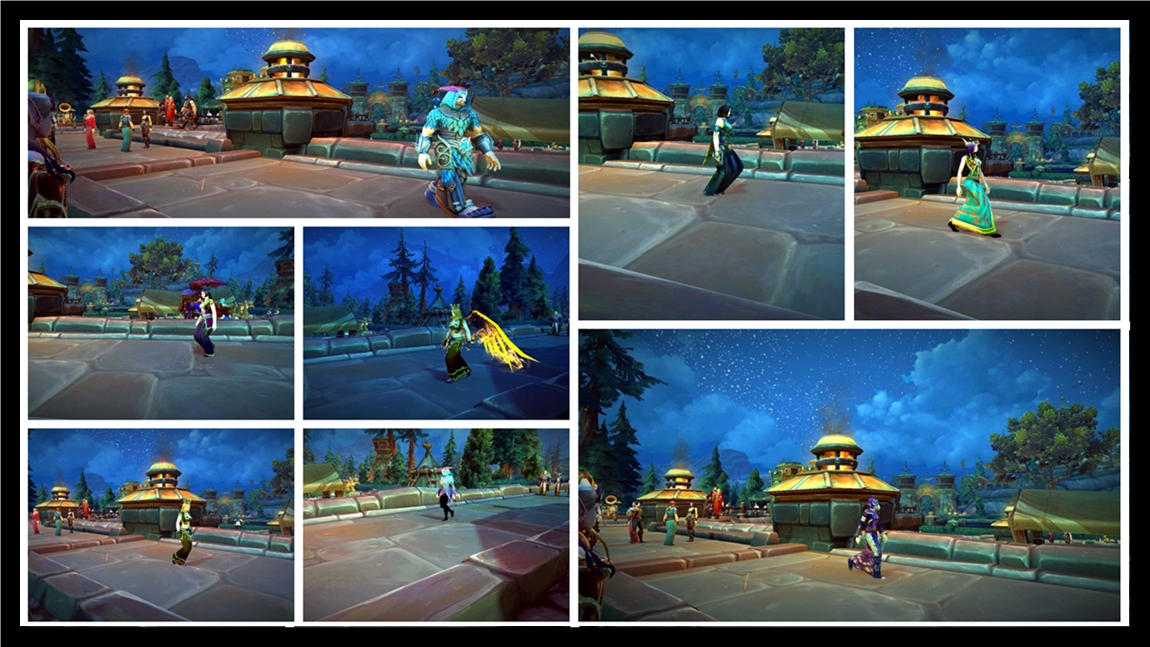 Next was the Fashion Show, hosted of course by Kazia and Khari, who along Lady Langedijk and, surprisingly Duke Penthievre II judged the contestants in three categories. First was Fauna in Autumn, in which patterns reminding of spiders and sea creatures could be seen, but finally Lady Everlin won with a model resembling a bird with impressive fire wings. This was followed by the Flora category, flowers, roses and leaves could be seen everywhere, but Jack Grimsdale impressed everyone with a daring bright green outfit. Finally in the Autumn Wear category participants showed everything from coats, warm leather clothes and, the winner, Poppy Warren, delighted the audience with a dress. The winners, as well as the other participants (Ginny Fawnshaw, Vita Rosevale and Sarah Sandcog) will appear as models in Passion for Kaz-shion.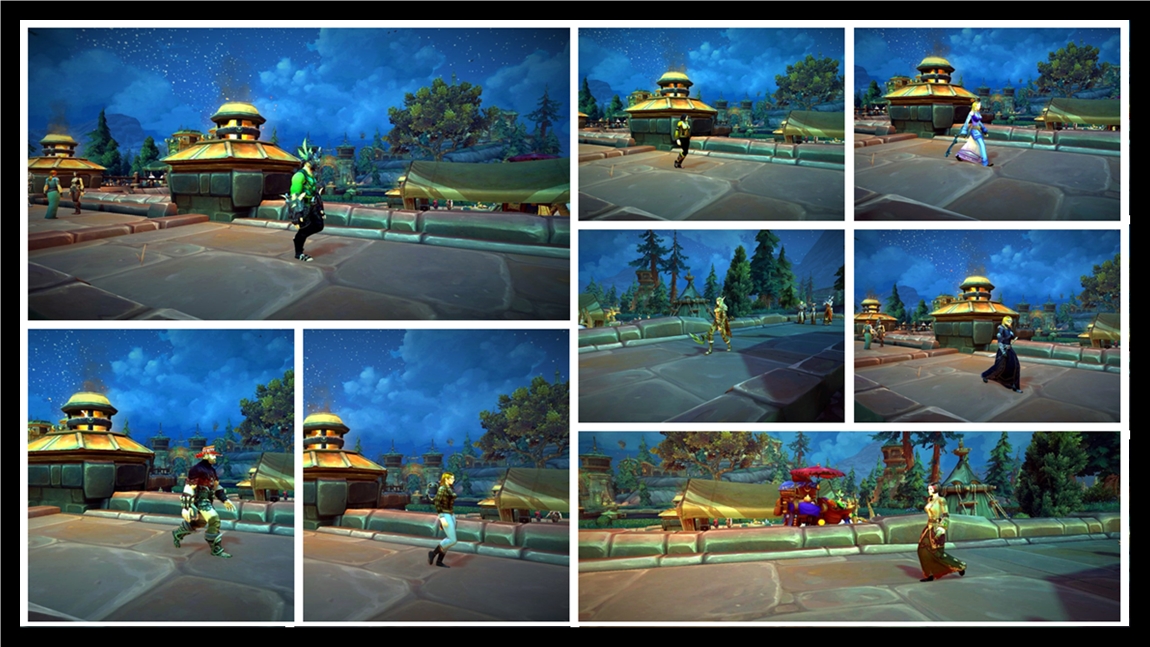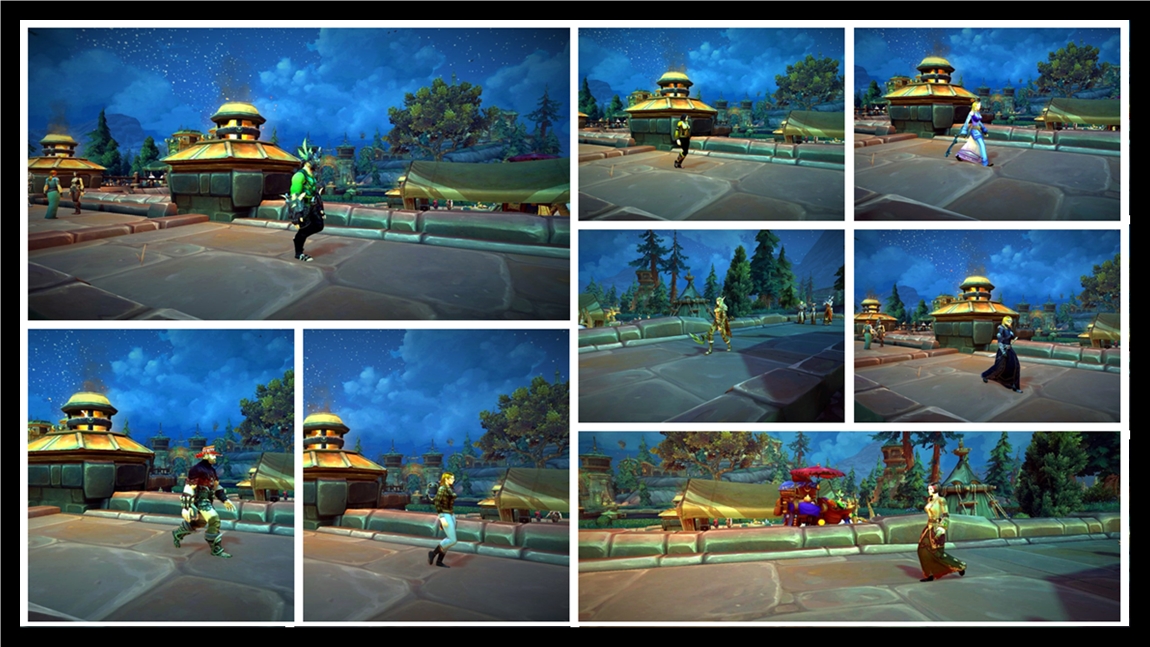 The event also had drinks, food, and live music, provided by the great Shredding Accordingly, during the whole event and seems guests had a great impression as well:

Noelle Lavoy, local painter from Boralus It was a good time, the ladies did a phenomenal job at arranging it. Plenty to see and do, quite enjoyed the fashion show.

Eve Hildon I did get here later on, but from what I have seen it was great! I liked the alcohol, food and seeing all the happy people dancing and socialising. I liked seeing my friends too. All round great event.

Sara Leoron I found out about the event from Lady Langedijk, she was handing out cupcakes and a note about the event at the latest market in Boralus.

Finally, we also talked with the organisers about the event and their future plans. Gaedryel Ravenbreath: Who helped with the organisation? Getting people from Dalaran and Stormwind surely was difficult. Lady Brienne Langedijk: It actually wasn't that hard. I remembered a fashion event from the past and I had the luck that Kazia was around in Boralus, so I spoke to her, and she contacted Khari from Dalaran. With the Stormwind people it was super easy as we knew a lot of them already. Gaedryel Ravenbreath: And in your opinion, how did the event go? Lady Isabella Slock: It went fantastically well, It was a relief when the day came. Everything ran as smooth as we could hope for. The atmosphere was wholesome, lively. To see everyone come together to support charity was a proud moment indeed. Gaedryel Ravenbreath: How much money was raised? Lady Isabella Slock: So far- We've totalled three hundred and sixty-one gold, and ninety five silvers. However, we are still expecting some more donations. Gaedryel Ravenbreath: Any organisation that will get part of the founds you'd like to mention? Lady Brienne Langedijk: Half will go to the Daelin's Rose Foundation, it's an organisation founded by Lady Slock and myself. I do think you will hear more about the foundation in the future. And the other half will be split for organisations throughtout Boralus, for example the orphanage or the soup kitchen. Gaedryel Ravenbreath: And speaking of future. What's next? Any future event or plan you can hint? Lady Brienne Langedijk: There is a lot of things in the making at the moment. But for now our focus lies on delicious cupcakes and cakes that you can soon buy at the cake shop in Boralus. Gaedryel Ravenbreath: Any other comment? Someone you'd like to thank? Lady Brienne Langedijk: First of all, we thank all the people who helped organise it and of course the people who attented. But a special thank you would go to Lord and Lady van Rook, of course the Royal Court and Shredding Accordingly for the awesome music they provided.