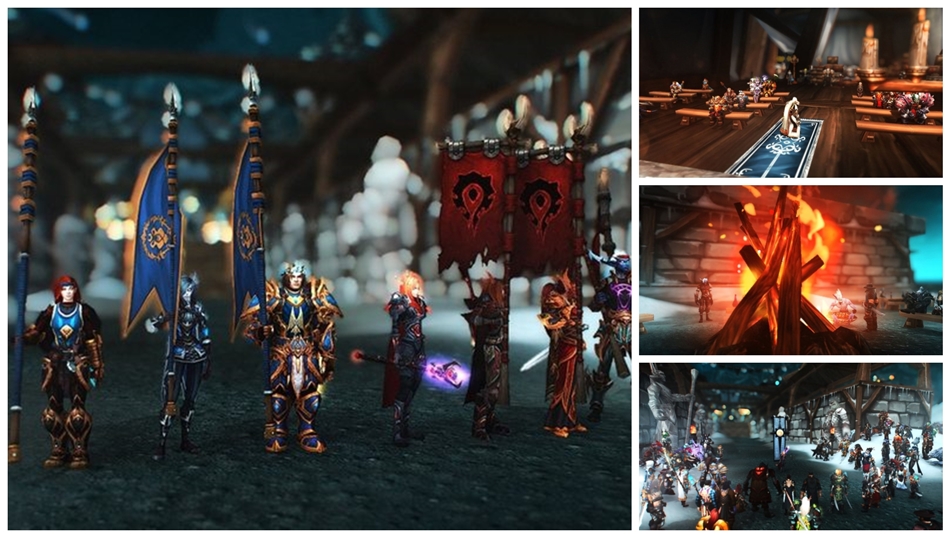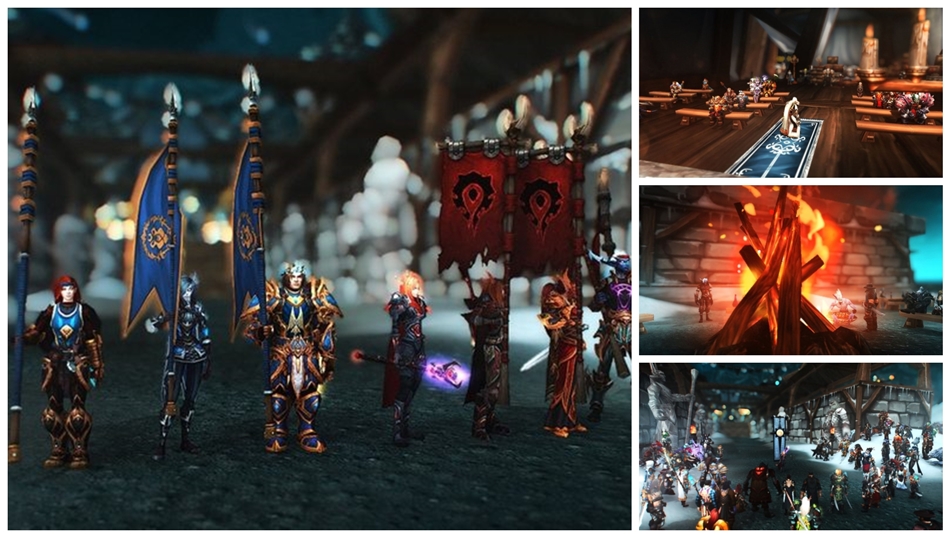 The Grand Tournament: What, who and when?
With the 2nd Grand Tournament starting soon we had a talk with some of the people behind it, organizers and participants in some of the entertainment.
T
he 26th of May (That is on Wednesday) the Second Grand World Tournament opens its doors in the Tian Monestary in Pandaria. It is five days of games, entertainment, shopping, lectures and just good old socialising. The first Grand Tournament was held last year in the Argent Tournament Ground in Northrend and was a huge success. This year it has moved to Tian Monestary in Jade Forest, Pandaria, and has grown even bigger. To get a bit of details out to you dear readers, a bit of a tease of what to expect, I met up with a group of people who are involved with various parts of the tournament or the entertainment surrounding it. I started by asking Archmage Zyretha Snowdawn, Professor of Ancient Magics, and lead organiser of the Grand World Tournament about the basics. H.Lester: Lets start with the big picture. Archmage Snowdawn. Tell me, what is The Grand Tournament? Archmage Snowdawn: The Grand World Tournament was the first time around, a celebration of a quieter world and the defeat of an Old God. This time with the world dealing with tumult of... Whatever is above Icecrown, people feel uncertain and uneasy. The World Tournament is a break from strife to focus on the talented craftspeople of the world, the entertainers, and to come together with friendly competition and meet new friends. It is a grand market of wares and services, a forum for learning, a theatre of fierce competition, and the grandest stage for the arts we can possibly produce. H.Lester: That sounds less like a tournament and more like a faire? Archmage Snowdawn: Yes, Or a convention or any other words. The games came first, the rest came off people's eternal desire to see and add more, and want to serve everyone's needs and interests. But, starting from the games meant the Tournament name stuck. Plus now it's the second one, we're stuck with the name. H.Lester: You told me what the tournament is, what - on the other hand - is it NOT? Archmage Snowdawn: A place for grudges, stirring hatreds and trying to reopen the wounds of an ended war. Sounds like there will be something for almost everyone, as long as you don't.. you know, have an issue with big crowds or like to cause trouble. At this point the interview was derailed a bit due to a debate about companion battles having been removed from the program this year, but being the experienced interviewer I am I soon get it back on track. Well... soon-ish. H.Lester: Mm so, lets talk about technical stuff - when is this tournament? Archmage Snowdawn: Twenty-sixth of this month, to the Sunday thirtieth. H.Lester: It lasts quite awhile then? Archmage Snowdawn: Five days total. Four days devoted primarily to competitions, one to entertainment. Archmage Snowdawn: Which is why I asked Six, Kori, Aumellia, Intra and Lochlan here. Segway! Let us have a look at the schedule.
Day 1: Wednesday (26th May)
20:00: Clarion Bell: Welcome speech 20:30: Main Dojo: Magical contest 20:30: Meet at Clarion Bell: Ground Races All evening: Stalls/Lectures/Open Classes 23:30: Games finish: Closing speech and pageantry

The Opening Ceremony will included live music by names such as: Vivian, and Neiva Dawnblood. According to Archmage Snowdawn then it will be quite special and unique. She also promised not to have long speeches which drags on for hours. After that the Magical Contest and the Ground Races, hosted by The Azeroth Grand Prix team will then take place - but if you are not into that then there is a lecture by Edith Lampfire about the Joys and Burdens of magic followd by a lecture by Haelga Stormheart about The Many Facets of a Gryphon. Still not convinced? very well, then how about a concert with Barovar Sunwhisper? And, I hate to say it, but if that was not enough either then there is all the shops and stalls you can tour and enjoy.
Day 2: Thursday (27th May)
20:00: Clarion Bell: Announcements and information 20:30: Meet at Clarion Bell: Sky Race 20:30: Main Dojo: Archery Contest All evening: Stalls/Lectures/Open Classes 23:30: Games finish: Closing speech and pageantry

Thursday offers an Archery Contest as well as a Sky Race, in terms of lectures then Farseer Jin Spiritfoot will talk about The Elementas of Pandaria, followed by a lecture about Pyromancy, and how not to burn yourself with Simetra Shadowshot, and finally Practical First Aid for Non-Magic Users by Shy Voidrunner.
Day 3: Friday (28th May)
20:00: Clarion Bell: Announcements and information 20:30: Main Dojo: Mage Ball/Wand Duel Tournament (Inspired by Moonball) 20:30: Ring of Inner Peace: Jousting All evening: Stalls/Lectures/Open Classes 23:30: Games finish: Closing speech and pageantry

Friday has jousting, and a Dazzling Wand Contest, allowing for something for the knights and their large lances, and something for the mages and their.. somewhat smaller wands. The Lectures this evening includes Archmage Moonblaze's talk about The Children of Aman'Thul. During the evening you can also join Frizz and Sparks on their Sky Adventures, or watch a special performance of Cabbage Ron by the Might Theatre (at midnight of course).
Day 4: Saturday (29th May)
20:00: Clarion Bell: Announcements and information 20:30: Across the Monastery: Duels (Swiss rounds, then top 4 elimination) All evening: Stalls/Lectures/Open Classes 23:30: Games finish: Closing speech and pageantry

Saturday, which is the last day of competitions, is devoted to Duels. There is talks by Lady Everlin (about the Wondeful World of Illusions) by Six Harrow on Breaking Physical Constraints on the Body, and the Spiritwood Tribe will talk about Totem Carving. Frizz and Sparks are still offering Sky Adventures during most of the evening.
Day 5: Sunday (30th May)
20:00: Clarion Bell: Announcements and information 20:15: Market 20:15: Entertainment in the Main Dojo 23:30: Closing speech and credits ceremony

Sunday is devoted to entertainment, as in there will be no competitions but the shops will still be open for those who still has money to spend. The evening ends with the closing ceremony. The Fablewind Faire will put on a show of dance, music and fireworks:

Six Harrow: Well, if things go as intended, it'll be me, Duskstar, Red, Delaar and Aauiz. We'll be putting on a cheery assortment of songs and dances to entertain the crowd at the close of the overall event. We're also going to put on a big fireworks display.

Followed by The Quill's Melody's perfomance of the play Hercules:

Intra Gill'iosa: We have put another play together, called "Hercules" an inspiring fictional story about a half-god, becoming a hero. We perform the first half at the tournament and the second a week after at the Magical Faire in Dalaran. H.Lester: So people need to attend both to get the full story? Intra Gill'iosa: Yes indeed. I did not intend the play to be that long.. but a good story needs time to be told right? We are most proud of what we have worked on for.. oh my, 5 weeks now? 11 actors including an illusionist work on it and we all can't wait to show it off. H.Lester: So it will be performed on which dates? Intra Gill'iosa: The first half will be at the Grand World Tournament at the 30th of May, 9pm, the second half at the Dalaran Magic Faire, probably the same time. We plan a full performance in Stormwind aswell, before both events, but it seems unfair only to present it to the Alliance people.. since art connects each of us. H.Lester: And this is the play you are performing in, Sir? Lochlan Black: It is indeed. I will play the role of Zeus, Hercule's father. This will be my first time performing and since joining the group I've had such a wonderful time. I'm excited for the people to see what we have in store. It will be entertaining, I'm sure of it. H.Lester: Sounds like a good time, how long does each part of the play last? Intra Gill'iosa: About an hour each.. I know it sounds insane, but we had some viewers at the rehearsals, staying throughout the whole thing.

And the entertainment is ended with the big finale, the AWGP World Championship Match. In the words of the promoter, Soirane:

"Your main event of Sunday Evening will decide the Azeroth Wrestling Grand Prix World Championship! Incumbent Champion Kori Raine has remained undefeated since the last World Tournament, but can two time Brawl'gar champion Aumellia Goldbirth end that streak!? Both have incredible combat sport backgrounds, huge winning records, and are the peak of the Alliance and Horde!"

I asked the two contestants for a bit of commments.

Kori Raine: Challenger first, that's 'ow it gans in the business. Aumellia Goldbirth: Works for me. Aumellia Goldbirth: Well, the title match for the AWGP World Championship that's going on between me and Kori is a follow-up to her last title bout that happened here in Dalaran just a few months back. She won, but to assert my dominance, I...bashed her over the head with a Brawl'gar title belt, so of course now she wants payback in addition to defending her title, so there's history between the two of us going into this bout. H.Lester: How do you rate your chances of winning? Aumellia Goldbirth: Can we go higher than one hundred percent? Because if so, let's rate it somewhere around that general ballpark. H.Lester: And what do you have to say to that Miss Raine? Kori Raine: Oh, she says smackin' me roond the heed after I smashed Raamses into the ring is where this starts, but it ain't. Aumellia Goldbirth: Raamses, pfft...! Kori Raine: Everywhere we've ended up tagether fer years now, even when I was holdin' regional titles, it's always been aboot when we're gonna fight like, s'always the question 'cause people think she's gonna take me oot. Bit of a spoiler. But nobody's gotten the better of me. I've fought from above, under, in wild brawls, in fair matches, and neebody ended me. The only think that's above one undred percent aboot this is that yer gonna try, yer gonna push it... But yer not the best H.Lester: I guess we will just have to see.

At the time of the writing there is still open slots for some of the contests:

Magical contest: 11/12 Ground Race: 15/32 Sky Race: 15/32 Archery: 17/32 Dazzling Rod Contest: 5/32 Jousting: 21/32 Duels: FULL - Waiting list only!

Contact Archmage Snowdawn if you wish to sign up for any of the competitions which still has open slots.