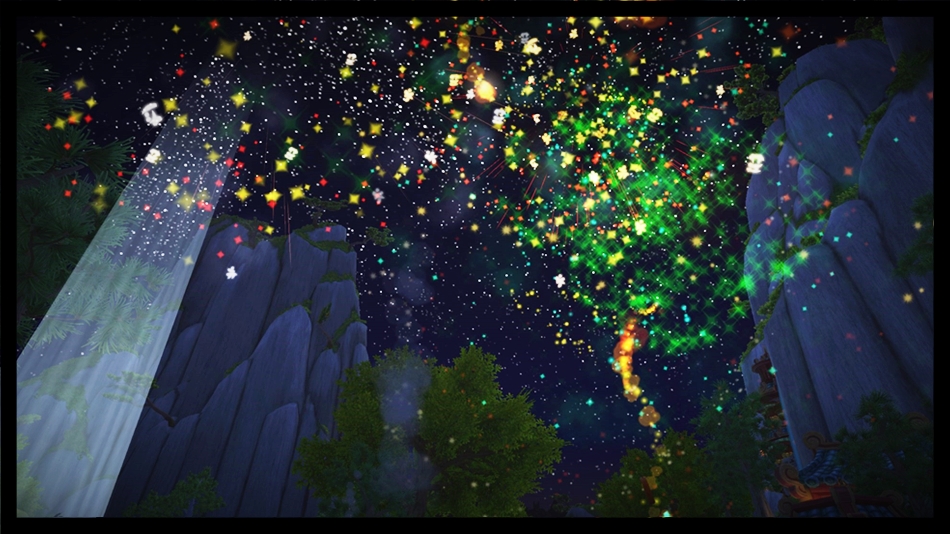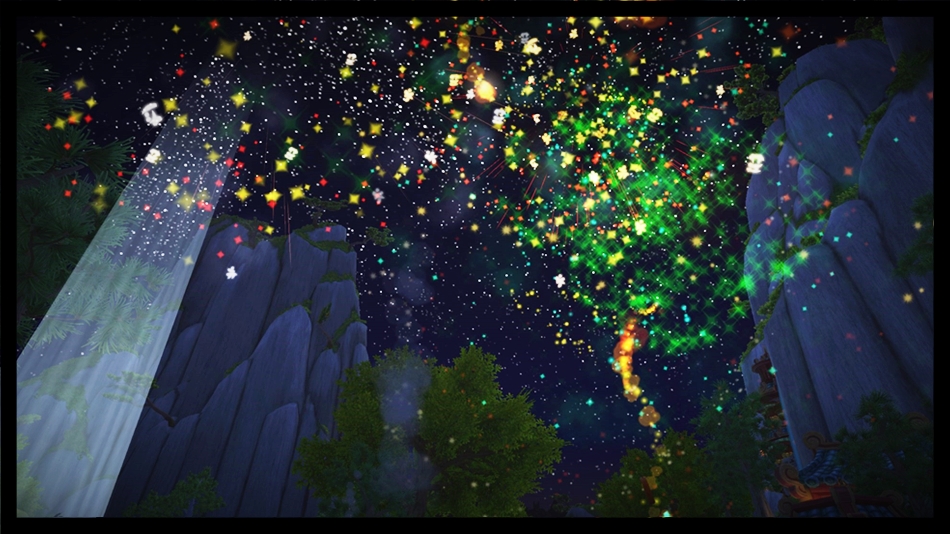 The Windfarer noblegarden celebration
A time to cultivate friendship and express our love
T
his past Saturday the Windfarer Noblegarden Celebration was held in Tian Monastery. A day to celebrate and cultivate friendship or love. In a magnificent landscape people from all Azeroth reunited to celebrate this day, to enjoy and have fun with friends, family or lovers. During the whole celebration there where a series of stores open to the public selling everything you might wish, from the sweet chocolate offered by Kialandi's chocolates, and themed accordingly to the season with chocolate eggs with toys inside, recovered magical artefacts and relics alongside gadgets and inventions offered by the Sapphire Tome. Treats, toys and cute accessories for your pets offered by the Magical Menagerie Store, and much much more. After the opening speech the public enjoyed a series of performances. Like the Wigglebutt Bunny Song performed by Red or Daddy Fae Darter! performed by Delaar.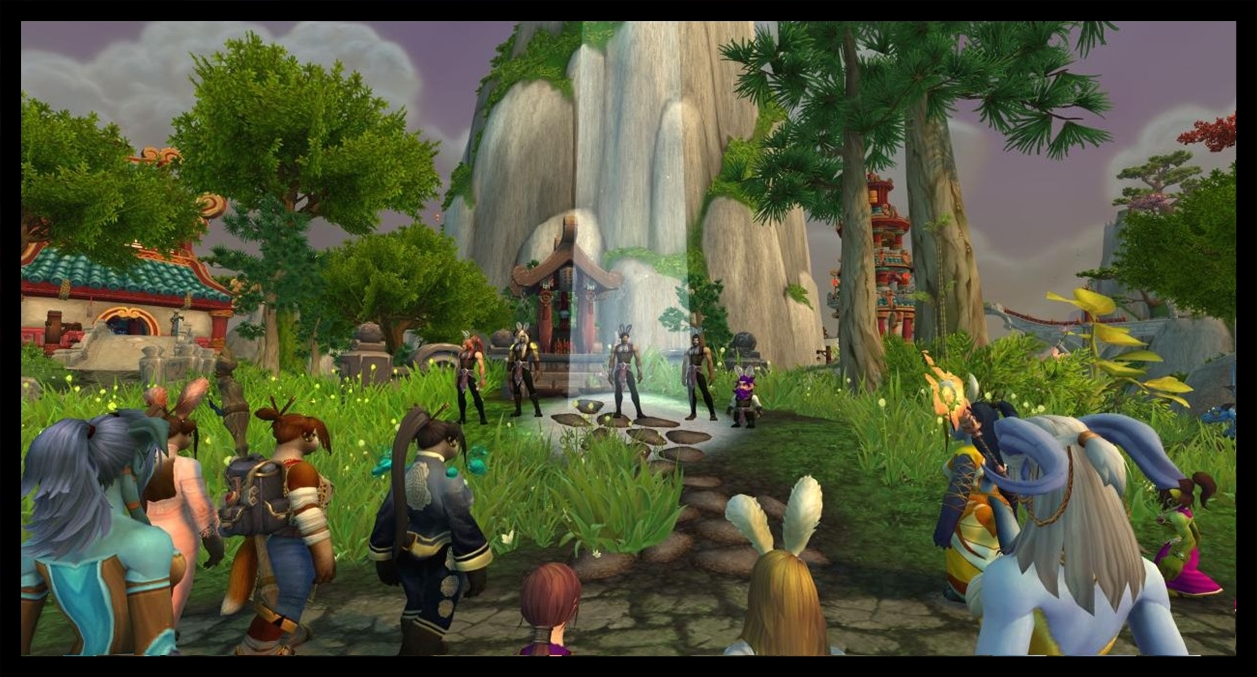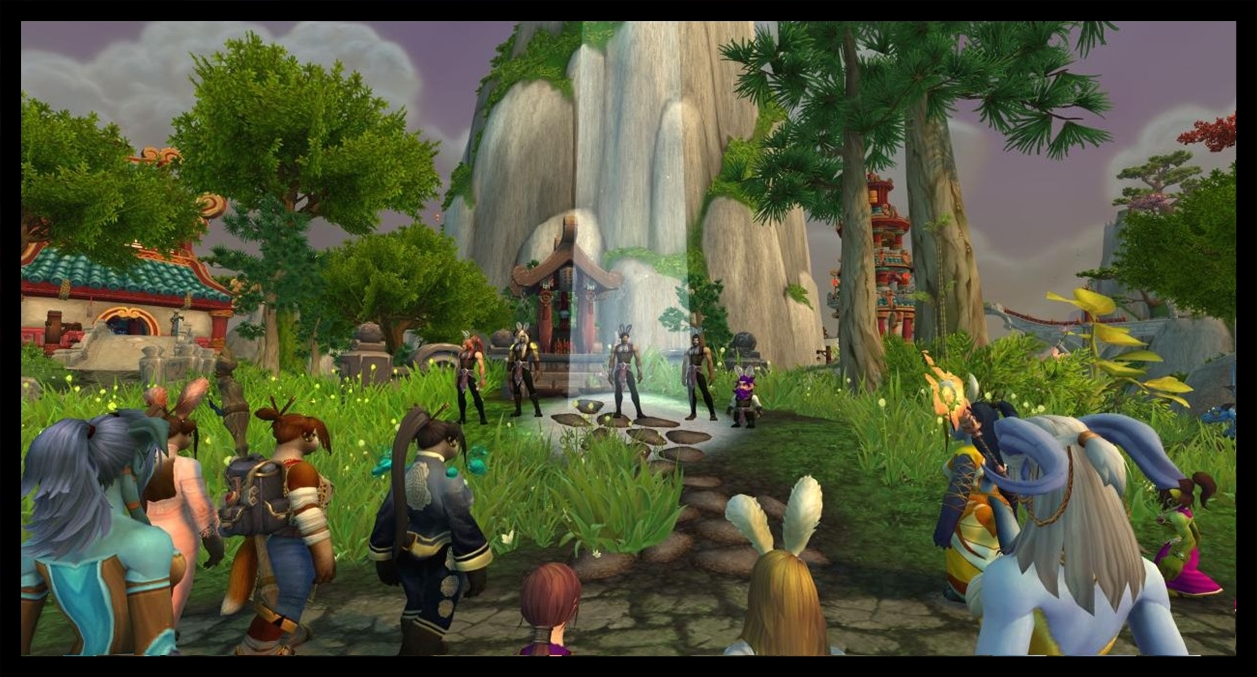 There was something for everyone and it could even be hard to see and enjoy everything. You could really get exhaused from all the walking, but fear not, as the Noblegarden Celebration also included a great bar, managed by the people of the Maret Bar, so you could sit, relax and eat with your loved ones after some performance and shopping and get some energy back if you needed it.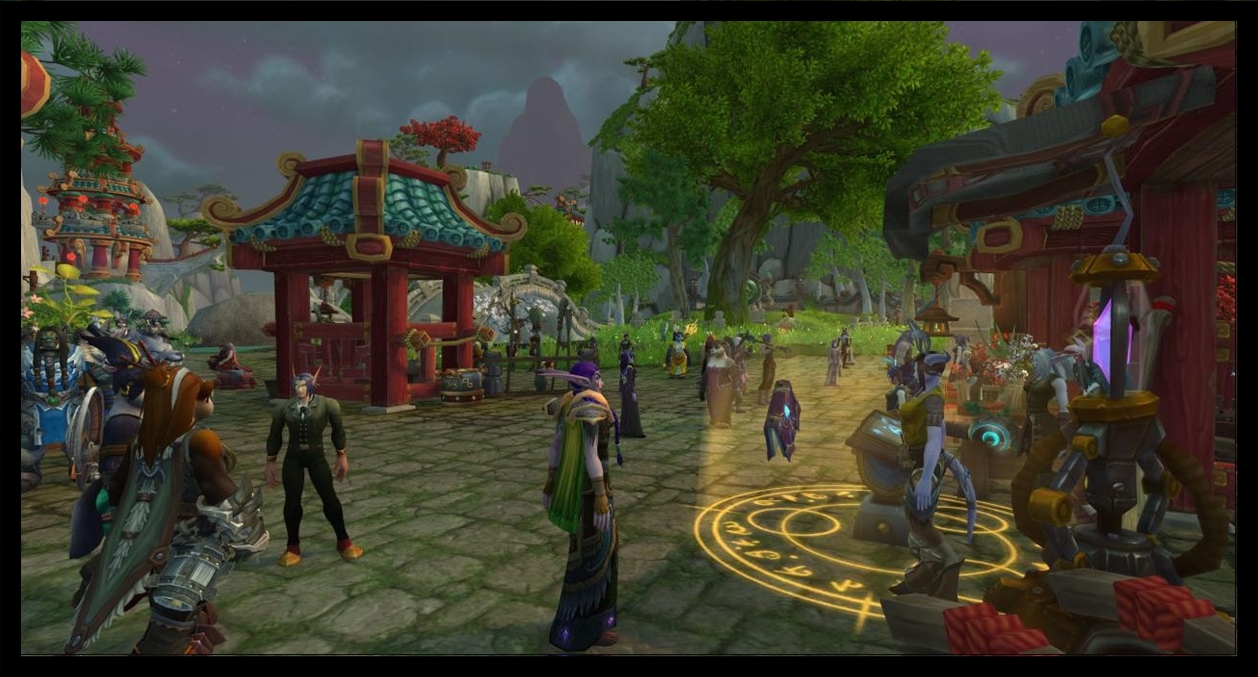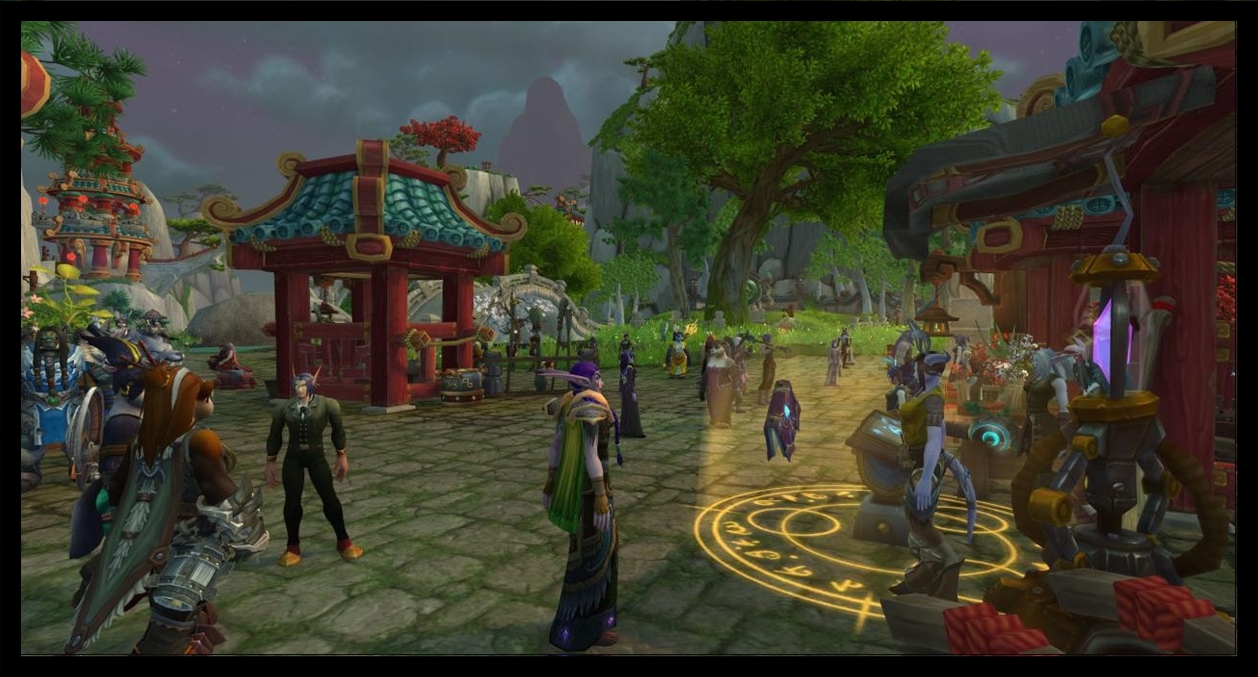 Siavash Windfarer, organiser of this and other events, also offered some comments about the festival and he explained something called the "Snowdrop Letter service": Siavash Windfarer: "It's the tradition of this festival here: in short you hire a courier to address your person of interest with a bouquet of flowers, and a poem of choice, ending it with your signature replaced with dots: If your name is John, your signature would be * * * *. If the person of interest accepts the flowers, the poem is read out loud to them by the courier and they are thereby given 3 attempts to guess the name of the sender, from the amount of dots. If they fail, they must reward you with a colourful egg before the Noblegarden season is over, but if they succeed to guess who sent the flowers, they are to be rewarded with the egg by the sender. The Courier will be the one to forward the flower, poem and finally result of the challenge." As mentioned, this isn't his first event, he told us a bit more of his experience and why he does this. Siavash Windfarer: "The first one (Noblegarden Celebration) I hosted was in Moonglade, and then after a long break I decided to revive the annual tradition and hosted the first one in Tian Monastery last year. Well, I host about six to eight festivals a year. Some are my original concepts and other are seasonal traditions, as this one. I've been hosting festivals for the last five years now, and it just gives me a kick to come up with an idea, develop and present it. I think the first one I did was the Uldum Nights. Each year I host an annual Love Festival, based on the Pandaren take of the spring season celebration, then the Noblegarden next, then the Ramkahen Fire Festival, the Sri-La Spirit Festival, Uldum Nights, The Brewmoon Festival and the Day of the Dead. I also host some occasional "sidekick events", like the Winter Veil last year and the Grotesque Burlesque. And why did it start? It seems quite a big event to organise and with people from everywhere, it's a nice thing that people can enjoy together I host the events first of all because I enjoy festivals and I think... I just can't help it? Heh.. I love keeping my hands busy and I have so many ideas I want to try out." Aside from the pleasure of organising it and the enjoyment they bring, he also commented on the difficulties of organising this, but it seems Siavash has found a method that allows anyone with a stall or a talent to join, a way to also be a platform for new people, and that makes it a bit easier for all. Siavash Windfarer: "I make a program and I organise the "platform setting" and set the vision, which people of Azeroth can then adopt and develop their own ideas and traditions out from. I inform them how they can contact me if they want to be promoted. All of this goes via the Argent Archives. I know many shopkeepers and bards who's made their name and reputations by joining these markets. I like to think it as this: I make the sandbox for people to play in. Whether they want to host a stall or a show, they can do so, and they're not obligated to anything. Thar's also my agenda. I tend to host a more personal speech at the end of each festival, just before the fireworks show. I use it to cover something topical and also inspire people to carry something along from the festival, that's a bit beyond just casual merrymaking, and I know it means a lot for people: I've received many letters from people who tell me their stories of how they met their life partners, got engaged or even married at some of my festivals. Or how it helped them through a tough time. It's very rewarding to see how a festival can become more. I am happy and grateful it can give that." It's important to notice this event also helps others, as a 2% goes to charity to the locals in the city. Here is a bit more of his view on the topic: Siavash Windfarer: "I don't think that our era of colonisation on the Pandaren continent is much to be proud of. A lot has been damaged and lost during the wars. So, I invest a lot in restoring and maintaining the ancient Pandaren monuments and also help the Ramkahen faction." After this pause with great food, drinks and talk, the final parts of the celebration came closer. Seo'larin Shadowharp, winner of the first Nocturne talent contest, offered a magnificent concert, not only due to the music, but his spirit on the stage and towards the crowd, makes him a great artist that really knows how to get the people moving. As a final act, Siavash Windfarer offered a speech that reflects on this celebration and hard times, followed by fireworks illuminating the night as a perfect reminder of those that illuminate our lives with their presence and company.

Siavash Windfarer: In the meanwhile, as the traders pause their stalls and gather to join, allow me to have the word for a moment to thank you all for attending this seasonal celebration. It's been a sincere pleasure to maintain this yearly tradition, and I hope you've enjoyed it as much as I have. The great feast of Noblegarden has long been celebrated by the people of Azeroth. Originally on this joyous day, it has been customary for the nobles and lords to hide coins, candy, and the occasional treasures within special eggs painted to look like wildflowers. These eggs are then scattered around the cities for the citizenry to find. From heroes to commoners, and everyone in between - the feast of Noblegarden is meant to bring communities together to share the joy of life and friendship. Today there are various ways to celebrate the Noblegarden, but the essence is the same: It's about nurturing good friendship, which is what we've done today. Friendship is nothing to take for granted. Good, loyal and supportive ones, even more so... It can be an uplifting pleasure to share the joyous moments and achievements with someone you hold dear. Finding someone to celebrate these moments with, is easy and unobligated. But to be a - true - friend can at times be tough, as life is not always easy: It is forever changing, constantly evolving and sometimes we are exposed to obstacles that frightens us, makes us vulnerable and reveals the worst sides of ourselves. Struggles that are not easy to fix, not convenient and not uplifting. Every one of us has this in common: We all have personal struggles and vulnerable moments - also those who choose not to share them. It is now already a half year ago since the Scourge infested Azeroth with the plague. A whole year ago since N'zoth and the Black Empire invaded Uldum and the Valley of Eternal Blossoms. Time passes, but not all scars heal fast, and the many horrors we are exposed to through our lives, leaves internal scars that ripples out into our society, as a shared trauma: whether you have been injured, lost loved ones, or find yourself as a relative to somebody mourning, remember that while it isn't easy, this is the opportunity to be a good friend: The one who doesn't withdraw when life gets scary, or when you are not able to perform and be your best self. The one who stands up for their friends, supports them and motivates them to get up and grow in spirit. It can be a challenge, but in essence we all want the same: we all wish to be acknowledged for what we do. We all want to be heard and understood. We as a society decide what kind of community we wish to nurture and maintain, by starting with ourselves: Know that life can be hard at times and forgive yourself for your limits and mistakes, but never give up on yourselves or your friends. Be the noble friend that you wish for yourselves. With these parting words I think we are ready for the final salute - Everyone, it is time for the fireworks. Launch your rockets and light up the sky!