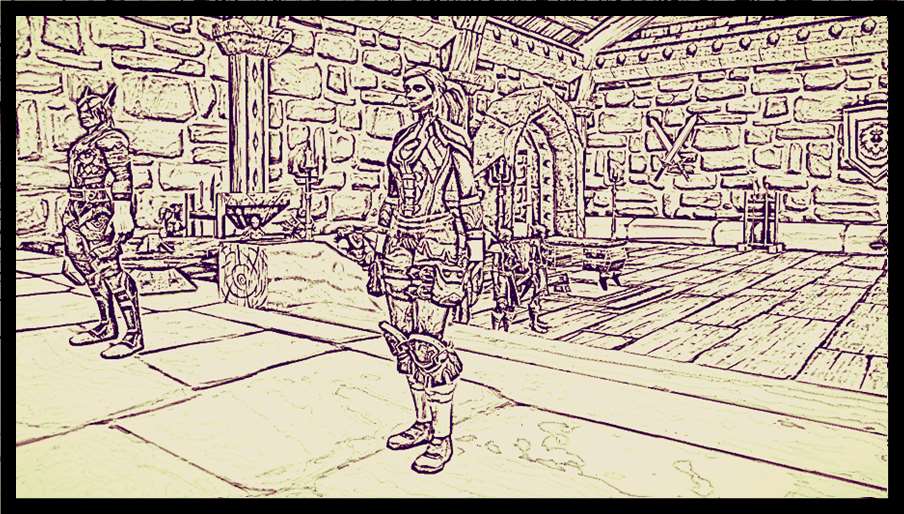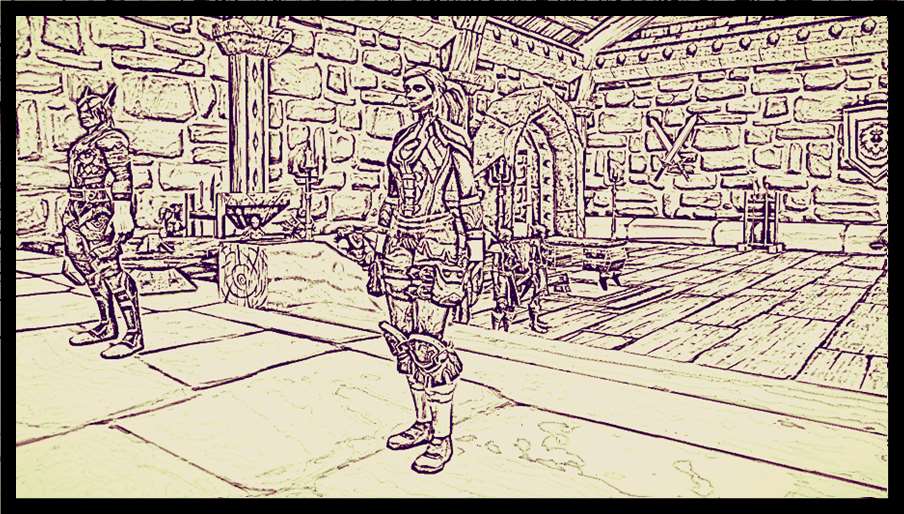 Lysandre Trial: A strange defence strategy.
The witness hearing during the trial against Director Juleen A. Lysandré.
O
n March 25th at 21:25 the trial against one of SI:7 Head of Operations, Directors Juleen A. Lysandré started. She was charged for the assassination attempt of Captain Ecireth Eckleheart and suspicion of misconduct in public office for suggesting destroying a criminal history of the person she allegedly hired to kill Captain Eckleheart. During the witness hearing, the statement taken of Director Lysandré on the night of her detention, March 23rd, was put in question, as she said not to have known of any threat made against Captain Eckleheart. This was partially contradicted by first witness, Krinard Blackmane, who usually exchanged information with the accused. Mister Blackmane informed the court that Director Lysandré did know of threats made against the Twin Tails Company and mentioned a woman in specific, which he assumed to be Captain Eckleheart, though the identity of this woman wasn't revealed in that conversation. The trial continued with the second witness, Lord Thomas Slock, who was, allegedly, hired by Director Lysandré to murder Captain Eckleheart. According to Lord Thomas Slock declaration in trial she said she would: "(…) destroy, or otherwise dispose of all documents referring to the house of Slock.", as well as "(…) turn a blind eye to anyone who "got missing" in the chaos. In case I had any scores to settle myself" in exchange for murdering Captain Eckleheart. With the prosecution already off to a good start, the defence, in what seemed like an attempt to grasp at straws, accused Lord Thomas Slock of not being who he says he is and asked the bench to allow the examination of an Illidari to prove this. Since what an Illidari sees can't be shown to others, the bench agreed to take the Illidari as a witness. But once being questioned by the defence, the Illidari questioned, Aelryne Darksong, denied seeing any type of evidence, trace or mark of fel on Lord Slock. This testimony even served the prosecution to inform the bench that Director Lysandré has asked this Illidari to work in other cases against the Slocks, and furthermore, that the accused knew of dangerous fugitives on the run related to house Slock, such as Vexiana Slock. During the hearing Alias Summerpelt was also called to give witness and she confirmed seeing Director Lysandré talk with Lord Thomas, though no other questions were asked to this witness as she couldn't provide any further information about the conversation. Isabella Slock was also asked to give witness and she was asked about Lord Doctor Mussé Morland Slock, who she declared to be her grandfather and said to been missing. This line of questioning continued briefly, as Lady-Justicar Nasias Darkstar asked the court what the relevance of those questions where, at which point the defence indicated they were done and ready for their closing arguments. Per protocol Lady-Justicar Nasias Darkstar, the prosecutor started with her closing arguments:

Your Honours, throughout the defences case, they have tried to besmirch the reputation of Thomas Slock by presenting damning evidence to this Court that not only paints the family of Thomas Slock as criminals, but as monstrosities, and implying that he is the same by association alone. The prosecution questions why people who are known escapees, who are supposed to pose a significant danger, and where significant evidence is professed to exist on this family, are allowed to run free unhindered? The answer to this question lies in the evidence-- to use them as tools to settle a grudge. Your Honours, throughout this case the defence has failed to answer to the prosecution's case. No evidence has been heared in this court that removes Juleen from the scene she denies to have been at and she has lied about her knowledge of the threat on the life of Captain Ecireth Eckleheart. Your Honours, on the 15th of March, Juleen Lysandre was at the Ancient Curios, she asked Thomas Slock to kill or otherwise permanently remove a crown officer by any means necessary in exchange to destroy evidence of his family's wrongdoing, and all this? To settle a grudge.

After Prosecutor Darkstar's closing arguments it was Mister Eveningstar, Director Lysandre's defence attorney's turn:

Within my time by Juleen's side, her goals has always been to protect the Crown. She's done so extensively throghout many years, all while under stressing press of the public's eye never being fully aware what we do, or our efforts to do so. This is within our virtues, and one I took when I signed up. I swore to do what's right, even if we face loneliness of praise, and even if we're faced with judging looks. I trust truly the defendant is of no threat to the Crown, Its military, nor its people. There is no grudge to be settled, there is a thorn in our side trying to hinder our work. Our efforts to expose what we thought was true may have failed, but incriminating the defendant is a big mistake to crippling your efforts to take down a severe threat to the city. I can testify to these records, as the director's right hand, that there were none present, nor none to be destroyed.

After both attorneys had given their closing statements the matter of bail was discussed, with the prosecutor arguing that the severity of the offences then it would be in the public's interest that the defendant was held in remand. The defendants attourney did not object to this. The verdict and sentence will be given in the following days.